Qubilah Jones, longtime host of KLEK's "Community Conversations" passed away on December 31st at Baptist Hospital in North Little Rock.
Qubilah was a dedicated and passionate community service advocate whose inviting smile and bubbly personality was a positive light to all she encountered. She interviewed hundreds of nonprofit leaders, faith-based leaders, government officials and more in the name of spreading awareness to enhance the quality of life for all in Jonesboro and Northeast Arkansas.
In 2017, she earned the "Volunteer of the Year" award for the City of Jonesboro for over 2000 hours of community service. Qubilah was the inspiration and visionary for several KLEK events such as Juneteenth in Jonesboro celebration which won the 2022 Betty T. Sloan Promotional Award for an event that promotes Jonesboro in a positive light and our annual Kwanzaa celebration. Qubilah lived life to the fullest according to her motto #BeeIntentional while spreading "Pink Sugar Kisses" to all she loved.
Memorial Service
Qubilah's life and the countless contributions she made will be celebrated at her memorial service which will take place Saturday January 14th at 12:00 noon at Centennial Hall on the Campus of Arkansas State University. Rev. DeAndre Warren, Senior Pastor and Rev. Dr. Ray Scales, Senior Pastor Emeritus of New Mt. Zion Missionary Baptist Church will officiate the service. Mayor Harold Copenhaver will be on hand to issue a special proclamation declaring "Qubilah Jones Day". The service will also be broadcast live on 102.5 F.M. in Jonesboro and streamed live on the KLEK 102.5 F.M. Facebook page. A repast will follow the service at New Mt. Zion, 403 West Allen Street in Jonesboro.
At 10:00 a.m. before the memorial service, members of the Jonesboro Alumnae Chapter of Delta Sigma Theta Sorority, Incorporated will host an Omega Omega service to honor her memory and contributions to the Sorority.
Special KLEK Remembrance Episodes Planned
In addition, KLEK 102.5 F.M. will honor her memory Friday January 6th with a special edition of "Community Conversations" at 9:00 a.m. During the show, those who wish to share their memories of Qubilah will be able to join in via zoom https://us06web.zoom.us/j/8702771080 . As Qubilah loved poetry and would often host poetry slam sessions on the radio, those wishing to perform are especially encouraged to participate. The show will also be streamed live on the KLEK 102.5 F.M. Facebook Page.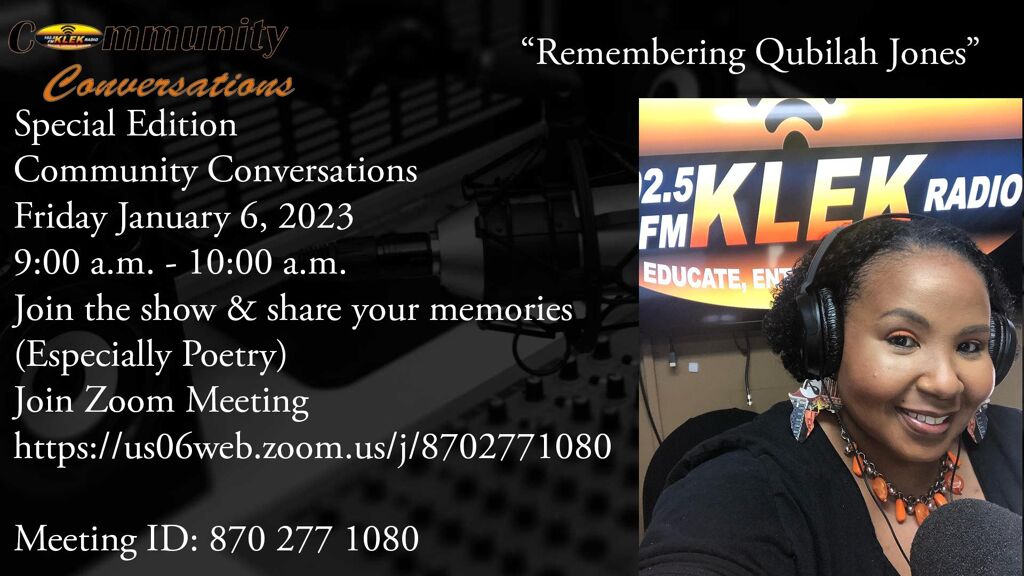 DJ King Vick will host a special edition of the "Drive Time Mix" Friday January 6th at 5:00 p.m. in which Qubilah's favorite songs will be in the mix.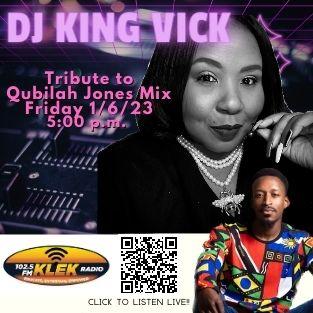 Those wishing to tune in to either program can listen on 102.5 F.M. in Jonesboro or online at klekfm.org
Qubilah's family and all of us at KLEK 102.5 F.M. are so grateful for the overwhelming display of love and support during this time.
More Posts for Show:
Community Conversations