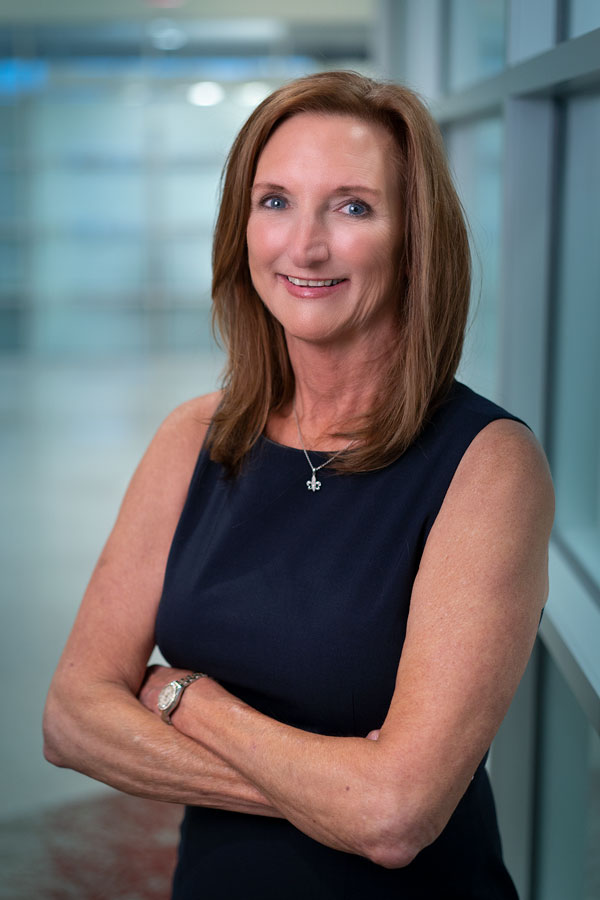 03/21/2022
JONESBORO – The Women's Leadership Center in the Neil Griffin College of Business at Arkansas State University is committed to its mission of cultivating confident and capable girls and women to set and achieve high goals.
One of the avenues for carrying out that commitment is the center's annual Women's Leadership Conference. After a break in 2020 and 2021 due to the pandemic, this year's conference, which will be the sixth annual, is on track for Tuesday, April 12, at the A-State campus.
The opening plenary session features a keynote address by Pat Keel, executive vice president, chief financial and administrative officer, for St. Jude Children's Research Hospital in Memphis. She will speak at 9:30 a.m. in Centennial Hall of the Reng Student Union. Keel, an A-State alumna, was featured in a recent issue of Voices, the A-State Alumni Association magazine.
Scholarship awards, along with recognition of individuals comprising the Founders Circle and other advocates for the center, will follow. The Founders Circle began as a group of 30 successful professional women who committed financial resources and time to serve as mentors and advisers to young women.
Dr. Patricia Quinn Johnston, chair of the Women's Leadership Conference Committee and faculty coordinator for the Women's Leadership Center, expressed her optimism for a memorable conference.
"This is our sixth conference, and we are excited that women and men will gather on our campus for a day of celebration, encouragement and support for women," Johnston said. "We hope this conference will challenge and inspire all of us to seek new opportunities, embark on new adventures, expand our networks of friends and mentors, and respond to challenges with resilience and perseverance."
Dr. Kathy White Loyd is founder of the Women's Leadership Center at A-State.
"The first Women's Leadership Conference at A-State was held in 2015. It has continued to grow each year attracting attendees from across the State," she noted. "This year the conference features exciting speakers and breakout sessions with opportunities for networking with over 500 attendees."
Two breakout sessions, separated by lunch, will feature an array of resourceful speakers who will engage the audience with timely ideas.
The 11 a.m. breakout speakers and topics are:
— Dr. Faye Cocchiara, clinical associate professor of management at University of Texas at Arlington, "Women, Work Stressors and Coping"
— Susan Naylor, senior vice president, wealth management, and senior financial advisor at Merrill Lynch, Pierce, Fenner & Smith, Inc., "Investing Basics"
— Chauncey Holloman Pettis, director of Arkansas Women's Business Center, "Starting a Business in Arkansas" and
— Amanda Herget, co-owner of Gearhead Outfitters, "Women in the Wilderness."
Pettis also will speak during the second breakout session, starting at 12:30 p.m., on "Nuggets and Pearls." Other speakers and topics are:
— Carrie Russom Quraishi, estate planning, wealth and tax attorney, Quraishi Law Firm and Wealth Management, "Estate and Financial Planning for Women"
— Dr. Lillie Fears, professor of media, coordinator of the multimedia journalism program and liaison for faculty diversity, A-State, "Evaluating Images of Women: Why Media Literacy Matters"
— Dr. Kim Hester, professor of management at A-State, "Women Really Do Mean Business" and
— Jill Clogston, director of Education Renewal Zone, A-State, Misty Doyle, assistant superintendent of teaching and learning, Jonesboro Public Schools, and Sandra Hawkins, instructor in teacher education, A-State, joint presentation on "Lessons in Leadership and Resilience."
The conference will conclude with dessert and networking from 1:30-2 p.m.
The Women's Business Leadership Center, the only one of its type in the state and the Delta region, is dedicated to promoting leadership and achievement among the young women of Arkansas.
Admission to the conference is free, and lunch will be provided. For a full schedule and to register, one may go online to AStateAlumni.org/WLC2022.
Original article source: http://www.astate.edu/news/women-s-leadership-conference-to-feature-variety-of-speakers | Article may or may not reflect the views of KLEK 102.5 FM or The Voice of Arkansas Minority Advocacy Council