05/12/2022
JONESBORO — Two students representing Arkansas State University finished in first place in the 2022 Windstream case study competition held recently in Little Rock. Accounting majors Taylor Willis of Manila and Hayden Dulgar of Ravenden presented their projects to members of Windstream's c-suite.
"This may be the first time A-State students finished in first place after multiple years of competition," said Dr. Steven Muzatko, associate professor and H.B. Foster Bowdon Endowed Chair of Accounting in the Neil Griffin College of Business. "Taylor and Hayden did a great job of representing Arkansas State University."
Universities from across Arkansas competed. Willis and Dulgar prepared the analysis during their accounting analytics course taught by Muzatko. Both students are entering A-State's master of accountancy with data analytics program after graduation.
The Windstream Finance Leadership program is an elite accounting/finance leadership program that grooms future management through rotations, training, mentoring and team building. Following preliminary judging, the top three teams were invited to present their case studies in front of Windstream's senior executive leadership team.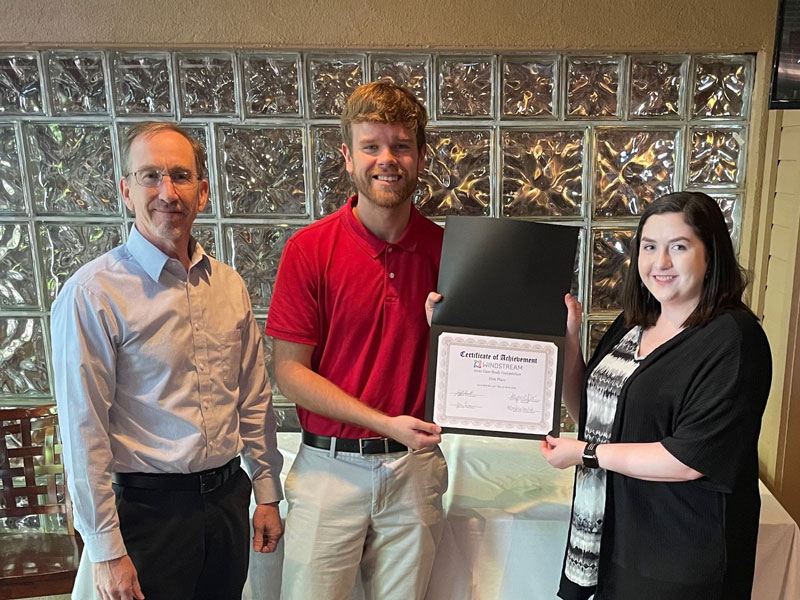 (From left) Dr. Steven Muzatko, Hayden Dulgar and Taylor Willis
Original article source: http://www.astate.edu/news/two-students-finish-first-in-windstream-competition | Article may or may not reflect the views of KLEK 102.5 FM or The Voice of Arkansas Minority Advocacy Council