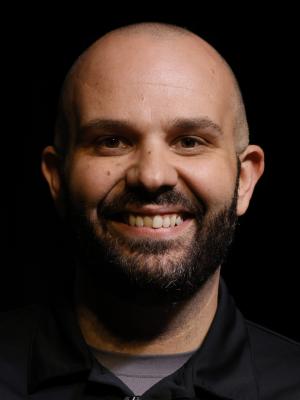 05/23/2022
JONESBORO — A pair of Arkansas State University alumni have each won the prestigious Milken Educator Award. Grant Harbison, a 2008 graduate who earned a Bachelor of Science of Music Education, and Chayna Adams, who received a Master of Science in Education degree from A-State in 2014, have been awarded unrestricted $25,000 prizes.
The award is part of the Milken Family Foundation's 35th coast-to-coast tour that surprises outstanding educators with the award and cash prize. The award is seen as the "Oscar" of teaching as it honors those teachers who have shown talent in instructional practices and presented themselves as a positive example for students outside the classroom.
Harbison is the director of bands at The Academies of Jonesboro High School. He was caught completely unaware when Milken Educator Awards vice president Stephanie Bishop and Arkansas Department of Education's Division of Elementary and Secondary Education (DESE) deputy commissioner Dr. Ivy Pfeifer presented him the honor during a recent surprise assembly.
He is among the more than 60 educators nationwide who received the award during the 2021-22 school year and the second from Arkansas. Harbison is passionate about ensuring his students' success in both the band room and in their core classes. He promotes literacy and math in his music classroom, cultivating a positive, welcoming atmosphere that motivates students to reach their highest potential. He is also committed to promoting diversity, equity and inclusion in Jonesboro's music program.
He is committed to every student's music education, raising funds and securing donations for students who cannot afford instruments. An accomplished performer, Harbison has recorded with orchestras and wind ensembles at the University of North Texas. He sits on Arkansas's all-state jazz committee and serves as secretary for the Arkansas Jazz Educators. At Jonesboro, Harbison participates on the building leadership team and Equal Opportunity Schools committee.
Adams, who received her award in April, teaches mathematics to ninth graders at Pearl River Central High School in Carriere, Miss. After teaching many years at Pearl River, Adams is now the school's lead teacher and is responsible for academic tier, schoolwide data and coaching support or instructional staff.
As the chair of the math department, Adams leads instructional rounds, conducted data analysis, coached new teachers and led the professional learning committee. Adams was able to host virtual meetings during the pandemic as a way to check on her department throughout the week.
Working with the math coach at the Mississippi Department of Education, Adams led the redesign of all levels of the school's algebra curriculum to align with state standards, increase rigor and make content accessible to remote-learning students. She has written test items for Algebra I for state assessments and presented at state and national conferences. Colleagues often observed in Adams' classroom to learn from her skillful classroom management and instructional strategies.
Original article source: http://www.astate.edu/news/two-a-state-alumni-receive-prestigious-milken-educator-awards | Article may or may not reflect the views of KLEK 102.5 FM or The Voice of Arkansas Minority Advocacy Council