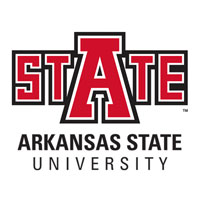 05/27/2022
JONESBORO – The 32 retiring staff members and 38 individuals who have attained service milestones were honored during the 29th annual Distinguished Performance Awards and Service Recognition Ceremony at Arkansas State University.
The 32 individuals who have retired or will retire during the 2021-22 academic year have 657 combined years of service at A‑State.
Gina Bowman, University Communications, has the longest period of employment, with 46 years.
Other retirees and their years of service include Bettye McKinney, First National Bank Arena, 35; Paulette Bradley, Financial Aid, 34; Hope Phillips, ABI, 34; Barbara Doyle, Concurrent Enrollment, 33; Betty Dotter, Facilities Management (FM), 29; Randall West, FM, 27; Teresa Patterson, Information Technology Services, 26; Deborah Davis, Testing Center, 24; Samantha Young, Environmental Health and Safety, 24; Dave Atherton, FM, 24; and Jo Lunbeck, Auditor, 23.
Others are Philip Hestand, Counseling Center, 22; Randy Knowles, Athletics, 21; Virginia Yates, Military Science, 18; Steven Brown, FM, 18; David Harmon, FM, 18; John Sifford, Library, 16; Marti Allen, Museum, 15; Clarisa Ratliff, Childhood Services, 15; Bebe Walton, Childhood Services, 15; Randy Ryan, FM, 15; Jerry Todd, FM, 14; Leeann Castleberry, Financial Aid, 14; Sharon Groves, Legal Counsel, 14; Susan Harper, Childhood Services, 13; Terry Finney, Financial Aid, 13; Teresa Dunton, Admissions, 13; Judy Dudley, Motor Pool, 12; Steven Franks, Printing Services, 12; William McCoy, FM, 10; Yvonne Foster, Athletics, 10.
Service Milestones
The 38 individuals who were recognized on service milestones were as follows:
51 Years:
Jo Ann Nalley, Childhood Services.
30 Years:
Toni Holt, Treasurer; Ivan Lawson, Information and Technology Services; and Marty Scarbrough, KASU.
20 Years:
Julia Fleming, Childhood Services; William Hall, Planning, Design and Construction; Brandy Hampton, Treasurer; Rosella Haynes, Childhood Services; Laura Johnson, Payroll Services; David McKinney, Parking Services; Latonya Tidwell, Research and Technology Transfer; Henry Torres, Information and Technology Services; and Karen Trout, Hemingway-Pfeiffer Museum and Educational Center.
10 Years:
Christopher Adams, Timothy Bevly, Heather Boothman, Daniel Bradway, Adam Burnette, Yvonne Foster, Russell Gray, Jeffery Hankins, Jennifer Harrell, Lisa Holt, Andrea Jones, Karen Kalkbrenner, Terry Locke, Adam Long, Aimee McDonald, Angela Murrey, Carolyn Ponce, Kathryn Provence, Elizabeth Rouse, Doreen Selden, Laura Starkus, Amanda Stone, Andrew Thrasher, Jerry Webb and Sandra Wyatt.
The recognition program was initiated in 1994 to note outstanding job performance and long-time service by the university's non-faculty employees, both classified and non-classified.
Original article source: http://www.astate.edu/news/staff-members-recognized-on-retirement-and-milestone-years-of-service | Article may or may not reflect the views of KLEK 102.5 FM or The Voice of Arkansas Minority Advocacy Council