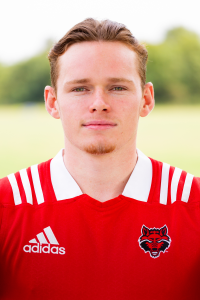 01/24/2022
LITTLE ROCK — The Arkansas State University Rugby team opened its spring season with a 43-19 win over the Dallas Rugby Football Club in muddy conditions Saturday at the Little Rock Rugby Complex.
Try scorers were TJ van Rensburg, Matt Hickey, Aidan Ridgway (three), Evan Roode, and Mazvitaishe Nyamarebvu, with van Rensburg going one of two and Nyamarebvu going three of five for conversions.
"The star of the day was undoubtedly Ridgway with his hat trick of tries. The fullback's open field play, with ball in hand, is a master class on elusive running," stated Jake Mizell, coach for A-State Rugby. "This was only the tip of the iceberg for the game Ridgway had. The open field kicking, led by Ridgway but executed by the entire Red Wolf backline, was a phenomenal spectacle that kept Dallas in check all afternoon. Ridgway's left boot specifically had the opposition deep three on their heels."
The coach emphasized the biggest addition to Ridgway's game had to be his defensive effort.
"There were multiple line breaks by the Dallas midfield. This put the pressure on Aidan to execute an open field tackle from an 'island,' " Mizell added. "Not only was he successful at this, he took the opportunity to change the momentum of the game by turning the Dallas team's line breaks into turnovers in favor of the Red Wolves."
Mizell thanked the Dallas Club for responding positively to A-State's request for a last-minute opponent due to a schedule adjustment. Dallas D2 was already scheduled to play Little Rock Rugby; and it worked out perfectly for the Red Wolves to play the Dallas D1 side as a curtain raiser.
"Little Rock was great host, with the premier rugby set up in Arkansas. Dallas, for their part, gave us a physical game that constantly asked questions of our team defense and attack," Mizell also said. "The Red Wolves responded well to the physicality of the game. There are still lots of things for the team to work on, but for a season opener I'm fairly happy with the way the team played. This team has lofty goals and we know this is only the beginning of what is going to be a very tough season."
Original article source: http://www.astate.edu/news/rugby-wins-spring-season-opening-match-with-dallas-club | Article may or may not reflect the views of KLEK 102.5 FM or The Voice of Arkansas Minority Advocacy Council
Originally posted 2022-01-30 12:12:21.