04/28/2022
JONESBORO – In recognition of his exemplary service and student performance at Arkansas State University, Reed Middleton was announced this evening as recipient of the R.E. Lee Wilson Award for 2022 during a special ceremony at Cooper Alumni Center. The Wilson Award is the highest honor an A-State student can receive.
[embedded content]
Perry Wilson of Little Rock, the award namesake's great-great-grandson, was present to announce Middleton, a native of Marianna, as this year's winner.
"Throughout my time at Arkansas State, I have been amazed by the family atmosphere, the countless opportunities to get involved, to serve others, to learn, and to grow," Middleton said in his nomination. "I have also been amazed by the unwavering commitment of the educators who have led by example and selflessly combined their knowledge and wisdom to make an impact in my life."
Middleton was one of seven exceptional students selected as Distinguished Service Award (DSA) winners. All of the DSA winners were introduced and recognized during the student honors awards ceremony.
"Reed was a model student during his time at Arkansas State University. His focus was learning and high performance in the classroom, and at the same time, he was very active and generous, giving his time to his fellow students, the university and the community," one of his nominators wrote. "I know he was the kind of student the founders of the Wilson Award had in mind when they created this award in 1934."
This was the culminating event of the 44th annual Convocation of Scholars at A-State, an annual campus celebration.
Middleton was student speaker at Fall Commencement, where he received his degree in finance, financial management emphasis, through the Neil Griffin College of Business. He completed a triple minor, in business management, history and political science.
As president of the Student Conduct Board, he also served on the A-State Leadership Council. His campus activities also include Beta Gamma Sigma business honor society, the Honors College Association, the strategic planning group for the Griffin College, professional development director for Phi Beta Lambda, and senator and action fund commissioner for the Student Government Association.
A Chancellor's List student every semester, Middleton was an Honors College student. His academic achievements were highlighted by several scholarships, including the Governor's Distinguished Scholarship, the A-State Alumni Association License2Howl Scholarship, and Farm Credit Midsouth Scholarship.
R.E. Lee Wilson, a Mississippi County planter and businessman, served on the institution's Board of Trustees from 1917 until his death in 1933. The annual Wilson Award presentation began the following year, more than eight decades ago.
In addition to Middleton, the six other DSA winners, recognized for leadership, scholarship and citizenship, include Keyon Atkins of Mineral Springs; Anna Handloser of Sheridan; Blake Alexander Moore of Jonesboro; Jackson St. Pierre of Jonesboro; Molly Grace Williams of Piggott; and Sydney Wofford of Rector.
Faculty, staff and advisers nominate top students for the prestigious annual awards.
All of the nominees have achieved excellent academic records and provided countless hours of service to the community, their classmates, campus organizations, their departments and colleges, and to Arkansas State University. A committee comprised of students, faculty, staff and previous Wilson Award recipients makes the final selection.
The names of Wilson Award winners are permanently listed in a prominent display outside Centennial Hall in the Carl R. Reng Student Union. Previous winners of the award joined to form the Wilson Fellows, a chapter within the A-State Alumni Association.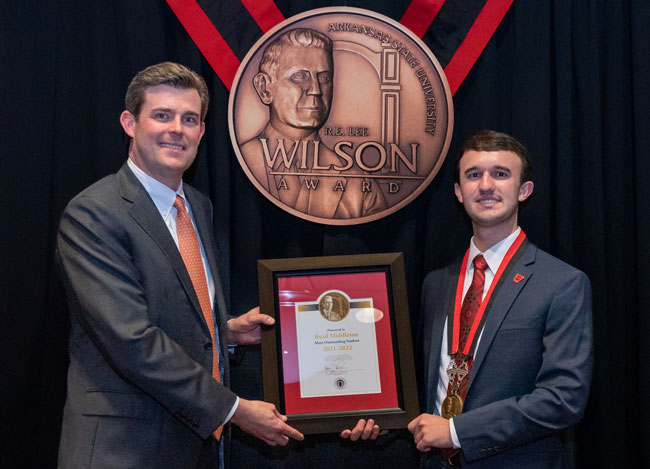 Reed Middleton (right) of Marianna accepts the 2022 Wilson Award from Perry Wilson, great-great-grandson of R.E. Lee Wilson, for whom Arkansas State University's highest award for a graduating student is named.
Original article source: http://www.astate.edu/news/middleton-is-named-winner-of-wilson-award-at-arkansas-state | Article may or may not reflect the views of KLEK 102.5 FM or The Voice of Arkansas Minority Advocacy Council