05/19/2022
JONESBORO – Travis Marsico soon will take his scientific curiosity to the nation's capital for a year, filling an appointment that could help impact international science policy.
Marsico, a faculty member at Arkansas State University, was selected by the U.S. Department of State for the 2022-23 class of Jefferson Science Fellows. The goal of the program, for which Marsico will live in Washington, D.C., is to enhance capacity for science, technology and engineering expertise within the Department of State and U.S. Agency for International Development (USAID).
Dr. Marsico is professor of botany and associate chair of the Department of Biological Sciences. He also oversees the A-State Herbarium (STAR), and was the inaugural recipient of the Chancellor's Medal for Research and Creative Activities in 2021.
The fellowship is a partnership between universities, the National Academies of Sciences, Engineering, and Medicine, and the U.S. Department of State. Marsico is one of 14 individuals selected nationally for the program, which began in 2003.
"What I will be doing is contributing my own scientific expertise for international policy, but then learning how policy is created and implemented, as well. I think this will really be beneficial to our research program in biological sciences because I'll have first-hand experience with how U.S. international policy is developed and how science is used in forming those policies."
Marsico will be working in the Office of the Geographer and Global Issues, a division of the Bureau of Intelligence and Research, the State Department's intelligence wing.
In a recent First Friday video, Chancellor Kelly Damphousse discussed the fellowship with Marsico and noted he is the first professor from an Arkansas institution to be chosen for the program.
"Supporting Travis' candidacy for the Jefferson Science Fellowship is among the many things we're doing here at Arkansas State to support our faculty and our researchers," Damphousse said. "One of the things we're working on in our Discover 2025 strategic plan is to enhance our research profile as a Carnegie Foundation Research 2 university, and to make sure our faculty and our researchers have opportunities to engage in the research process in a way they may not have been able to do before."
One of Marsico's research interests has been investigating how plant seeds attached to shipping containers, utilized in the world commerce system, are distributed. He also studies how species become established in new areas, and their impact, all within the context of climate change research.
"We know this fellowship will not only expand your own research but it will enable you to bring new research opportunities to our biological sciences program here at Arkansas State," Damphousse told Marsico in the First Friday video.
Although he will not leave for Washington until August, the Ph.D. graduate of the University of Notre Dame and Mountain Home High School is already thinking about how the fellowship could impact his students.
He will be working on projects related to land use change, climate change, invasive species policy and biodiversity conservation. He expects to be able to use his research in the herbarium collection to inform his fellowship work and to draw on his experiences with colleagues and students.
"l teach a class called 'global change biology,' and I hope that the information I learn in my fellowship year will help give my teaching a more informed policy focus," he continued. "As a biologist, I'm really proud to be able to work on what I think are core issues — the existential crises — the biodiversity crisis, the sixth mass extinction, and climate change. We are in a time when we have to be solving these problems."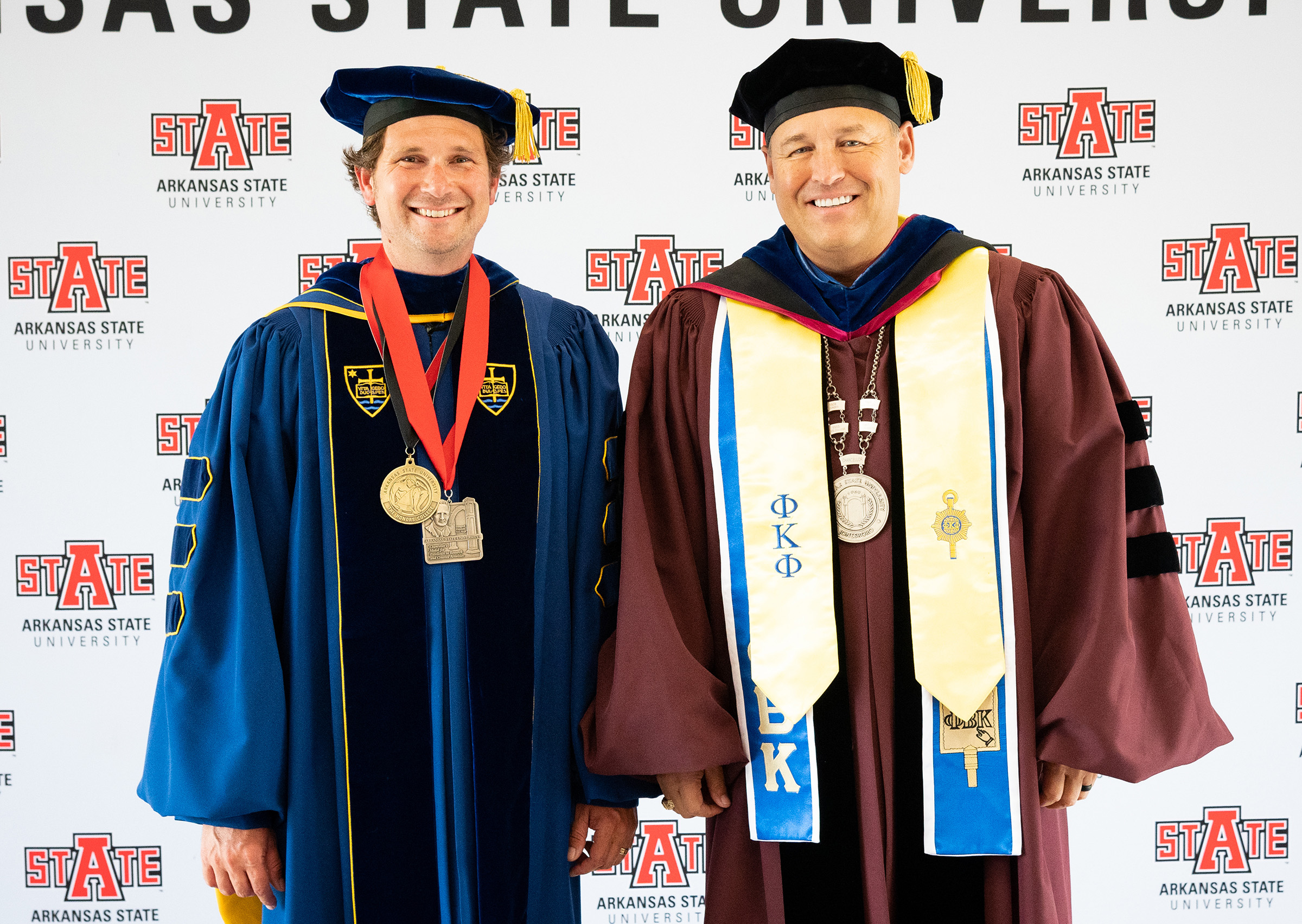 Dr. Travis Marsico (left), recipient of a Jefferson Science Fellowship, with Chancellor Kelly Damphousse, who presented Marsico in 2021 with the first Chancellor's Medal for Research and Creative Activities.
Original article source: http://www.astate.edu/news/marsico-headed-to-jefferson-science-fellowship-with-u-s-department-of-state | Article may or may not reflect the views of KLEK 102.5 FM or The Voice of Arkansas Minority Advocacy Council