05/11/2022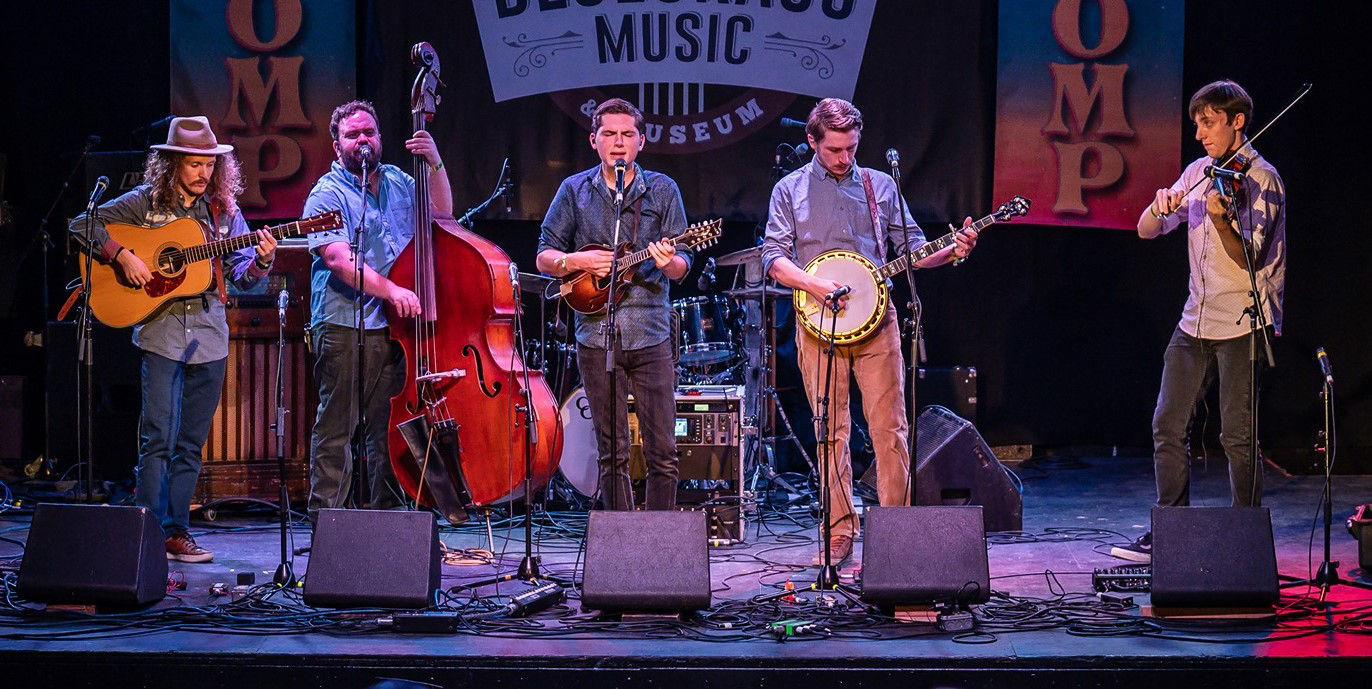 Members of the group are (from left) Rob McCormac, Jacob Smith, Liam Purcell, Colton Kerchner and Sam Stage.
JONESBORO – Liam Purcell and Cane Mill Road will perform bluegrass and a variety of acoustic music at the next KASU-FM Bluegrass Monday concert at 7 p.m. Monday, May 23, at the Collins Theatre, 120 West Emerson Street in Paragould.
Based in Deep Gap, North Carolina, Liam Purcell and Cane Mill Road are the 2019 recipients of the International Bluegrass Music Association's "Momentum Award." This honor is presented to top young rising stars in bluegrass music. The band's repertoire includes bluegrass standards, original tunes, and arrangements of melodies from other genres of music.
The group's most recent album, Roots, reached the top 10 of the Billboard Magazine bluegrass album charts. The ensemble is an in-demand act at bluegrass festivals and venues across the country having performed at MerleFest, Silver Dollar City, and the Station Inn. The band has also performed on the WoodSongs Old Time Radio Hour, heard on over 500 radio stations around the world including KASU.
No Depression magazine called the group "the future of bluegrass." The Bluegrass Standard described their music as "deeply rooted in traditional bluegrass," adding that "their songs boldly and progressively interpret classic songs." Bluegrass Unlimited magazine stated that the group is "making their mark on bluegrass and fueling the future."
Liam Purcell has led the band since 2014, playing mandolin and being the featured vocalist. He was mentored by banjo legend Pete Wernick, and Purcell is accomplished on all bluegrass instruments.
Other band members include guitarist Rob McCormac, a noted ethnomusicologist and graduate of Appalachian State University. Bassist Jacob Smith plays jazz and classical music in addition to bluegrass, and he has earned a degree in music business. Virginia native Colton Kercher plays banjo in the band and is also a graduate of Appalachian State. Fiddler Sam Stage is the 2021 winner of the prestigious Rockygrass Fiddle Championship. Additional information about the musicians is available at www.canemillroad.com.
The admission fee is $10 per person, payable by cash at the door the night of the concert. Everyone aged 18 and under will be admitted free. Advance tickets can be purchased at www.kasu.org/tickets. All ticket proceeds go to the musicians, compensating them for their performance.
All seating is general admission. Doors open to the theatre at 6 p.m., and seating is first-come, first-served.
The Bluegrass Monday concert series is a non-profit presentation of KASU-FM, providing music fans with an affordable and outstanding evening of entertainment. These concerts are held on the fourth Monday night of each month. They are presented with support from sponsors including the Paragould Advertising & Promotion Commission, Bibb Chiropractic Center, Gardner-Milner Law Firm, the Posey Peddler, Hyde Park Café, Holiday Inn Express and Suites of Paragould, and KASU.
KASU is A-State's public media service, broadcasting at 91.9 FM and streaming on a variety of online platforms. For more information, contact KASU Program Director Marty Scarbrough at [email protected] or 870-972-2367. Additional information is also available on the Bluegrass Monday Facebook page.
Original article source: http://www.astate.edu/news/liam-purcell-and-cane-mill-road-to-perform-for-next-bluegrass-monday-concert | Article may or may not reflect the views of KLEK 102.5 FM or The Voice of Arkansas Minority Advocacy Council