KLEK's Juneteenth in Jonesboro returns in 2022 bigger and better than previous years after a pandemic-caused two year hiatus. This year's celebration will include a parade through Downtown Jonesboro as well as a fireworks display.
Local Celebrities to Host the Parade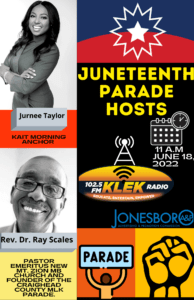 The Juneteenth in Jonesboro celebration will include three special events all on Saturday, June 18. Among those celebrations is the first ever Juneteenth parade, which will kick off the day's festivities.
Several local organizations have already signed up to be apart of the parade and there will also be marching entertainment as well. We are also excited to have two local celebrities to host the parade: KAIT News Anchor Jurnee Taylor and Rev. Dr. Ray Scales, emeritus pastor of New Mt. Zion Missionary Baptist Church and founder of the Craighead County Dr. Martin Luther King, Jr. Parade Committee.
Organizations still have time to sign up to either walk or have a float in the parade by clicking here. General registration is $30 with registration for non-profits at $20. The last day to register is June 4.
The parade will be on June 18, starting at 11 A.M.
Sponsorship Opportunities Available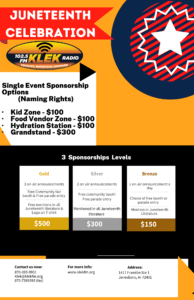 Organizations still have an opportunity to receive naming rights to the Parade Grandstand, as well as other events for the Juneteenth in Jonesboro Celebration.
As of April 22, a couple of organizations have offered to sponsor events and help keep the Juneteenth in Jonesboro Celebration free for all to enjoy. The Jonesboro Advertising and Promotions Commission is sponsoring the first ever Juneteenth Fireworks display which is set for the night of June 18.
Local entrepreneur Kool Kutts Enterprises has also graciously offered to sponsor the Sweet Potato Pie Baking Contest, which is set to be held the night of the Worship Service on Friday, June 17. Plus, KV Stage Productions and Jonesboro's Best Kids Summer Camp and After-School Program have jumped on to be Gold Sponsors.
Anyone who would like to help sponsor aspects of Juneteenth in Jonesboro can do so by filling out the form.
The Juneteenth in Jonesboro Celebration is expected to go from June 16-19. We'll keep you updated more details on the celebration!