03/15/2022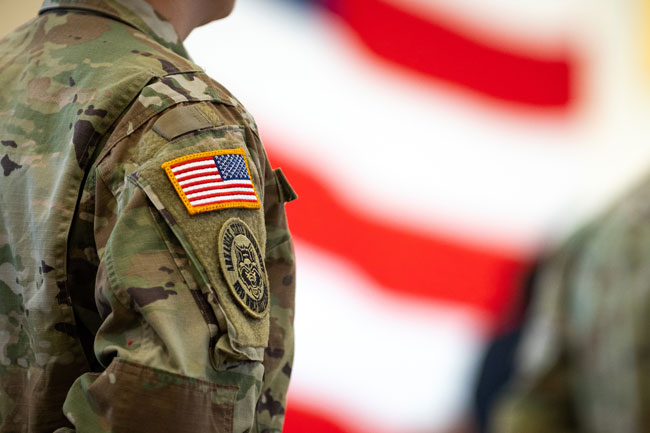 JONESBORO –Arkansas State University has been designated as a Military Friendly® School for 2022-23, and has achieved the Gold-level ranking for the first time.
Arkansas State also marks its 13th ranking by the Military Friendly® Schools list, which sets the standard for higher education institutions to provide the best opportunities for veterans and their spouses.
"It is an incredible honor to achieve Gold status in the Military Friendly School rankings," Chancellor Kelly Damphousse said. "To have once again received accolades from one of the oldest and most established programs that recognize universities for their work with the military is extremely important to us. One of the core values of A-State is the service we provide to those in the military, our veteran students, and our wider veteran community including military family members and our local retired military. To now earn their Gold status inspires us to do more. From hosting one of the oldest and most decorated ROTC units to service as the home for the nationally known Beck Center for Veterans, A-State invests in programs to lift up those who have served and sacrificed for our nation."
Along with serving as the hub for three other in-state universities, the A-State Red Wolf Battalion celebrated its 85th anniversary this academic year. Arkansas State also dedicated its ROTC training facility, the largest in the state of Arkansas, as the Lt. Col. Frederick C. Turner Jr. Military Science Building to honor the three-tour Vietnam veteran and first Black instructor at A-State.
A-State also opened office space this academic year at Camp Robinson near Little Rock to support veterans and their families seeking to begin or complete degrees.
Over 1,800 schools participated in the ranking for this year, with only 282 selected as Gold in the 2022-23 ranking. Arkansas State was one of 29 universities in the MFS "large public" category to earn Gold nationwide, and along with University of Arkansas at Pine Bluff was one of only two MFS Gold in the state of Arkansas. Last year, A-State received a Silver rating. For the previous two years when levels began, A-State was a Bronze level MFS.
The 2022-23 Military Friendly® Schools list will be published in the May issue of G.I. Jobs magazine and can be found at militaryfriendly.com. Institutions earning the Military Friendly® School designation were evaluated using both public data sources and responses from a proprietary survey.
The list is created each year based on extensive research using public data sources for more than 8,800 schools nationwide, input from student veterans, and responses to the proprietary, data-driven Military Friendly® Schools survey from participating institutions. The survey questions, methodology, criteria and weighting were developed with the assistance of an independent research firm and an advisory council of educators and employers.
"Military Friendly® is committed to transparency and providing consistent data driven standards in our designation process," said Kayla Lopez, national director of military partnerships, Military Friendly. "This creates a competitive atmosphere that encourages colleges to consistently evolve and invest in their programs.
"Schools who achieve this designation show true commitment and dedication in their efforts. Our standards assist schools by providing a benchmark that promotes positive educational outcomes, resources and support services that better the educational landscape and provide opportunity for the military community."
Final ratings were determined by combining the institution's survey response set and government/agency public data sources, within a logic-based scoring assessment. Factors include the institution's ability to meet thresholds for student retention, graduation, job placement, loan repayment, persistence (degree advancement or transfer) and loan default rates for all students and, specifically, for student veterans.
In the state of Arkansas, A-State and UAPB were gold in their respective categories. University of Arkansas at Fayetteville, University of Arkansas at Fort Smith, Arkansas Northeastern College, Arkansas Tech University, and Southern Arkansas University were Silver with University of Central Arkansas rounding out the list of in-state schools on the Bronze list.
Original article source: http://www.astate.edu/news/a-state-moves-to-gold-level-in-2022-23-military-friendly-school-rankings | Article may or may not reflect the views of KLEK 102.5 FM or The Voice of Arkansas Minority Advocacy Council