05/07/2022
JONESBORO — Arkansas State University held its 2022 spring graduation ceremony Saturday morning along with conferring an honorary doctorate degree upon one of America's great singer/songwriters, women of letters, and historic preservationists, Rosanne Cash.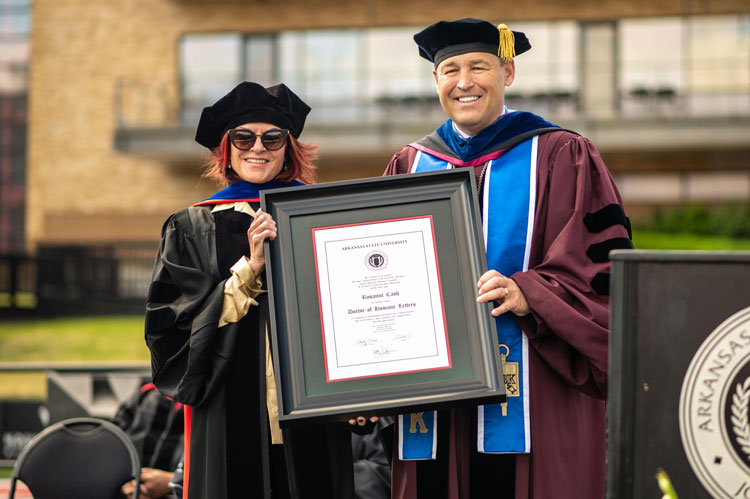 Rosanne Cash accepts honorary doctorate from Chancellor Kelly Damphousse
The Board of Trustees voted in March 2020 to award the honorary Doctor of Humane Letters, but the presentation was delayed due to the coronavirus pandemic.
"It is with deep gratitude that I accept this honor and the beautiful acknowledgement that goes with it that I am an ancestral daughter of Arkansas," said Cash as she addressed the graduates and the audience in Centennial Stadium.
She went on to relay a brief history of the Cash family's life in Northeast Arkansas and her commitment to the resurrection of the Johnny Cash Boyhood Home in Dyess.
"There is one project that I've devoted myself to and captured my heart from the very beginning and that's the restoration and preservation of the Johnny Cash Boyhood Home which is now a national heritage site in Dyess, Ark.
"The restoration and development were led first by Dr. Ruth Hawkins who drew me into the project and currently overseen by Dr. Adam Long. They are aided by the wonderful students and the community of the Heritage Studies program at A-State. And to all of them, my family owes a great debt of gratitude."
"This ongoing program is close to my heart, not because it's about fame or icon status but about my dad's humanity, his formation as a man and an artist, about the people I come from, and the music and the American significance of this New Deal Era resettlement colony."
She told the graduating class, "You are the bell that rings from the future."
Additionally, Lt. Col. Morgan Weatherly , professor of military science, led the commissioning ceremony for nine students who completed the ROTC program as second lieutenants in the U.S. Army. Two officers were recognized as distinguished military graduates.
Original article source: http://www.astate.edu/news/a-state-holds-spring-commencement-awards-honorary-doctorate-to-rosanne-cash | Article may or may not reflect the views of KLEK 102.5 FM or The Voice of Arkansas Minority Advocacy Council