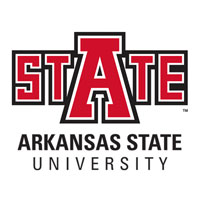 01/28/2022
JONESBORO – Arkansas State University has announced the list of students who completed degree requirements to graduate at Fall Commencement, held Dec. 18 in First National Bank Arena.
Chancellor Kelly Damphousse presented diplomas at the associate, bachelor, master, specialist and doctoral levels, along with various program certificates, as awarded through the various colleges: Agriculture, Neil Griffin College of Business, Education and Behavioral Science, Engineering and Computer Science, Liberal Arts and Communication, Nursing and Health Professions, Sciences and Mathematics, and University College.
Undergraduates with a 4.0 GPA are designated Summa Cum Laude. Those with a GPA of 3.8-3.99 graduated Magna Cum Laude, and those with a GPA of 3.6-3.79 graduated Cum Laude.
The graduating students are listed by state or territory, county, and hometown, followed by international students and graduating students at Campus Queretaro in Mexico, with degree, major, and honors as verified by the Registrar's Office:
Alabama
Chambers, La Fayette: Joshua Woody Bryan, Specialist in Education, Educational Leadership
Choctaw, Butler: Chetrenda Rena Ruffin, Specialist in Education, Educational Leadership
Geneva, Daleville: Angela Michelle Brockman, Specialist in Education, Educational Leadership
Madison, Hazel Green: Madalyn G. Jennings, Associate of Science, A.S. En Route
Madison, Huntsville: Olivia Lee Knott, Master of Communication Disorders, Communication Disorders
Marion, Guin: Matthew Craig Carr, Master of Science in Education, Educational Leadership
Montgomery, Montgomery: Eric C. Williams Jr., Bachelor of Arts, Criminology
Shelby, Helena: Grayson Lynn Gladden, Master of Science, Sport Administration
Arizona
Maricopa, Surprise: Cameron Christian Groff, Master of Science, Sport Administration
Pima, Tucson: Katrina Courtney Armijo, Master of Science, Media Management
Pinal, Florence: Robin Nicole Tobar, Specialist in Education, Educational Leadership
Yavapai, Black Canyon City: Amber Keryne Gore, Master of Public Administration, Public Administration
Arkansas
Arkansas, DeWitt: Kimberly Brown, Master of Arts in Teaching, Teaching
Arkansas, DeWitt: Emiley Kerns, Bachelor of Science in Nursing, Nursing
Arkansas, DeWitt: Carly Rose Watkins, Bachelor of Science, Psychology, Magna Cum Laude
Arkansas, Humphrey: Hannah Marie Jackson, Associate of Science, A.S. En Route
Arkansas, Stuttgart: Elizabeth Anne Knight, Certificate Program, Special Education Director
Arkansas, Stuttgart: Zackary B. Choisser, Bachelor of Science in Mechanical Engineering, Mechanical Engineering
Arkansas, Stuttgart: John Emmett Hildebrand, Bachelor of Science, Global Supply Chain Management
Arkansas, Stuttgart: Reagan Merritt Raper, Bachelor Science Education, Physical Education
Ashley, Crossett: Jeanie Catholene Ralph, Master of Science in Education, Special Education K-12
Ashley, Hamburg: Kandice Kilcrease, Master of Arts in Teaching, Teaching
Ashley, Hamburg: Hanna M. Smith, Associate of Science, A.S. En Route
Baxter, Lakeview: Crisy Ann Cook, Associate of Arts, A.A. En Route
Baxter, Mountain Home: Kathryn Hailey Carr, Bachelor of Science, Strategic Communications
Baxter, Mountain Home: Lillian Jordan Cousins, Bachelor Science Education, Elementary Education, Cum Laude
Baxter, Mountain Home: Haley Allisan Medley, Associate of Applied Science in Nursing, Nursing
Baxter, Mountain Home: Alyssa L. Ross, Associate of Applied Science in Nursing, Nursing
Baxter, Mountain Home: Hailey N. Segars, Associate of Arts, A.A. En Route
Baxter, Mountain Home: Jeana Rae Hilkert, Associate of Applied Science in Nursing, Nursing
Baxter, Mountain Home: Bobbi Daniela Sommers, Bachelor of General Studies, General Studies
Baxter, Mountain Home: Angel Lucinda Uchtman, Bachelor of Science in Nursing, Nursing
Baxter, Mountain Home: Jessica Noel Warner, Bachelor of Arts, Psychology
Baxter, Mountain Home: Orrin B. Wilson, Associate of Arts, A.A. En Route
Baxter, Mountain Home: Sydnie K. Zimmer, Associate of Applied Science in Nursing, Nursing
Baxter, Norfork: Sarah Elizabeth Wiseman, Associate of Applied Science in Nursing, Nursing
Benton, Bella Vista: Kasey N. Schooley, Master of Science in Education, Educational Leadership
Benton, Bentonville: Michael Anthony Harris, Certificate Program, Special Education Teacher
Benton, Bentonville: Jessica Lane Imel, Specialist in Education, Educational Leadership
Benton, Bentonville: Selene Martinelli Presseller, Master of Science, Strategic Communications
Benton, Bentonville: Laquita Deann Sabin, Certificate Program, Special Education Teacher
Benton, Bentonville: Mary Beth Sink, Master of Arts in Teaching, Teaching
Benton, Bentonville: Jessica Lynne Skordal, Specialist in Education, Educational Leadership
Benton, Bentonville: Tracy Smart, Specialist in Education, Educational Leadership
Benton, Bentonville: Amber Michelle Williams, Master of Arts in Teaching, Teaching
Benton, Bentonville: Emily Nichole Dysart, Bachelor of General Studies, General Studies
Benton, Bentonville: Zachary Aaron Shearer, Bachelor of Music Education, Instrumental Music
Benton, Bethel Heights: Lindsey Brooke Harlan, Master of Science in Education, Educational Leadership
Benton, Cave Springs: Bo Bergen, Master of Science, Sport Administration
Benton, Cave Springs: Andrea Leann Hullett, Master of Science in Education, Curriculum and Instruction
Benton, Centerton: Andrea J. Blickenstaff, Master of Arts in Teaching, Teaching
Benton, Centerton: Todd Boddie, Certificate Program, Building-Level Administration
Benton, Centerton: Paul B. Cochran, Certificate Program, Special Education Teacher
Benton, Centerton: Alexia BraeLynn Lamp, Associate of Science, A.S. En Route
Benton, Decatur: Ladale Lynae Clayton, Bachelor of Arts, Psychology, Magna Cum Laude
Benton, Gentry: Carmen Audra Tromp, Master of Science in Education, Reading
Benton, Gravette: Hannah Farkas, Master of Science in Education, Special Education K-12
Benton, Lowell: Ryan Christopher Morton, Master of Science in Education, Educational Leadership
Benton, Rogers: Chase Michael Cook, Master of Science in Education, Educational Leadership
Benton, Rogers: Cheryl Suzanne Daniel, Certificate Program, Gifted, Talented, and Creative Teachers
Benton, Rogers: Michael Elkins, Master of Science, Strategic Communications
Benton, Rogers: Christine Kucera Hancock, Master of Science in Education, Educational Leadership
Benton, Rogers: Lara A. LaBryer, Master of Arts in Teaching, Teaching
Benton, Rogers: Morgan Renee Smith, Associate of Arts, A.A. En Route
Benton, Siloam Springs: Cesia K. Espinal, Master of Science in Education, Special Ed GTC
Benton, Siloam Springs: Christopher William Gorgas-Coonrod, Master of Arts in Teaching, Teaching
Benton, Siloam Springs: Hannah L. Herring, Bachelor of General Studies, General Studies, Cum Laude
Boone, Harrison: Wen W. Hunt, Master of Science in Education, Special Education K-12
Boone, Harrison: Becca L. Jackson, Master of Science in Education, Special Ed GTC
Boone, Harrison: Melissa Kay Spradley-King, Specialist in Education, Educational Leadership
Boone, Harrison: Teresa Elizabeth Lee, Specialist in Education, Educational Leadership
Boone, Harrison: Julianna M. Cramer, Bachelor of Science, Sport Management
Boone, Harrison: Jolynn Megan Due, Associate of Applied Science in Nursing, Nursing
Boone, Harrison: Jaxon Bowen Edwards, Bachelor of Arts, Criminology
Carroll, Berryville: Abigail Lynn Brown, Master of Science in Education, Reading
Chicot, Lake Village: Braxton Domino Elliott, Master of Science in Education, Special Education K-12
Clark, Arkadelphia: Patti Martin Goodson, Master of Science in Education, Special Education K-12
Clay, Corning: Matthew William Ahrent, Bachelor of Science in Agriculture, Plant and Soil Science
Clay, Corning: Abby Nicole Bauschlicher, Certificate of Proficiency, Limited X-Ray Machine Operator
Clay, Piggott: Noah David Gregory, Bachelor of Science, Creative Media Production
Clay, Piggott: Ashlee Nicole Hill, Bachelor Science Education, Elementary Education, Magna Cum Laude
Clay, Piggott: Micah Lynn Hobbs, Bachelor Science Education, Social Science
Clay, Rector: Haven Helainah Miller, Master of Arts in Teaching, Teaching
Clay, Rector: Gabriona S. Clark, Associate of Arts, A.A. En Route
Clay, Rector: Sara N. Staires, Associate of Science, A.S. En Route
Clay, Rector: Samuel L. Simmons, Bachelor of Science in Agriculture, Plant and Soil Science
Clay, Rector: Kaitlin Spears, Certificate of Proficiency, Limited X-Ray Machine Operator
Cleburne, Heber Springs: Hannah M. Langley, Specialist in Education, Educational Leadership
Cleburne, Heber Springs: Justin Hayes Musick, Specialist in Education, Educational Leadership
Cleburne, Heber Springs: Kristina Faith Miller, Bachelor of Science in Nursing, Nursing
Cleburne, Rose Bud: Kailee Wyevette Bell, Master of Science in Education, Special Education K-12
Cleveland, Rison: Abbi Kate Branch, Associate of Science, A.S. En Route
Cleveland, Rison: Codey J. Keaton, Associate of Science, A.S. En Route
Columbia, Magnolia: Kaityln Mikayla Disedare, Associate of Science, A.S. En Route
Columbia, Magnolia: Meagan S. Moore, Associate of Applied Science in Nursing, Nursing
Columbia, Magnolia: Sondra Shunta Moss, Associate of General Studies, General Studies
Conway, Plumerville: Jennifer Denise Johnson, Associate of Applied Science in Nursing, Nursing
Conway, Plumerville: Tiffany D. Gilmore, Associate of Science, A.S. En Route
Craighead, Bay: Lauren G. Denny, Master of Science in Education, Education Theory and Practice
Craighead, Bay: Aaron Lyle Hall, Master of Science in Education, English
Craighead, Bono: Feliece M. Huddleston, Master of Arts in Teaching, Teaching
Craighead, Bono: Sarah Jane Crawford, Master of Arts in Teaching, Teaching
Craighead, Bono: Kayden T. Boyle, Bachelor of Science in Mechanical Engineering, Mechanical Engineering, Summa Cum Laude
Craighead, Bono: John R. Browning, Bachelor of Science in Agriculture, Plant and Soil Science
Craighead, Bono: Bailee Fayeth Crowe, Bachelor of General Studies, General Studies
Craighead, Bono: Wyatt L. Morris, Bachelor of Science, Management
Craighead, Bono: Mickeal L. Quillman Jr., Bachelor of General Studies, General Studies
Craighead, Bono: Halle Blaire Rich, Associate of Science, A.S. En Route
Craighead, Bono: Mallory Lenn Smith, Bachelor of Arts, Theatre Arts
Craighead, Bono: Courtney M. Stage, Bachelor of Science, Clinical Laboratory Science
Craighead, Bono: Megan Danielle Weaver, Bachelor of Fine Arts, Art, Cum Laude
Craighead, Bono: Jordan L. Whitney, Associate of Applied Science in Nursing, Nursing
Craighead, Bono: Anna L. Zecman, Bachelor of Science, Finance
Craighead, Brookland: Christina Jean Dupree Benbrook, Master of Science in Education, School Counseling
Craighead, Brookland: Olivia Faith Metzgar, Master of Communication Disorders, Communication Disorders
Craighead, Brookland: Frederick Ray Prince, Master of Business Administration, Business Administration
Craighead, Brookland: Christine D. Wilkerson, Master of Communication Disorders, Communication Disorders
Craighead, Brookland: David Russell Young, Doctor of Education, Educational Leadership
Craighead, Brookland: Matthew Blake Bennett, Bachelor of Science, Computer and Information Technology
Craighead, Brookland: Alyssa L. Brockway, Associate of Arts, A.A. En Route
Craighead, Brookland: Brodie D. Couch, Associate of Science, A.S. En Route
Craighead, Brookland: Wakonda Lakisa Cox, Bachelor of Arts, Sociology
Craighead, Brookland: Larry G. Heyl, Bachelor of Music, Music
Craighead, Brookland: Reid A. Lane, Bachelor of Science in Agriculture, Agricultural Studies
Craighead, Brookland: Nicole M. Ross, Bachelor Science Education, Physical Education
Craighead, Brookland: Emily Madeleine Skaggs, Bachelor of Science, Strategic Communications, Magna Cum Laude
Craighead, Brookland: Emily Madeleine Skaggs, Certificate of Proficiency, Public Relations and Advertising
Craighead, Brookland: Emily Madeleine Skaggs, Certificate of Proficiency, Social Media Management
Craighead, Brookland: Ashton R. Smallman, Associate of Arts, A.A. En Route
Craighead, Brookland: Chloe Grace Turner, Associate of Science, A.S. En Route
Craighead, Caraway: Christy N. Booth, Master of Science, Disaster Preparedness and Emergency Management
Craighead, Caraway: Katie D. Towery, Associate of Arts, A.A. En Route
Craighead, Egypt: Jaden B. Baker, Bachelor of Arts, Psychology
Craighead, Jonesboro: Sarah L. Ball, Master of Arts in Teaching, Teaching
Craighead, Jonesboro: Kristyn Leighann Shatzer, Master of Arts in Teaching, Teaching
Craighead, Jonesboro: Jessica L. Biggs, Certificate Program, Special Education Director
Craighead, Jonesboro: Shaneka Antwonette Brandon, Master of Public Administration, Public Administration
Craighead, Jonesboro: Robert Ray Clark, Master of Science, Environmental Sciences
Craighead, Jonesboro: Preston Lee Despain, Master of Science in Education, Educational Leadership
Craighead, Jonesboro: Awura-Esi Fiadjoe, Master of Public Administration, Public Administration
Craighead, Jonesboro: Rebekah Garner Fisher, Master of Arts in Teaching, Teaching
Craighead, Jonesboro: Cayley R. French, Specialist in Education, Educational Leadership
Craighead, Jonesboro: Josephine Lillian Garcia, Master of Arts, English
Craighead, Jonesboro: Jennifer Elizabeth Giddings, Master of Communication Disorders, Communication Disorders
Craighead, Jonesboro: Alexa Rae Grissom, Master of Communication Disorders, Communication Disorders
Craighead, Jonesboro: Ashley L. Honeycutt, Master of Communication Disorders, Communication Disorders
Craighead, Jonesboro: Logan Victoria Huggins, Master of Arts, English
Craighead, Jonesboro: Md Rafiue Islam, Master of Science in Engineering, Engineering
Craighead, Jonesboro: Andrea Laraye Jones, Master of Science, College Student Personnel Services
Craighead, Jonesboro: Valerie Marie Kearny, Master of Science, Biology
Craighead, Jonesboro: Jennifer Suzanna Keller, Master of Public Administration, Public Administration
Craighead, Jonesboro: Lindsay Marie Lewis, Master of Arts in Teaching, Teaching
Craighead, Jonesboro: Jakara Richele Lockhart, Master of Communication Disorders, Communication Disorders
Craighead, Jonesboro: Hope Rebekah McAlee, Master of Science in Mass Communications, Radio Television
Craighead, Jonesboro: Mitchell W. McCarty, Master of Business Administration, Business Administration
Craighead, Jonesboro: Teah Sade Morris, Specialist in Education, Educational Leadership
Craighead, Jonesboro: Emily Joyce Oldman, Master of Arts in Teaching, Teaching
Craighead, Jonesboro: Bailey Nicole Dunbar, Master of Science in Education, Reading
Craighead, Jonesboro: Christina Nicole Phillips, Master of Public Administration, Public Administration
Craighead, Jonesboro: Laken R. Reddell, Master of Communication Disorders, Communication Disorders
Craighead, Jonesboro: Corban L. Richardson, Master of Business Administration, Business Administration
Craighead, Jonesboro: Ahlam Safouhi, Master of Engineering Management, Engineering Management
Craighead, Jonesboro: Allison Nicole Sammons, Master of Accountancy, Accounting
Craighead, Jonesboro: Chase Wilson Sanders, Master of Science, Exercise Science
Craighead, Jonesboro: Stefan L. Simons, Master of Arts in Teaching, Teaching
Craighead, Jonesboro: Eleanor Nell Stafford, Master of Business Administration, Business Administration
Craighead, Jonesboro: Emily Sharelle Thompson, Master of Science, Mathematics
Craighead, Jonesboro: Nathaniel Thomas Tiner, Master of Arts in Teaching, Teaching
Craighead, Jonesboro: Ana-Liese Torres, Specialist in Education, Psychology and Counseling
Craighead, Jonesboro: Emily Payton Weaver, Specialist in Education, Psychology and Counseling
Craighead, Jonesboro: Kajavia Samone Woods, Master of Science in Education, Special Education K-12
Craighead, Jonesboro: Moses Iyanuoluwa Abdulai, Bachelor of Science, Computer and Information Technology
Craighead, Jonesboro: Abdulmajeed Falah Alnumasi, Bachelor of Science in Civil Engineering, Civil Engineering
Craighead, Jonesboro: Joshua Ray Adlong, Bachelor of Science, Business Administration
Craighead, Jonesboro: Tanika Nicole Akins, Associate of Applied Science in Nursing, Nursing
Craighead, Jonesboro: Francis E. Armstrong, Bachelor of Science, Engineering Technology
Craighead, Jonesboro: Glenn Edward Armstrong, Bachelor of General Studies, General Studies
Craighead, Jonesboro: Nicklaus Robert Aumann, Bachelor of Science, Exercise Science
Craighead, Jonesboro: Skyler Mikel Bailey, Bachelor of Arts, Economics, Magna Cum Laude
Craighead, Jonesboro: Skyler Mikel Bailey, Certificate of Proficiency, Business Law and Compliance
Craighead, Jonesboro: Hope L. Barnes, Bachelor Science Education, Elementary Education, Cum Laude
Craighead, Jonesboro: Natalie D. Bates, Associate of Arts, A.A. En Route
Craighead, Jonesboro: Hayden Saxby Boles, Bachelor of Arts, Theatre
Craighead, Jonesboro: Tristin Michael Bower, Associate of Applied Science, Clinical Laboratory Science
Craighead, Jonesboro: Neely Danielle Boyd, Associate of Science, A.S. En Route
Craighead, Jonesboro: Tyreka Evon Bradley, Bachelor of Science, Clinical Laboratory Science
Craighead, Jonesboro: Steven Lamar Brimlett, Bachelor of Arts, Criminology, Cum Laude
Craighead, Jonesboro: Charles Richard Brotherton, Bachelor of Science, Marketing
Craighead, Jonesboro: Joseph Allen Brown, Bachelor Science Education, Social Science
Craighead, Jonesboro: Nicole LeeAnn Brownderville, Associate of Science, A.S. En Route
Craighead, Jonesboro: Malath Omar Bugshan, Bachelor of Science, Finance, Summa Cum Laude
Craighead, Jonesboro: De'Angelis La'Jyrl Bullard, Bachelor of General Studies, General Studies
Craighead, Jonesboro: Leah D. Carter, Bachelor of Science, Health Studies, Cum Laude
Craighead, Jonesboro: Marc R. Carter, Associate of Science, A.S. En Route
Craighead, Jonesboro: Terra Lynn Chaney, Bachelor of Science, Psychology
Craighead, Jonesboro: Glenda Kaye Childs, Bachelor of Science, Creative Media Production
Craighead, Jonesboro: William Tyrus Colston, Bachelor of Arts, History
Craighead, Jonesboro: Joanna Nichole Conrad, Bachelor of Music, Music, Cum Laude
Craighead, Jonesboro: Heather Dawn Cooper, Bachelor of Arts, Communication Studies
Craighead, Jonesboro: Heather Dawn Cooper, Bachelor of Science, Creative Media Production
Craighead, Jonesboro: Heather D. Cox, Associate of Science, A.S. En Route
Craighead, Jonesboro: Gracesyn Ferrell Craig, Associate of Science, A.S. En Route
Craighead, Jonesboro: David L. Crawford, Bachelor of Science, Creative Media Production
Craighead, Jonesboro: Shakira Crawford, Bachelor of Science, Health Promotion
Craighead, Jonesboro: Bethany Melrose Crum, Associate of Arts, A.A. En Route
Craighead, Jonesboro: Tiffany Ann Cunningham, Bachelor of Arts, Political Science
Craighead, Jonesboro: Hunter Z. Davis, Associate of Arts, A.A. En Route
Craighead, Jonesboro: Rebekah K. Davis, Associate of Science, A.S. En Route
Craighead, Jonesboro: Ashley Brynn DeLong, Bachelor of Science in Radiologic Science, Radiologic Sciences
Craighead, Jonesboro: Paige Nicole Diebold, Bachelor of Science, Psychology
Craighead, Jonesboro: William H. Doggett, Associate of Science, A.S. En Route
Craighead, Jonesboro: John Lingeman Drake, Bachelor of General Studies, General Studies
Craighead, Jonesboro: Jimmy Don DuVall, Bachelor of Science in Agriculture, Plant and Soil Science
Craighead, Jonesboro: Genna R. Echols, Associate of Science, A.S. En Route
Craighead, Jonesboro: Amber Dawn Fahr, Bachelor of Science, Clinical Laboratory Science
Craighead, Jonesboro: Lauren Briann Ferguson, Bachelor of Science in Agriculture, Animal Science
Craighead, Jonesboro: Catherine Lynn Fleming, Bachelor of Arts, English
Craighead, Jonesboro: Briana E. Cook, Bachelor of Science in Nursing, Nursing
Craighead, Jonesboro: Michele Elaine Gleason, Bachelor of Science, Management
Craighead, Jonesboro: Claudia Victoria Gonzalez, Bachelor of Science, Psychology
Craighead, Jonesboro: Daniel W. Haddock, Bachelor of Science, Engineering Technology
Craighead, Jonesboro: Bethany Grace Hall, Bachelor of Arts, Criminology
Craighead, Jonesboro: Lauren Lee Hamilton, Associate of Applied Science in Nursing, Nursing
Craighead, Jonesboro: Jacob S. Hardage, Bachelor of Science in Mechanical Engineering, Mechanical Engineering
Craighead, Jonesboro: Isaiah G. Haywood, Associate of Science, A.S. En Route
Craighead, Jonesboro: Media L. Hollywood, Bachelor of Science in Nursing, Nursing
Craighead, Jonesboro: Ellen Sara Ito Bing, Bachelor of Science, Marketing
Craighead, Jonesboro: Archit Jain, Bachelor of Arts, Criminology
Craighead, Jonesboro: Ryan Lee James, Bachelor of Science, Creative Media Production, Cum Laude
Craighead, Jonesboro: Sarah Kay Joiner, Bachelor of Music Education, Instrumental Music
Craighead, Jonesboro: Chardaesha Janae' Jones, Associate of Arts, A.A. En Route
Craighead, Jonesboro: Jessie E. Jones, Associate of Science, A.S. En Route
Craighead, Jonesboro: Mary Kate Kelso, Associate of Applied Science, Clinical Laboratory Science
Craighead, Jonesboro: Michael W. Kemp, Associate of Science, A.S. En Route
Craighead, Jonesboro: Alicia Renee Kimbrough, Bachelor of General Studies, General Studies
Craighead, Jonesboro: Kalee Jo King, Bachelor of Science, Biological Sciences, Magna Cum Laude
Craighead, Jonesboro: Shawn Michael King, Bachelor of Science, Biological Sciences
Craighead, Jonesboro: Alliyah Tyann Kirkwood, Bachelor of Fine Arts, Graphic Design
Craighead, Jonesboro: Andrew William Gant Kosinski, Bachelor of Science, Strategic Communications
Craighead, Jonesboro: Jessica P. Lance, Associate of Science, A.S. En Route
Craighead, Jonesboro: Myka Raley Laws, Bachelor of Science, Business Administration, Cum Laude
Craighead, Jonesboro: Mary Caitlin Lester, Bachelor of Science, Biological Sciences
Craighead, Jonesboro: Lauren K. Little, Associate of Science, A.S. En Route
Craighead, Jonesboro: Zachary C. Lowery, Associate of Science, A.S. En Route
Craighead, Jonesboro: Justin R. Lynch, Bachelor of Science in Nursing, Nursing
Craighead, Jonesboro: Adriana Sarai Mancilla, Associate of Science, A.S. En Route
Craighead, Jonesboro: Sarah Elizabeth Colbert, Bachelor of Science in Nursing, Nursing
Craighead, Jonesboro: Alexandria P. Martillo, Bachelor of Science in Agriculture, Animal Science, Magna Cum Laude
Craighead, Jonesboro: Brittany Danielle Martin, Bachelor of Science, Psychology, Magna Cum Laude
Craighead, Jonesboro: Shaila N. Masterson, Bachelor of Science, Clinical Laboratory Science
Craighead, Jonesboro: Leah G. McNatt, Associate of Science, A.S. En Route
Craighead, Jonesboro: Jordan L. Miller, Bachelor of Science, Sport Management
Craighead, Jonesboro: Felicia C. Moore, Bachelor of Science, Business Administration
Craighead, Jonesboro: Kandace G. Moore, Bachelor of Arts, Criminology
Craighead, Jonesboro: Clay Mullins, Bachelor of General Studies, General Studies
Craighead, Jonesboro: Brittney Munoz, Associate of Science, A.S. En Route
Craighead, Jonesboro: Jose D. Munoz, Associate of Science, A.S. En Route
Craighead, Jonesboro: Angelica G. Nava, Certificate of Proficiency, Limited X-Ray Machine Operator
Craighead, Jonesboro: Katie Denise Noell, Bachelor of Science, Biological Sciences
Craighead, Jonesboro: Kinsey S. Norvell, Bachelor of Science, Psychology
Craighead, Jonesboro: Chioma Dawn-Boma Nzimiro, Bachelor of Science, Mathematics
Craighead, Jonesboro: Elizabeth J. O'Neil, Bachelor of Science in Nursing, Nursing
Craighead, Jonesboro: Walter J Ochello, Bachelor of Science, Health Studies
Craighead, Jonesboro: Brian O'neal Odom, Bachelor of General Studies, General Studies
Craighead, Jonesboro: Melissa Adelle Palumbo, Bachelor of Arts, Environmental Studies
Craighead, Jonesboro: Charmi Divya Patel, Associate of Applied Science, Clinical Laboratory Science
Craighead, Jonesboro: Abby Kaye Phillips, Bachelor of Science, Business Administration
Craighead, Jonesboro: Krista D. Pittman, Bachelor of Science, Strategic Communications, Summa Cum Laude
Craighead, Jonesboro: Princeton J. Pitts, Bachelor of Science, Exercise Science
Craighead, Jonesboro: Caroline Grace Proffer, Bachelor of Arts, Criminology
Craighead, Jonesboro: Caroline Grace Proffer, Bachelor of Arts, Sociology
Craighead, Jonesboro: Oscar Eden Quiroz, Bachelor of Arts, Music
Craighead, Jonesboro: Kaleigh Aerial Remillard, Bachelor of Arts, Psychology
Craighead, Jonesboro: Dawson R. Riede, Bachelor of General Studies, General Studies
Craighead, Jonesboro: Jeydon Campbell Riggs, Bachelor of Arts, History, Magna Cum Laude
Craighead, Jonesboro: Rikesha Laneice Roberson, Bachelor of Arts, Criminology
Craighead, Jonesboro: Clinton Aaron Roberts, Bachelor of General Studies, General Studies
Craighead, Jonesboro: Seth C. Robinson, Associate of Science, A.S. En Route
Craighead, Jonesboro: Colin A. Roessler, Bachelor of Science in Agriculture, Agricultural Business
Craighead, Jonesboro: Hayley Renee Rollins, Associate of Science, A.S. En Route
Craighead, Jonesboro: Madison Grayce Ruple, Associate of Science, A.S. En Route
Craighead, Jonesboro: Emma L. Schroeder, Associate of Science, A.S. En Route
Craighead, Jonesboro: Jean-Marc Diclaud Scorea, Associate of Arts, A.A. En Route
Craighead, Jonesboro: Alexis Shavette Scott, Bachelor of General Studies, General Studies
Craighead, Jonesboro: Michael Colten Sedman, Associate of Science, A.S. En Route
Craighead, Jonesboro: Daiki Shibayama, Bachelor of Science, Marketing
Craighead, Jonesboro: Cameron E. Simmermon, Associate of Arts, A.A. En Route
Craighead, Jonesboro: Amelia Malvindra Singh, Bachelor of Science, Mathematics, Magna Cum Laude, Honors Program
Craighead, Jonesboro: Shanei R. Sloan, Bachelor of General Studies, General Studies
Craighead, Jonesboro: Emily Brooke Smith, Bachelor of General Studies, General Studies
Craighead, Jonesboro: Niklas S. Smith, Associate of Arts, A.A. En Route
Craighead, Jonesboro: Shyanne B. Smith, Associate of Arts, A.A. En Route
Craighead, Jonesboro: Autumn N. Snooks, Associate of Science, A.S. En Route
Craighead, Jonesboro: Grace Katherine Spears, Bachelor of General Studies, General Studies
Craighead, Jonesboro: Garrett T. Swindle, Bachelor of Arts, Political Science
Craighead, Jonesboro: Candy A. Swope, Bachelor of General Studies, General Studies
Craighead, Jonesboro: Hannah C. Taber, Associate of Science, A.S. En Route
Craighead, Jonesboro: Hannah F. Taylor, Associate of Science, A.S. En Route
Craighead, Jonesboro: Serey Tepy Tes, Bachelor of Science, Dietetics
Craighead, Jonesboro: Madison E. Tyer, Bachelor of Science in Radiologic Science, Radiologic Sciences
Craighead, Jonesboro: Jamaica Walker, Bachelor of Arts, History
Craighead, Jonesboro: Donald Lyle Waterworth Jr., Bachelor of Science, Management
Craighead, Jonesboro: Callie Caroline Weaver, Bachelor of Science, Marketing
Craighead, Jonesboro: Brittney N. Webb, Associate of Applied Science in Nursing, Nursing
Craighead, Jonesboro: Alexander Robert White, Bachelor of General Studies, General Studies
Craighead, Jonesboro: Jessica L. Whitley, Bachelor of Arts, Sociology
Craighead, Jonesboro: Abigail Faith Wilcox, Associate of Arts, A.A. En Route
Craighead, Jonesboro: Nicholas Clay Wilkes, Associate of Arts, A.A. En Route
Craighead, Jonesboro: Halle Katherine Willard, Associate of Science, A.S. En Route
Craighead, Jonesboro: Carissa Woodall, Bachelor Science Education, English, Cum Laude
Craighead, Jonesboro: Zechang Xiang, Bachelor of Science, Clinical Laboratory Science
Craighead, Jonesboro: Yangyang Xue, Bachelor of Science, Clinical Laboratory Science
Craighead, Jonesboro: Wuyi Zhang, Bachelor of Science, Clinical Laboratory Science
Craighead, Lake City: Melanie Ruth Cheesman, Associate of Arts, A.A. En Route
Craighead, Lake City: Tiffany Fulcher, Associate of Arts, A.A. En Route
Craighead, Lake City: Thomas H. McCall, Bachelor of Science, Computer Science
Craighead, Lake City: Darby Ann Wray, Bachelor of Science, Clinical Laboratory Science
Craighead, Lake City: Ashlynn L. Wright, Associate of Arts, A.A. En Route
Craighead, Monette: Cori Nicole Fernandez, Master of Science in Agriculture, General Agriculture
Craighead, Monette: Kaitlyn D. Fry, Associate of Science, A.S. En Route
Craighead, Monette: Dilynn Gene Strickland, Associate of Arts, A.A. En Route
Craighead, State University: Lafair M. Hale, Master of Science in Education, Educational Leadership
Craighead, State University: Valeria Aguilar Luna, Bachelor of Science, Strategic Communications
Craighead, State University: Dale Hartmann, Bachelor of Science, Chemistry
Craighead, State University: Dan Dieu Merci Kilula, Bachelor of Science in Mechanical Engineering, Mechanical Engineering, Magna Cum Laude
Craighead, State University: Kobe Gibbs Ray, Bachelor of Science in Civil Engineering, Civil Engineering
Crawford, Alma: Jason Doyle Hensley, Master of Arts in Teaching, Teaching
Crawford, Alma: Michael Bruce Johnson, Specialist in Education, Educational Leadership
Crawford, Alma: Brayden Duane McKeown, Master of Science in Education, Special Education K-12
Crawford, Alma: James Michael Smith, Master of Arts in Teaching, Teaching
Crawford, Mountainburg: Lauren Noelle Self, Specialist in Education, Educational Leadership
Crawford, Van Buren: Dexter Monroe Pendergraft, Certificate Program, Building-Level Administration
Crawford, Van Buren: Corie Rae Williams, Master of Science in Education, School Counseling
Crawford, Van Buren: Kelsea Zermeno-Geschwentner, Master of Science in Education, Education Theory and Practice
Crawford, Van Buren: Juan Zermeno-Gomez, Master of Science in Education, Education Theory and Practice
Crawford, Van Buren: Amy Dawn Rogers, Bachelor of Science in Nursing, Nursing
Crittenden, Crawfordsville: Daylon J. Witt, Associate of Science, A.S. En Route
Crittenden, Earle: Madison Grace Coats, Master of Communication Disorders, Communication Disorders
Crittenden, Earle: Roshanna Rashay Luster, Associate of Science, A.S. En Route
Crittenden, Earle: Dana Michelle Simpson, Associate of General Studies, General Studies
Crittenden, Earle: Triniqueka Y. Watson, Bachelor of Arts, Sociology
Crittenden, Edmondson: Courtney Javisha Shaw, Associate of Science, A.S. En Route
Crittenden, Marion: Chance Candace Brown, Master of Science in Education, Special Ed GTC
Crittenden, Marion: Matthew James Collins, Master of Accountancy, Accounting
Crittenden, Marion: Morgan Grace Dickson, Master of Communication Disorders, Communication Disorders
Crittenden, Marion: Gavin R. Estes, Master of Accountancy, Accounting
Crittenden, Marion: Emilee Ann Mattox, Associate of Applied Science in Nursing, Nursing
Crittenden, Marion: Hayden W. Bedenbaugh, Associate of Science, A.S. En Route
Crittenden, Marion: Rachel Nicole Cannady, Associate of Applied Science in Nursing, Nursing
Crittenden, Marion: Conner M. Catt, Bachelor of Science in Agriculture, Plant and Soil Science, Cum Laude
Crittenden, Marion: Bernice Mishelle Chapple, Associate of Applied Science in Nursing, Nursing
Crittenden, Marion: Richard E. Curtis, Bachelor of Arts, Sociology
Crittenden, Marion: Nyha Gabrielle Dixon, Associate of Science, A.S. En Route
Crittenden, Marion: Marisa Hess, Associate of Applied Science in Nursing, Nursing
Crittenden, Marion: Megan Haley Hulsey, Associate of Applied Science in Nursing, Nursing
Crittenden, Marion: Tiffany R. Hunt, Associate of Applied Science in Nursing, Nursing
Crittenden, Marion: Kendrien Z. Ingram, Associate of Applied Science in Nursing, Nursing
Crittenden, Marion: Chase R. Letner, Bachelor of Science, Global Supply Chain Management
Crittenden, Marion: Sydney J. Masengale, Associate of Science, A.S. En Route
Crittenden, Marion: Elbony L. McNeil, Associate of Applied Science in Nursing, Nursing
Crittenden, Marion: Percilla A. Mitchell, Associate of Applied Science in Nursing, Nursing
Crittenden, Marion: Dallas C. Nash, Bachelor of Science, Business Administration
Crittenden, Marion: Dallas C. Nash, Bachelor of Science, Finance
Crittenden, Marion: Aaliyah Price, Associate of Science, A.S. En Route
Crittenden, Marion: Candace P. Russell, Associate of Applied Science in Nursing, Nursing
Crittenden, Marion: Cynthia A. Savage, Bachelor of Science, Strategic Communications, Magna Cum Laude
Crittenden, Marion: Steven Tyler Williams, Bachelor of Science, Creative Media Production
Crittenden, Marion: Anna E. Wood, Associate of Science, A.S. En Route
Crittenden, Proctor: B. Marie Armour, Bachelor of General Studies, General Studies, Cum Laude
Crittenden, Proctor: Gabriel Alexander Andrew Rodgers, Associate of Science, A.S. En Route
Crittenden, Turrell: Allen Christopher Coleman, Associate of Science, A.S. En Route
Crittenden, Turrell: Matthew C. Land, Associate of Arts, A.A. En Route
Crittenden, West Memphis: Mandi L. Baker, Master of Arts in Teaching, Teaching
Crittenden, West Memphis: Candice Lynn Johnson, Specialist in Education, Educational Leadership
Crittenden, West Memphis: Morgan Elizabeth Masengale, Master of Communication Disorders, Communication Disorders
Crittenden, West Memphis: Kimberly Jill Odom, Master of Science in Education, Educational Leadership
Crittenden, West Memphis: Callissia D. Garrett, Associate of Applied Science in Nursing, Nursing
Crittenden, West Memphis: Erica Denise Jones, Associate of Science, A.S. En Route
Crittenden, West Memphis: Rosalind Monique Lewis, Associate of Applied Science in Nursing, Nursing
Crittenden, West Memphis: Raquel Logan, Associate of Applied Science in Nursing, Nursing
Crittenden, West Memphis: Ashley Skye Lucas, Associate of Applied Science in Nursing, Nursing
Crittenden, West Memphis: Yutoffiyia Duntae McClure, Bachelor of General Studies, General Studies
Crittenden, West Memphis: Anjelica Bernice Nichols, Associate of Applied Science in Nursing, Nursing
Crittenden, West Memphis: Ronnie L. Nicks III, Bachelor of Science, Business Administration
Crittenden, West Memphis: Ashley M. Pamplin, Associate of Applied Science in Nursing, Nursing
Crittenden, West Memphis: Lydia Encarnacion Maturan Perschka, Bachelor of Arts, English, Magna Cum Laude
Crittenden, West Memphis: Lydia Encarnacion Maturan Perschka, Bachelor of Science, Marketing, Magna Cum Laude
Crittenden, West Memphis: Nadia S. Prewitt, Associate of Applied Science in Nursing, Nursing
Crittenden, West Memphis: Tyissha Monique Stanton, Bachelor of General Studies, General Studies
Crittenden, West Memphis: Taylor Renee Walker, Bachelor of Science, Finance
Crittenden, West Memphis: Deanna Danielle Ware, Associate of Applied Science in Nursing, Nursing
Crittenden, West Memphis: Alexandria Warren, Associate of Arts, A.A. En Route
Crittenden, West Memphis: Latisha Wright, Associate of Applied Science in Nursing, Nursing
Cross, Cherry Valley: Monica Nicole Collins, Bachelor of Science, Psychology
Cross, Cherry Valley: Truman A. Jones, Bachelor Science Education, Social Science
Cross, Cherry Valley: Brittney M. McCay, Bachelor of Science, Biological Sciences
Cross, Colt: William J. Stanbery, Associate of Science, A.S. En Route
Cross, Parkin: Whitney Danielle Alexander, Master of Science, Early Childhood Services
Cross, Wynne: Laura Kate Gaskin, Master of Accountancy, Accounting
Cross, Wynne: Dylan K. Milligan, Master of Arts in Teaching, Teaching
Cross, Wynne: Zachary T. Morris, Master of Science, Sport Administration
Cross, Wynne: William H. Baker, Associate of Science, A.S. En Route
Cross, Wynne: Ashlan L. Ball, Associate of Science, A.S. En Route
Cross, Wynne: Asia C. Boykin, Bachelor of Science in Nursing, Nursing
Cross, Wynne: Cor'Darius Lashon Brown, Bachelor of Fine Arts, Graphic Design
Cross, Wynne: Austin Douglas Carper, Bachelor of Science, Sport Management, Magna Cum Laude
Cross, Wynne: Jackson Dunn McClintock, Bachelor of Science in Agriculture, Agricultural Studies
Cross, Wynne: Andrea Kathleen Thomas, Bachelor of Science, Biological Sciences
Cross, Wynne: Lauren Elizabeth Thornhill, Bachelor of Science in Agriculture, Agricultural Studies
Cross, Wynne: Shelby Dawn Winford, Bachelor of General Studies, General Studies
Cross, Wynne: Shane D. Webb, Bachelor Science Education, Mathematics
Dallas, Sparkman: Jon D. Pigott, Specialist in Education, Educational Leadership
Desha, Dumas: Camille Yvonne Sterrett, Doctor of Education, Educational Leadership
Desha, Tillar: Joseph C. Holland, Associate of Science, A.S. En Route
Drew, Monticello: Kaley Whittle, Master of Science in Education, Education Theory and Practice
Drew, Monticello: Haley Nichole Hill, Associate of Science, A.S. En Route
Drew, Winchester: Michelle Lee Gray, Master of Arts in Teaching, Teaching
Faulkner, Conway: Clint Taylor Ashcraft, Specialist in Education, Educational Leadership
Faulkner, Conway: Randal Lee Betts, Certificate Program, Special Education Teacher
Faulkner, Conway: Hannah L. Edgell, Master of Science in Education, School Counseling
Faulkner, Conway: Casey Chantel Grinder, Specialist in Education, Educational Leadership
Faulkner, Conway: Raven Dorothy Haynes, Specialist in Education, Educational Leadership
Faulkner, Conway: Bethany Elaine Glidewell Taff, Master of Science in Education, Educational Leadership
Faulkner, Conway: Madison Lee Davis, Associate of Science, A.S. En Route
Faulkner, Conway: Kayla Phishell Hardwrick, Associate of Science, A.S. En Route
Faulkner, Conway: Carmen Janette Henderson, Bachelor of Science in Nursing, Nursing
Faulkner, Conway: Henrietta Michelle Miller, Associate of Arts, A.A. En Route
Faulkner, Conway: Veronica Nichole Milnes, Bachelor of Science, Psychology, Cum Laude
Faulkner, Conway: Veronica Nichole Milnes, Certificate of Proficiency, Neuropsychological Testing
Faulkner, Conway: Sarah C. Owen, Associate of Science, A.S. En Route
Faulkner, Conway: Madeline Elizabeth Raup, Associate of Science, A.S. En Route
Faulkner, Conway: Anna R. Reed, Associate of Science, A.S. En Route
Faulkner, Conway: Kayla Lanelle Shelton, Associate of Science, A.S. En Route
Faulkner, Conway: Jacob Gray Townsend, Bachelor of Science, Marketing
Faulkner, Enola: Bailey Elizabeth Carter, Bachelor of Science, Strategic Communications
Faulkner, Enola: Lori A. Stocks, Bachelor of Science in Nursing, Nursing
Faulkner, Greenbrier: Shannon N. Boone, Associate of Arts, A.A. En Route
Faulkner, Greenbrier: Hailey Rhyan Zemrock, Bachelor of Arts, Psychology
Faulkner, Vilonia: Brittney Marie Curran, Bachelor Science Education, Elementary Education, Magna Cum Laude
Faulkner, Vilonia: Rebecca Janette Owen, Bachelor of Arts, Sociology
Franklin, Charleston: Ashley M. Couthren, Certificate Program, Dyslexia
Franklin, Charleston: Jill N. Siebenmorgen, Master of Science in Education, Early Childhood Education
Fulton, Ash Flat: Casey L. Hunt, Specialist in Education, Educational Leadership
Fulton, Ash Flat: Beverly Ann Rogers, Master of Science in Education, Reading
Fulton, Gepp: Brandon H. Carr, Bachelor of Science in Radiologic Science, Radiologic Sciences
Fulton, Gepp: Emmalee Joy Hall, Associate of Applied Science in Nursing, Nursing
Fulton, Mammoth Spring: Morgan Brittany Lowe, Master of Science in Agriculture, General Agriculture
Fulton, Mammoth Spring: Taylor Layne, Bachelor Science Education, Physical Education
Fulton, Salem: Kelly Lyn Jackson, Bachelor of Science in Nursing, Nursing
Garland, Hot Springs: Anna Joy Jackson, Master of Science in Education, Reading
Garland, Hot Springs: Rachael McCants Chesshir, Master of Science in Education, Education Theory and Practice
Garland, Hot Springs: Traci Long, Master of Science in Education, School Counseling
Garland, Hot Springs: Aaron Daniel Pennington, Master of Science in Education, Educational Leadership
Garland, Hot Springs: Yen T. Sinh, Master of Arts in Teaching, Teaching
Garland, Hot Springs: Makenna Marie Sisson, Master of Communication Disorders, Communication Disorders
Garland, Hot Springs: Brian Christopher Slaton, Specialist in Education, Educational Leadership
Garland, Hot Springs: Crystal Gwen Gauldin, Bachelor of Science in Nursing, Nursing
Garland, Hot Springs: Katie Kewak, Bachelor of General Studies, General Studies
Garland, Hot Springs: Faheem Sunny Matin, Associate of Science, A.S. En Route
Garland, Hot Springs: Kaitlyn Marie Rice, Bachelor of Arts, English
Garland, Hot Springs: Jerry Loren Spetsieris, Bachelor of General Studies, General Studies
Garland, Hot Springs Village: Katie C. Orrell, Master of Science in Education, Educational Leadership
Garland, Hot Springs Village: Searci Bethlena Smith, Bachelor of Arts, Sociology
Garland, Pearcy: Emily Raegen Magby, Associate of Science, A.S. En Route
Garland, Royal: Daniel Cantu Gallegos III, Master of Science in Education, Reading
Grant, Grapevine: Sarah A. Owens, Associate of Arts, A.A. En Route
Grant, Sheridan: Hunter Chase Hall, Master of Public Administration, Public Administration
Grant, Sheridan: Aaron Stewart French, Associate of Science, A.S. En Route
Grant, Sheridan: Cody O'Bryan, Bachelor of General Studies, General Studies
Grant, Sheridan: Samantha D. Stanfield, Bachelor of Science, Health Studies
Grant, Sheridan: Christine Nicole Thompson, Bachelor of Science, Marketing
Grant, Sheridan: Christine Nicole Thompson, Certificate of Proficiency, Social Media Management
Greene, Jonesboro: Korie LeAnn Bryant, Bachelor of General Studies, General Studies
Greene, Lafe: Arin Bailee Miller, Associate of General Studies, General Studies
Greene, Lafe: Carissa B. Specking, Associate of Science, A.S. En Route
Greene, Marmaduke: Morgan A. Carter, Associate of Applied Science in Nursing, Nursing
Greene, Marmaduke: Nikki Hood, Bachelor of General Studies, General Studies
Greene, Marmaduke: Baylee Danielle Mangrum, Bachelor of Science in Agriculture, Animal Science
Greene, Paragould: Jennifer L. Adams, Certificate Program, Special Education Director
Greene, Paragould: Haylee Madison Barr, Master of Communication Disorders, Communication Disorders
Greene, Paragould: Melissa Leana Bustamante, Master of Arts, Criminal Justice
Greene, Paragould: Colby Gayle Dixon, Master of Accountancy, Accounting
Greene, Paragould: Michael F. Finch, Specialist in Education, Educational Leadership
Greene, Paragould: Amelia N. Hill, Master of Science in Education, Special Ed GTC
Greene, Paragould: Anna Caroline Lee, Master of Arts, Biological Sciences
Greene, Paragould: Levi Patrick Morris, Master of Accountancy, Accounting
Greene, Paragould: Brandy Nicole Otto, Specialist in Education, Educational Leadership
Greene, Paragould: Alyssa Marie Paskel, Master of Science, Mathematics
Greene, Paragould: Jennifer A. Rawls, Specialist in Education, Educational Leadership
Greene, Paragould: Elizabeth Carle Robinson, Master of Science in Education, Educational Leadership
Greene, Paragould: Melanie P. Schenk, Master of Arts in Teaching, Teaching
Greene, Paragould: Krystal Sue Smith, Master of Science in Education, Special Education K-12
Greene, Paragould: Taylor Leigh Suiter, Master of Science in Education, Reading
Greene, Paragould: Seth Tyler Wellsted, Master of Science in Education, Educational Leadership
Greene, Paragould: Carla M. Wilcox, Master of Science in Education, Special Ed GTC
Greene, Paragould: Brook Allison Zepecki, Master of Science in Education, Reading
Greene, Paragould: Christopher Andrew Bateman, Bachelor of Science in Electrical Engineering, Electrical Engineering
Greene, Paragould: Baleigh Nicole Boling, Associate of Science, A.S. En Route
Greene, Paragould: Alectra Paige Brown, Bachelor of Science in Radiologic Science, Radiologic Sciences
Greene, Paragould: Alexander K. Burnett, Bachelor of Science, Biological Sciences, Magna Cum Laude
Greene, Paragould: Joshua C. Caldwell, Associate of Science, A.S. En Route
Greene, Paragould: Noah Ryan Coffel, Associate of Arts, A.A. En Route
Greene, Paragould: Katelynn B. Copeland, Associate of Science, A.S. En Route
Greene, Paragould: Jaden Forest Cupples, Bachelor of Science, Marketing, Management
Greene, Paragould: Lainey Grace Dillon, Associate of Science, A.S. En Route
Greene, Paragould: Shannon Garrett Edrington, Bachelor of Science, Accounting
Greene, Paragould: Shawna Joann Emmons, Bachelor of Science in Agriculture, Animal Science
Greene, Paragould: Tanner Curtis Friar, Bachelor of Science, Creative Media Production
Greene, Paragould: Lindsey Marie Fulton, Associate of Science, A.S. En Route
Greene, Paragould: Madison Sierra Garrett, Bachelor Science Education, Social Science, Cum Laude
Greene, Paragould: Bailey Ann Gladish, Associate of Science, A.S. En Route
Greene, Paragould: Faith Danielle Brown, Bachelor of Arts, English
Greene, Paragould: Elizabeth Grace Hembrey, Bachelor of Science, Psychology, Magna Cum Laude
Greene, Paragould: Lauren Alexis Hendrix, Bachelor of Science, Creative Media Production
Greene, Paragould: Zachary W. Hobbs, Bachelor of Science in Nursing, Nursing
Greene, Paragould: Brittany Danielle Killian, Bachelor of Arts, English
Greene, Paragould: Sydney Nicole Manchester, Bachelor of Science, Interdisciplinary Studies
Greene, Paragould: Rebecca Price McPhink, Bachelor of Science, Environmental Science
Greene, Paragould: Austin Shane Mitchell, Bachelor of General Studies, General Studies
Greene, Paragould: Hannah Danielle Mitchell, Bachelor of General Studies, General Studies
Greene, Paragould: Johnathon Andrew Mullins, Bachelor of Arts, Environmental Studies
Greene, Paragould: Haley Anne Neighbors-Goodson, Bachelor of Arts, Psychology
Greene, Paragould: Jessica Lauran Newberry, Associate of Science, A.S. En Route
Greene, Paragould: Kara Lynn Newton, Associate of Arts, A.A. En Route
Greene, Paragould: Aubrey L. Padalino, Associate of Arts, A.A. En Route
Greene, Paragould: Brittany M. Balog, Bachelor of Science, Psychology
Greene, Paragould: Jazzmon D. Pillow, Associate of Science, A.S. En Route
Greene, Paragould: Jennifer Kaye Potter, Bachelor of General Studies, General Studies, Cum Laude
Greene, Paragould: Brittany Gale Rebstock, Bachelor of General Studies, General Studies
Greene, Paragould: Mackenzie Grace Ritsmon, Bachelor of Arts, World Languages and Culture, Magna Cum Laude
Greene, Paragould: Tyler Wayne Rogers, Bachelor of Arts, Criminology
Greene, Paragould: Brittian Anna Roleson, Certificate of Proficiency, Limited X-Ray Machine Operator
Greene, Paragould: Halle Elizabeth Roleson, Bachelor of Science, Business Administration
Greene, Paragould: Bethany C. Simmons, Associate of Science, A.S. En Route
Greene, Paragould: Chandra T. Suberano, Bachelor of Science, Biological Sciences
Greene, Paragould: Madison Elizabeth Symons, Associate of Arts, A.A. En Route
Greene, Paragould: Valerie D. Tabor, Bachelor of Arts, Psychology
Greene, Paragould: Ashlie Dawn Thacker, Associate of Arts, A.A. En Route
Greene, Paragould: Emily Carol Trosper, Associate of Arts, A.A. En Route
Greene, Paragould: Isabel Madeline Wallace, Associate of Science, A.S. En Route
Greene, Paragould: Veronica Leigh Wilkinson, Bachelor Science Education, Social Science
Greene, Paragould: Karsen Brooke Williams, Bachelor of General Studies, General Studies
Hempstead, Blevins: Nancy Weinfurtner, Master of Science in Education, School Counseling
Hempstead, Hope: Leenetta Renee Conway, Bachelor of Science, Creative Media Production
Hempstead, Hope: Megan Rose Patton, Bachelor of Arts, Psychology
Hot Spring, Bismarck: Stephany Ann Stokes, Master of Science in Education, Reading
Hot Spring, Bismarck: Allison D Ledford, Bachelor of Arts, Sociology
Hot Spring, Donaldson: Victoria LeBouef, Bachelor of Arts, Psychology
Hot Spring, Malvern: Carrie L. Cook, Master of Science in Education, School Counseling
Hot Spring, Malvern: Alaysia Michelle Hunter, Bachelor of Arts, Criminology
Howard, Mineral Springs: Raven Aderea Edwards, Bachelor of Science, Marketing
Howard, Nashville: Erika Jasmin Bretado, Associate of Science, A.S. En Route
Independence, Batesville: Amanda Jo Case, Master of Science in Education, School Counseling
Independence, Batesville: Kaylee Larae Crowl, Master of Communication Disorders, Communication Disorders
Independence, Batesville: Kali Austin Dunegan, Master of Science in Education, Education Theory and Practice
Independence, Batesville: Ashley Nicole Varner, Master of Science in Education, Special Education K-12
Independence, Batesville: Mattie A. Ballard, Associate of Arts, A.A. En Route
Independence, Batesville: Ashley Nicole Brewer, Associate of Arts, A.A. En Route
Independence, Batesville: Clifford B. Ferrell, Certificate of Proficiency, Radiologic Sciences Administration
Independence, Batesville: Denisse M. Halford, Associate of Science, A.S. En Route
Independence, Batesville: Kolby R. Moore, Bachelor of Science, Marketing
Independence, Batesville: Daniel T. Tripp, Bachelor of Science, Finance
Independence, Batesville: Carmen Nicole Waugh, Bachelor of Science, Finance
Independence, Cave City: Allison Grace Shands, Master of Accountancy, Accounting
Independence, Cave City: Dylan Alexander Kirk, Bachelor of Science, Business Administration
Independence, Cave City: Hannah Graceann McCoy, Bachelor of Science in Agriculture, Animal Science
Independence, Cave City: Bradyn Travis Snow, Bachelor of Arts, Environmental Studies, Cum Laude
Independence, Desha: Taylor M. Blevins, Bachelor of Arts, Criminology
Independence, Floral: Derek L. Tharp, Certificate Program, Dyslexia
Independence, Floral: Kecia D. Ward, Associate of Arts, A.A. En Route
Independence, Newark: Jabeth Fortenberry Willett, Certificate Program, Special Education Teacher
Independence, Southside: Cierra Faith Frazier, Bachelor of Arts, Psychology
Independence, Southside: Brooke Marie Palemine, Bachelor of General Studies, General Studies
Independence, Sulphur Rock: Kailea Rachelle Fagan, Bachelor of Science in Agriculture, Agricultural Business, Cum Laude
Independence, Sulphur Rock: Austin Ray Horn, Bachelor of Science in Mechanical Engineering, Mechanical Engineering
Independence, Sulphur Rock: Jordan Loree Nash, Bachelor of Science, Psychology
Izard, Mount Pleasant: Sarah C. Campbell, Associate of Science, A.S. En Route
Izard, Oxford: Rory Aybleca Bell Jr., Associate of Science, A.S. En Route
Jackson, Beedeville: Hayden Whitehead, Bachelor of Science in Radiologic Science, Radiologic Sciences, Magna Cum Laude
Jackson, Bradford: Karen L. Davidson Sanford, Master of Science in Education, Reading
Jackson, Newport: Amy Renee Piker, Master of Science in Education, School Counseling
Jackson, Newport: Keith W. Scoggins, Master of Science in Agriculture, General Agriculture
Jackson, Newport: Hannah Gabrielle Altom, Bachelor of Science in Nursing, Nursing
Jackson, Newport: Jessica Mae Baty, Associate of Science, A.S. En Route
Jackson, Newport: Aggie B. Dawson, Certificate of Proficiency, Limited X-Ray Machine Operator
Jefferson, Pine Bluff: Martel D. Culclager, Master of Public Administration, Public Administration
Jefferson, Pine Bluff: Stacie Shavon Vincent, Specialist in Education, Educational Leadership
Jefferson, Pine Bluff: Esther Lana Tyler, Bachelor of Arts, Psychology
Jefferson, Redfield: Sydnee Clark, Master of Science in Education, Educational Leadership
Jefferson, White Hall: James H. Pennington, Master of Science, Strategic Communications
Jefferson, White Hall: Kristen N. Lanni, Bachelor of Science, Health Studies
Lawrence, Black Rock: Heather Aliene Carey, Master of Arts in Teaching, Teaching
Lawrence, Black Rock: Paige LeAnn Penn, Associate of Science, A.S. En Route
Lawrence, Hoxie: Sydney Breanna Dry, Associate of Science, A.S. En Route
Lawrence, Imboden: Amanda Joy Jaques, Master of Science in Education, Education Theory and Practice
Lawrence, Imboden: Carla A. Mitchell, Associate of Applied Science, Occupational Therapy Assistant
Lawrence, Lynn: Samantha LeAnne Bergeron, Master of Science in Education, Educational Leadership
Lawrence, Lynn: Mary Miranda Morgan, Master of Science in Education, Education Theory and Practice
Lawrence, Ravenden: Kristen April Louise Laky, Bachelor Science Education, Elementary Education, Magna Cum Laude
Lawrence, Smithville: Stacy Marie Durham, Master of Science in Education, Education Theory and Practice
Lawrence, Smithville: Serenity L. Davis, Associate of Arts, A.A. En Route
Lawrence, Walnut Ridge: Johnathon Paul Hampton, Certificate Program, Superintendent
Lawrence, Walnut Ridge: Taylor Rain Brewer, Bachelor of Arts, English
Lawrence, Walnut Ridge: Jonathan C. Petty, Associate of Science, A.S. En Route
Lawrence, Walnut Ridge: Rachel Jean Tippitt, Bachelor of Science, Clinical Laboratory Science
Lawrence, Walnut Ridge: Sara D. Virgin, Bachelor of Science, Psychology
Lee, Marianna: Kayla Lesha Fitts, Master of Science in Education, School Counseling
Lee, Marianna: Reed Harrison Middleton, Bachelor of Science, Finance, Summa Cum Laude, Honors Program
Lincoln, Grady: Carnecia Lakaya Mays, Associate of Arts, A.A. En Route
Lincoln, Star City: Julie Ann Hawkins, Master of Science in Education, Reading
Lincoln, Star City: Mary E. Gardner, Master of Science in Education, School Counseling
Lincoln, Star City: Libby Leann McGee, Bachelor of Arts, Sociology
Lincoln, Star City: Anna Grace Wright, Bachelor of Science, Strategic Communications, Cum Laude
Little River, Alleene: Christopher Scott Scarborough, Specialist in Education, Educational Leadership
Logan, Magazine: Jennifer Haney, Bachelor of Arts, Criminology, Cum Laude
Logan, Paris: Mario Marcus Beshears, Certificate Program, Superintendent
Logan, Paris: Lauren Noel Trusty, Master of Science, Early Childhood Services
Logan, Paris: Wanda Gail Vaughan, Master of Science in Education, School Counseling
Logan, Scranton: Andrea Hammers, Master of Science in Education, Education Theory and Practice
Lonoke, Austin: Hannah Smith McGough, Master of Science in Education, Reading
Lonoke, Austin: Asia Danyel Williamson, Master of Science in Education, Educational Leadership
Lonoke, Austin: Ivy Nicole Bathrick, Associate of Science, A.S. En Route
Lonoke, Austin: Vanessa Wilson, Bachelor of Science in Nursing, Nursing
Lonoke, Austin: George J. Mcdonough, Bachelor of Science, Business Administration
Lonoke, Austin: Kelsi A. Michael, Bachelor of Science in Nursing, Nursing
Lonoke, Cabot: Madison Taylor Brown, Master of Accountancy, Accounting
Lonoke, Cabot: Michael Aubrey Freeman, Master of Business Administration, Business Administration
Lonoke, Cabot: Nicole Massa Holmes, Master of Arts in Teaching, Teaching
Lonoke, Cabot: Deborah K. Walters, Master of Science in Education, School Counseling
Lonoke, Cabot: Noah Allen Allgood, Bachelor of Science, Sport Management, Cum Laude
Lonoke, Cabot: Diana E. Farrier, Certificate of Proficiency, Limited X-Ray Machine Operator
Lonoke, Cabot: Mindy Dale Jackson, Bachelor of Arts, Sociology
Lonoke, Cabot: Levi Lape, Bachelor of Science in Mechanical Engineering, Mechanical Engineering
Lonoke, Cabot: Mason S. Laws, Associate of Science, A.S. En Route
Lonoke, Cabot: Kendall Alexander Lee, Associate of Science, A.S. En Route
Lonoke, Cabot: Karli D. Miller, Bachelor of Science, Strategic Communications
Lonoke, Cabot: Karli D. Miller, Certificate of Proficiency, Social Media Management
Lonoke, Cabot: Zachary Drake Robertson, Bachelor of Science, Marketing
Lonoke, Cabot: Leana G. Sefcik, Associate of Science, A.S. En Route
Lonoke, Cabot: Hannah M. Strong, Associate of Science, A.S. En Route
Lonoke, Cabot: Rebecca Williams, Bachelor of Science, Creative Media Production, Magna Cum Laude
Lonoke, Cabot: Rebecca Williams, Certificate of Proficiency, Social Media Management
Lonoke, Carlisle: Matthew Charles Peoples, Specialist in Education, Educational Leadership
Lonoke, Carlisle: Hanna Delaney Elder, Bachelor Science Education, Mid Level Education
Lonoke, Ward: Kristina M. Eisenhower, Specialist in Education, Educational Leadership
Lonoke, Ward: Brandon Riley Baker, Bachelor of Science in Agriculture, Agricultural Business
Madison, Wesley: Amanda Leigh Coleman, Master of Science in Education, School Counseling
Marion, Yellville: Amber L. Dodillet, Master of Science in Education, Special Education K-12
Marion, Yellville: Kyli J. Davenport, Bachelor of Science in Nursing, Nursing, Magna Cum Laude
Marion, Yellville: Zachary John Dodillet, Bachelor of Science, Management
Miller, Fouke: Lydia Jane Windsor, Master of Science in Education, School Counseling
Miller, Texarkana: Madison Faith Hampton, Bachelor of Science, Sport Management
Miller, Texarkana: Essie Kaboo Njenga-Rose, Bachelor of Science in Nursing, Nursing
Mississippi, Blytheville: Amy Birdine Bailey, Master of Science in Education, Reading
Mississippi, Blytheville: Kristen Ann Parker, Master of Arts in Teaching, Teaching
Mississippi, Blytheville: Steven Thomas Smith, Master of Business Administration, Business Administration
Mississippi, Blytheville: Tyler Anthony Wagganer, Master of Arts, Communication Studies
Mississippi, Blytheville: Jackie Ann Brees, Bachelor of Science, Biological Sciences
Mississippi, Blytheville: Malik Desean Done, Bachelor of General Studies, General Studies
Mississippi, Blytheville: Tyeesha J. Furlow, Bachelor of Arts, Criminology
Mississippi, Blytheville: Austyn B. Turner, Bachelor of General Studies, General Studies
Mississippi, Blytheville: Bailey N. Green, Bachelor of Science, Psychology
Mississippi, Blytheville: Emma Nicole Haskins, Bachelor of Science, Marketing, Magna Cum Laude
Mississippi, Blytheville: Richard High, Associate of Arts, A.A. En Route
Mississippi, Blytheville: Trevor E. Hovis, Associate of Science, A.S. En Route
Mississippi, Blytheville: Janessa M. Johnson, Bachelor of Science, Finance
Mississippi, Blytheville: Kimberly S. Jones, Associate of Arts, A.A. En Route
Mississippi, Blytheville: Queen C. Mbonu, Associate of Applied Science in Nursing, Nursing
Mississippi, Blytheville: Halie M. Smith, Bachelor of General Studies, General Studies
Mississippi, Blytheville: Tyirah Ann Mitchell, Bachelor of Science in Agriculture, Animal Science
Mississippi, Gosnell: Jordan Ty Holifield, Bachelor of Science, Technology
Mississippi, Joiner: Landon F. Burrow, Associate of Science, A.S. En Route
Mississippi, Keiser: Brayden Charles Parnell, Bachelor of Science, Creative Media Production
Mississippi, Leachville: Madison Grace Sanders, Master of Communication Disorders, Communication Disorders
Mississippi, Leachville: Tiffany D. Johns, Bachelor of Science in Nursing, Nursing
Mississippi, Leachville: Meagan C. Love, Associate of Science, A.S. En Route
Mississippi, Leachville: Rebecca Grace Price, Bachelor of Science, Strategic Communications
Mississippi, Manila: Traci L. Fortner, Master of Science, Early Childhood Services
Mississippi, Manila: Amy Michelle Pryor, Master of Science in Education, Educational Leadership
Mississippi, Manila: Vivian Southwell, Master of Science in Education, Special Education K-12
Mississippi, Manila: Luke Jacob Adams, Bachelor of Science, Computer and Information Technology
Mississippi, Manila: Ethan Dane Luper, Bachelor of Science, Creative Media Production
Mississippi, Osceola: Haley D. Grimes, Bachelor of Science, Finance
Mississippi, Osceola: Barbara Jackson, Bachelor of Arts, Sociology
Mississippi, Wilson: Dwight Bryce Bennett, Bachelor of Arts, Criminology
Monroe, Brinkley: John Jacob Adams, Bachelor of Science in Agriculture, Agricultural Business
Monroe, Brinkley: Denarius DeShawn Adell, Bachelor of General Studies, General Studies
Monroe, Clarendon: Benton Everett Morris, Master of Science in Education, Educational Leadership
Nevada, Prescott: Cassidy Ann Steed, Master of Science, College Student Personnel Services
Newton, Compton: Virginia Ballard, Bachelor of General Studies, General Studies
Ouachita, Camden: Sara Elaine Lawson, Master of Science in Education, Reading
Ouachita, Camden: Gregory D. Robinson, Master of Engineering Management, Engineering Management
Ouachita, Camden: Kristina LeeAnn Adams, Associate of Science, A.S. En Route
Ouachita, Camden: Alexandria Mischele Betts, Associate of Science, A.S. En Route
Ouachita, Camden: Khalia Santrice Calaham, Associate of Science, A.S. En Route
Ouachita, Camden: Danika J. Lopez, Bachelor of Science, Management
Ouachita, Camden: Toniki Nicole Wilson, Bachelor of General Studies, General Studies
Perry, Bigelow: Ashley Dawn Shaw, Master of Science in Education, School Counseling
Phillips, Elaine: Lanie K. Davis, Associate of Science, A.S. En Route
Phillips, Helena: Terra A. Boose, Bachelor of Science, Psychology
Phillips, Marvell: Sara E. Roth, Bachelor of General Studies, General Studies
Phillips, West Helena: Kanaka Shanee Byrd, Associate of Applied Science in Nursing, Nursing
Poinsett, Fisher: Layne H. Shelley, Bachelor Science Education, Social Science
Poinsett, Harrisburg: Walker A. Brown, Bachelor of Science in Agriculture, Agricultural Business
Poinsett, Harrisburg: Sarah J. Duffy, Associate of Science, A.S. En Route
Poinsett, Harrisburg: Abby Branum Edwards, Bachelor of Science in Agriculture, Agricultural Business
Poinsett, Harrisburg: Colton D. Jarrett, Bachelor of Science in Agriculture, Agricultural Business
Poinsett, Harrisburg: Justin A. Jones, Associate of Science, A.S. En Route
Poinsett, Harrisburg: Emily Faith Newcomb, Bachelor Science Education, Business Technology
Poinsett, Lepanto: Rachel Christina Worsham, Master of Communication Disorders, Communication Disorders
Poinsett, Lepanto: Breana R. Laden, Bachelor of Fine Arts, Art
Poinsett, Lepanto: Breana R. Laden, Certificate of Proficiency, Museum Studies
Poinsett, Lepanto: Deshea S. McCain, Bachelor Science Education, Physical Education
Poinsett, Marked Tree: Jacquelyn Janel Adams, Bachelor of Science, Sport Management
Poinsett, Trumann: April LeighAnn Doty, Master of Arts in Teaching, Teaching
Poinsett, Trumann: Bethany Suzanne Colvin, Bachelor of Arts, Computer Science
Poinsett, Trumann: Lauren D. Craig, Associate of Science, A.S. En Route
Poinsett, Trumann: Gavin R. Dunahoo, Associate of Science, A.S. En Route
Poinsett, Trumann: John T. Dunman Jr., Bachelor of Science in Agriculture, Plant and Soil Science
Poinsett, Trumann: Sidney Nicole McMullin, Bachelor of Science, Health Studies
Poinsett, Trumann: Jana K. Morgan, Associate of Science, A.S. En Route
Poinsett, Trumann: Illana D. Parker, Associate of Arts, A.A. En Route
Poinsett, Trumann: Emily Brooke Roach, Bachelor of Science, Biological Sciences
Poinsett, Tyronza: William Lee Mott, Bachelor of Science in Agriculture, Plant and Soil Science, Cum Laude
Poinsett, Tyronza: Cecilia Grace Tacker, Bachelor of Arts, Environmental Studies
Polk, Hatfield: Candance Arlene Arnold, Associate of Arts, A.A. En Route
Polk, Mena: Samantha Paige Breedlove, Master of Science in Education, Special Education K-12
Polk, Mena: Jessica Francis Dickison, Master of Science in Education, Educational Leadership
Polk, Mena: Ashten Grace Bowser, Bachelor Science Education, Elementary Education
Polk, Wickes: Alicia Kay Farringer, Master of Arts in Teaching, Teaching
Pope, Dover: Rhonda Lynn Holmes, Master of Science in Education, Special Education K-12
Pope, Russellville: Lesley Danielle Mears, Certificate Program, Special Education Director
Prairie, Carlisle: Harold Edwin Laws Jr., Bachelor of Science, Biological Sciences
Prairie, Des Arc: Lauren Ashton Mapps, Bachelor of Science, Strategic Communications
Prairie, Des Arc: Zeke Thomas Tacker, Associate of Science, A.S. En Route
Prairie, Griffithville: Taylor J. Richards, Associate of Science, A.S. En Route
Prairie, Hazen: Kristy K. Long, Specialist in Education, Educational Leadership
Prairie, Hazen: Morgan G. Stock, Associate of General Studies, General Studies
Prairie, Hazen: Jacob Eli Tripp, Bachelor of Science, Psychology
Pulaski, Alexander: Faith Briggs, Associate of Science, A.S. En Route
Pulaski, Jacksonville: Anthony Blane Clark, Master of Science in Education, Educational Leadership
Pulaski, Jacksonville: April Manning, Specialist in Education, Educational Leadership
Pulaski, Jacksonville: Adam Thomas Houchins, Master of Science, Sport Administration
Pulaski, Jacksonville: Rachel Melton, Bachelor of Arts, Psychology, Cum Laude
Pulaski, Jacksonville: Sheryl L. Ginsburg, Bachelor of Science, Business Administration
Pulaski, Jacksonville: Devin Gene Lewis, Associate of Arts, A.A. En Route
Pulaski, Jacksonville: Sara Jean Munnerlyn, Bachelor of Science in Nursing, Nursing
Pulaski, Jacksonville: Nyah Janay Williams, Associate of Science, A.S. En Route
Pulaski, Little Rock: Demecia LaShaye Allen, Master of Arts in Teaching, Teaching
Pulaski, Little Rock: Jazzmine L. Calloway, Master of Science, Sport Administration
Pulaski, Little Rock: Julia Frances Davidson, Master of Communication Disorders, Communication Disorders
Pulaski, Little Rock: Linda Savary Edwards, Certificate Program, Special Education Director
Pulaski, Little Rock: Nkechi Jennifer Ekeanyanwu, Master of Arts in Teaching, Teaching
Pulaski, Little Rock: Kimberly Yolanda Hampton, Certificate Program, Special Education Director
Pulaski, Little Rock: Ann Clare Lauer, Master of Arts in Teaching, Teaching
Pulaski, Little Rock: Amy Hogan Lloyd, Specialist in Education, Educational Leadership
Pulaski, Little Rock: Larisha C. Nelson, Specialist in Education, Educational Leadership
Pulaski, Little Rock: Brianna M. Peterson, Master of Science in Education, School Counseling
Pulaski, Little Rock: Raven Lasha Washington, Master of Arts in Teaching, Teaching
Pulaski, Little Rock: Austin Brooks Wilhelm, Master of Science in Education, Educational Leadership
Pulaski, Little Rock: Glen W. Becker, Bachelor of Science, Technology
Pulaski, Little Rock: Olivia Marie Steiner, Bachelor of Arts, Psychology, Cum Laude
Pulaski, Little Rock: Madelyn Skye Creamer, Associate of Science, A.S. En Route
Pulaski, Little Rock: Michael Kevin Halpin, Bachelor of Science, Business Administration
Pulaski, Little Rock: Anetra D. Hamilton-Tate, Bachelor of Science in Nursing, Nursing
Pulaski, Little Rock: Benjamin Layne Hatcher, Bachelor of Arts, Communication Studies
Pulaski, Little Rock: Kenya Jabiah Lacy, Associate of Science, A.S. En Route
Pulaski, Little Rock: Sabrina Sharday Watson Leonard, Bachelor of Science in Nursing, Nursing
Pulaski, Little Rock: Asia P. Marshall, Bachelor of Science in Nursing, Nursing
Pulaski, Little Rock: Olivia Nicole Smith, Associate of Arts, A.A. En Route
Pulaski, Little Rock: Amendien A. Thomas, Bachelor of Science in Nursing, Nursing
Pulaski, Little Rock: Jacob B. Titsworth, Bachelor of Science, Sport Management
Pulaski, Little Rock: Kaylah Renee Wills, Associate of Science, A.S. En Route
Pulaski, Maumelle: Larell D. Bailey, Master of Science, Sport Administration
Pulaski, Maumelle: Onda Nikhol Press, Master of Science, Media Management
Pulaski, Maumelle: Abigail Grace Bingenheimer, Bachelor of Science, Business Administration, Cum Laude
Pulaski, Maumelle: William Thomas Connor, Bachelor of Science in Mechanical Engineering, Mechanical Engineering
Pulaski, Maumelle: Charles Rajohnn McRae, Bachelor of Science, Creative Media Production
Pulaski, Maumelle: Kathryn Sydney Whitley, Bachelor Science Education, Elementary Education, Cum Laude
Pulaski, North Little Rock: La Cher Danielle Rockins, Master of Science in Education, Early Childhood Education
Pulaski, North Little Rock: Randi B. Tanner, Specialist in Education, Educational Leadership
Pulaski, North Little Rock: Sandi Waymire, Specialist in Education, Educational Leadership
Pulaski, North Little Rock: ShaRonica N. Benson, Bachelor of Science in Nursing, Nursing
Pulaski, North Little Rock: Maggie K Culp, Bachelor of Science, Strategic Communications
Pulaski, North Little Rock: Maggie K Culp, Certificate of Proficiency, Social Media Management
Pulaski, North Little Rock: Madison Roseleigh Dixon, Associate of Science, A.S. En Route
Pulaski, North Little Rock: Riley C. Hanan, Associate of Science, A.S. En Route
Pulaski, North Little Rock: Asia N. Hervey, Associate of Science, A.S. En Route
Pulaski, North Little Rock: Aliyah Destiny Pope, Associate of Arts, A.A. En Route
Pulaski, North Little Rock: Mathew S. Pruss, Bachelor of Arts, Psychology
Pulaski, North Little Rock: Claire A. Vest, Associate of Science, A.S. En Route
Pulaski, North Little Rock: Racheal A. Williams, Bachelor of General Studies, General Studies
Pulaski, Sherwood: LaGail Releford Biggs, Specialist in Education, Educational Leadership
Pulaski, Sherwood: Tara Beth Burke, Master of Science in Education, Educational Leadership
Pulaski, Sherwood: Lasuandra Ann Deloach-Williams, Specialist in Education, Reading
Pulaski, Sherwood: Jaylyn Elise Gatrell, Master of Science in Education, Special Education K-12
Pulaski, Sherwood: Natalee Desha McGill, Certificate Program, Special Education Director
Pulaski, Sherwood: Kristen E. Miles, Master of Science in Education, School Counseling
Pulaski, Sherwood: Alison V. Allgood, Associate of Science, A.S. En Route
Pulaski, Sherwood: Marti Joanne Boren, Bachelor of Arts, Art, Cum Laude, University Honors
Pulaski, Sherwood: Marti Joanne Boren, Certificate of Proficiency, Museum Studies
Pulaski, Sherwood: Kimberly Brown, Associate of Arts, A.A. En Route
Pulaski, Sherwood: Hayden Alexandria Burks, Bachelor of Science, Business Administration
Pulaski, Sherwood: Kayla Elizabeth Freeman, Bachelor of Arts, Psychology
Pulaski, Sherwood: Jarod Dean Mayo, Associate of Science, A.S. En Route
Pulaski, Sherwood: Haylee L. Price, Associate of Science, A.S. En Route
Randolph, O'Kean: Jamie L. Rooker, Associate of Arts, A.A. En Route
Randolph, Pocahontas: Amanda S. Moore, Master of Science in Education, Early Childhood Education
Randolph, Pocahontas: Olivia Louise Taylor, Master of Communication Disorders, Communication Disorders
Randolph, Pocahontas: Preston Shane Massey, Bachelor of Science, Business Administration
Randolph, Pocahontas: Jacob Adam Rapert, Bachelor of General Studies, General Studies
Randolph, Pocahontas: Chandler Ivey Roberts, Certificate of Proficiency, Limited X-Ray Machine Operator
Randolph, Pocahontas: Trevor A. Wells, Bachelor of Arts, Psychology
Randolph, Ravenden Springs: Sarah Faith Wikowsky, Bachelor of Music Education, Instrumental Music
Saint Francis, Colt: Kayle Brooke Myers, Master of Communication Disorders, Communication Disorders
Saint Francis, Colt: James Donald McMahan, Associate of Science, A.S. En Route
Saint Francis, Forrest City: Casey S. Graml, Certificate Program, Building-Level Administration
Saint Francis, Forrest City: Jeffrey Tyler Ratton, Master of Science, Computer Science
Saint Francis, Forrest City: Carmika LaRea Williams, Master of Arts in Teaching, Teaching
Saint Francis, Forrest City: Eli Adams, Bachelor of Science, Business Administration
Saint Francis, Forrest City: Dalen T. Douglas, Associate of Science, A.S. En Route
Saint Francis, Forrest City: William Peyton Fogg, Bachelor of Science, Business Economics
Saint Francis, Forrest City: Cambra K. Harris, Bachelor of Arts, Sociology
Saint Francis, Forrest City: Matthew Dean Hill, Bachelor of Science, Psychology
Saint Francis, Forrest City: Kayla Deon Millen, Bachelor of General Studies, General Studies
Saint Francis, Forrest City: Elizabeth Jane Perry, Bachelor of Science in Nursing, Nursing
Saint Francis, Forrest City: Rebecca Kristen Scalf, Associate of Applied Science in Nursing, Nursing
Saint Francis, Heth: Janaia Yunell Murphy, Bachelor of Arts, Sociology
Saint Francis, Heth: Marlana A. Deese, Bachelor Science Education, Elementary Education, Magna Cum Laude
Saint Francis, Palestine: Ray, Shereka Leanna, Associate of Science, A.S. En Route
Saint Francis, Palestine: Shelby Lynn Scemons, Bachelor of Science, Psychology, Magna Cum Laude
Saint Francis, Wheatley: William Carl Nash, Bachelor of General Studies, General Studies
Saint Francis, Wheatley: Mikael McGregor Tullos, Associate of Arts, A.A. En Route
Saline, Alexander: Kara Virginia Moser, Master of Communication Disorders, Communication Disorders
Saline, Alexander: Natalie Ramos, Master of Science in Education, Educational Leadership
Saline, Alexander: DanAngelo Qoril Bell Sr., Bachelor of Arts, Communication Studies
Saline, Alexander: Cameron C. Rhoden, Bachelor of Science, Wildlife, Fisheries and Conservation, Cum Laude, Honors Program
Saline, Bauxite: MacKenzie Danielle Johnson, Master of Science in Education, Special Ed GTC
Saline, Bauxite: MaKayla D. Holliman, Associate of Science, A.S. En Route
Saline, Benton: Kelsie Elisabeth Barker, Certificate Program, Dyslexia
Saline, Benton: Abby Danielle Clay, Master of Communication Disorders, Communication Disorders
Saline, Benton: Leigh Ann Hamilton, Master of Science in Education, Special Ed GTC
Saline, Benton: Dan Joe Long, Certificate Program, Special Education Teacher
Saline, Benton: Stephanie Renee Rodgers, Master of Arts in Teaching, Teaching
Saline, Benton: Joseph Martin Traylor, Master of Public Administration, Public Administration
Saline, Benton: Russell Matthew Winfield, Certificate Program, Special Education Teacher
Saline, Benton: Terrensula R. Bonner Jr., Bachelor of Science, Business Administration
Saline, Benton: Kathryn Elizabeth Cook, Associate of Science, A.S. En Route
Saline, Benton: Caitlin E. Ginther, Associate of Science, A.S. En Route
Saline, Benton: Grace E. Ouellette, Associate of Science, A.S. En Route
Saline, Bryant: Kara D. McGee, Specialist in Education, Educational Leadership
Saline, Bryant: Natalie Rhea Schultz, Master of Science in Education, School Counseling
Saline, Bryant: Jared Dewight Allinson, Associate of Arts, A.A. En Route
Saline, Bryant: Jacob H. East, Bachelor of Science, Business Administration
Saline, Bryant: Zhania Zhanae Hall, Associate of Science, A.S. En Route
Saline, Bryant: Christian T. McIntosh, Bachelor of Science, Engineering Technology
Saline, Bryant: Diego A. Vargas Mora, Bachelor of Science, Finance
Saline, Hensley: Sara K. Crawford, Master of Arts in Teaching, Teaching
Saline, Hensley: Abygale G. Holderfield, Associate of Science, A.S. En Route
Saline, Mabelvale: Cleo Reed Morris, Bachelor of Arts, Psychology
Scott, Boles: Holly Michelle Byford, Certificate Program, Special Education Teacher
Scott, Waldron: Ty Daniel Allen, Bachelor of Science, Finance, Business Administration
Sebastian, Fort Smith: Aimee Adney Hartsfield, Master of Science in Education, Special Education K-12
Sebastian, Fort Smith: Jennifer Hope Lyon, Specialist in Education, Educational Leadership
Sebastian, Fort Smith: Timothy W. Washington Jr., Master of Science in Education, Special Ed GTC
Sebastian, Fort Smith: Terrell J. Woods, Bachelor of General Studies, General Studies
Sebastian, Greenwood: Alishia Gayle Best, Master of Science in Education, Special Education K-12
Sebastian, Greenwood: Jennifer Marie Hosley, Master of Science in Education, Educational Leadership
Sebastian, Greenwood: Christopher Douglas Wise, Master of Science in Education, Educational Leadership
Sebastian, Greenwood: Jordan E. Woods, Master of Arts in Teaching, Teaching
Sevier, De Queen: Trevor J. Blankenship, Associate of Arts, A.A. En Route
Sharp, Cave City: Emily Taylor Neeley, Master of Arts, English
Sharp, Cave City: Tyler Scott Booth, Bachelor of General Studies, General Studies, Summa Cum Laude
Sharp, Cave City: Courtney Diane Edwards, Bachelor of Science, Multimedia Journalism
Sharp, Cave City: Michael D. Robinson, Bachelor of Science, Psychology
Sharp, Cherokee Village: Taryn Rae Hollaway Kendrick, Master of Arts in Teaching, Teaching
Sharp, Evening Shade: Kristie N. Wimberly, Bachelor of Arts, Sociology
Stone, Mountain View: Heather Nicole Custer, Master of Science, Biology
Stone, Mountain View: Tonya Kay Long, Master of Science in Education, School Counseling
Stone, Mountain View: Keshi Cruz, Associate of Science, A.S. En Route
Stone, Onia: Amanda D. Hearn, Master of Science in Education, Special Education K-12
Union, El Dorado: LaTanya Shunta Glaspie, Bachelor of Arts, Criminology
Union, El Dorado: Kaliyah Lavonne Rivera, Associate of Science, A.S. En Route
Van Buren, Bee Branch: Ashley Nichole Shipp, Bachelor of Arts, Sociology
Van Buren, Clinton: Kasey Elizabeth Williams, Master of Accountancy, Accounting
Van Buren, Shirley: Courtney Elizabeth Bradford, Bachelor of Science in Mechanical Engineering, Mechanical Engineering
Washington, Farmington: David Person, Bachelor of Science in Mechanical Engineering, Mechanical Engineering
Washington, Fayetteville: Stephanie Bishop, Master of Arts in Teaching, Teaching
Washington, Fayetteville: Michelle Lynn Brunke, Master of Science in Education, Special Education K-12
Washington, Fayetteville: Shareika Michelle Campbell, Master of Science, College Student Personnel Services
Washington, Fayetteville: Heather Winnat Carr, Specialist in Education, Educational Leadership
Washington, Fayetteville: Addison Marie Emberson, Master of Communication Disorders, Communication Disorders
Washington, Fayetteville: Sarah Jo Henry, Master of Science in Education, Educational Leadership
Washington, Fayetteville: Colbi Lasiter Johnson, Master of Science in Education, Reading
Washington, Fayetteville: Jason Carter Turner, Master of Science in Education, Special Ed GTC
Washington, Fayetteville: Natalie Nicole Mazzanti, Bachelor of General Studies, General Studies
Washington, Prairie Grove: Peri Blaire Garrett, Master of Science in Education, School Counseling
Washington, Prairie Grove: Brooklyn Cheyann Hunter, Master of Science, College Student Personnel Services
Washington, Prairie Grove: Holly Ann Styles, Specialist in Education, Educational Leadership
Washington, Prairie Grove: Arin Vann, Master of Science, Biology
Washington, Springdale: Jessica Layne Bass, Specialist in Education, Educational Leadership
Washington, Springdale: Jordan Tyler Bullock, Specialist in Education, Educational Leadership
Washington, Springdale: Crason Allen Cleveland, Master of Science in Education, Educational Leadership
Washington, Springdale: Alyssa Camille Henley, Certificate Program, Gifted, Talented, and Creative Teachers
Washington, Springdale: Lisa Kay Kerns, Master of Science in Education, Special Ed GTC
Washington, Springdale: Rebecca Lee Owens, Master of Science in Education, Special Education K-12
Washington, Springdale: Dale Alfred Strouse, Specialist in Education, Educational Leadership
Washington, Springdale: Deborah Marie Waldoch, Master of Arts in Teaching, Teaching
Washington, Springdale: Natosha Dawn West, Specialist in Education, Educational Leadership
Washington, Springdale: Stewart Briggs Field, Associate of Science, A.S. En Route
Washington, Springdale: Tyler Lee Tuck, Bachelor of General Studies, General Studies
Washington, Tontitown: Ryan Jacob Gill, Master of Science in Education, Educational Leadership
Washington, Tontitown: Elizabeth Wilson, Bachelor of Science in Nursing, Nursing
Washington, West Fork: Carla D. Janes-Meadors, Master of Science in Education, School Counseling
Washington, West Fork: Mallory Lynn Noggle, Master of Science in Education, Curriculum and Instruction
Washington, West Fork: Melody Michelle Braudrick, Bachelor of Science in Nursing, Nursing
White, Bald Knob: Madison Elizabeth Watson, Master of Communication Disorders, Communication Disorders
White, Bald Knob: Lane Garrison Clay, Bachelor of General Studies, General Studies
White, Bald Knob: Rylee A. Curd, Associate of Science, A.S. En Route
White, Bald Knob: Riley Paige Sisson, Associate of Science, A.S. En Route
White, Bald Knob: Macy Lynn Walker, Bachelor of Arts, Political Science, Cum Laude
White, Beebe: Shayna Rae Jennings, Master of Science in Education, School Counseling
White, Beebe: Taylor Hope McGraw, Master of Communication Disorders, Communication Disorders
White, Beebe: Abigail Faith Smith, Master of Accountancy, Accounting
White, Beebe: Brittny L. Ingersoll, Bachelor of General Studies, General Studies
White, Beebe: Stacy Lynn Worthey, Bachelor of Arts, Criminology
White, Beebe: Nicholas J. Yates, Bachelor of Arts, Psychology
White, Judsonia: Alexia E. Louks, Associate of Science, A.S. En Route
White, Judsonia: Sydney A. Mcgill, Associate of Arts, A.A. En Route
White, Judsonia: Lauren A. Ridings, Associate of Science, A.S. En Route
White, McRae: Paula N. Gentry, Specialist in Education, Educational Leadership
White, McRae: Alyssa J. Lively, Associate of Arts, A.A. En Route
White, Pangburn: Robin Nell O'Connor, Master of Science, Disaster Preparedness and Emergency Management
White, Rose Bud: Fatima Del Carmen Estrada Gutierrez, Associate of Science, A.S. En Route
White, Searcy: Bryce C. Bartlett, Master of Science, Sport Administration
White, Searcy: Reagan Leigh Brackett, Master of Arts, Political Science
White, Searcy: Emily Hope Davis, Master of Communication Disorders, Communication Disorders
White, Searcy: Rhiannon Marie Roper Sniffin, Master of Science in Education, Curriculum and Instruction
White, Searcy: Darla Jane Gregory, Bachelor of Science, Business Administration
White, Searcy: Rebecca M. Heflin, Bachelor of Science, Business Administration
White, Searcy: Emma Kate Mackey, Bachelor of Science, Psychology
White, Searcy: Cherylyn June Miller, Bachelor of General Studies, General Studies
White, Searcy: Thomas J. Sledge, Bachelor of Science, Creative Media Production
White, Searcy: Cameron Chase Stalnaker, Bachelor Science Education, Physical Education
White, Searcy: Faye Elisa Santos Tran, Bachelor of Science in Nursing, Nursing
White, Searcy: Whitney Leigh Warden, Bachelor of Arts, Chemistry, Cum Laude
Woodruff, Hunter: Mary Katlyn Cary, Bachelor of Science in Radiologic Science, Radiologic Sciences
Woodruff, McCrory: Lynnsey Rose Bowling, Master of Science, Exercise Science
Woodruff, McCrory: Jessica D. Brown, Master of Science in Education, Reading
Woodruff, McCrory: Jericho Halen Dewayne Smith, Bachelor of Arts, Theatre
Woodruff, McCrory: Ronald Edwin Tanner III, Bachelor of Arts, Psychology
Woodruff, McCrory: Katelyn Brooke Thompson, Bachelor of General Studies, General Studies, Magna Cum Laude
Yell, Dardanelle: Ashley K. Thaxton, Master of Arts in Teaching, Teaching
Yell, Plainview: Mary Gayla Lawrence, Specialist in Education, Educational Leadership
California
Alameda, Oakland: Alex Brendan Webster, Certificate Program, Building-Level Administration
Alameda, Pleasanton: Steven Rudolf Heinsma, Master of Public Administration, Public Administration
Contra Costa, Concord: Evan Michael Jenkins, Master of Public Administration, Public Administration
Fresno, Clovis: Kylie Dawn Wheelock, Master of Science, Sport Administration
Fresno, Fresno: Michael Ryan Grace, Bachelor of General Studies, General Studies
Fresno, Reedley: Nicolas Mikhail Peters, Master of Engineering Management, Engineering Management
Kern, Bakersfield: Samuel A. Findley, Master of Science, Sport Administration
Los Angeles, Los Angeles: Myesha Denise Morrison, Master of Science, Strategic Communications
Los Angeles, Stevenson Ranch: Andrew Adams, Master of Business Administration, Business Administration
Orange, Aliso Viejo: Danielle Brooke Skolnick, Master of Public Administration, Public Administration
Orange, Fullerton: Nicholas Christopher Porcaro Jr., Master of Business Administration, Business Administration
Riverside, Corona: Spenser Nunes, Master of Science, Sport Administration
Riverside, Norco: Robert A. Virgil, Associate of Science, A.S. En Route
San Diego, Alpine: Carlee Lynn Miller, Bachelor of Arts, Sociology
San Diego, San Diego: Jeffrey Allen Hughes, Master of Public Administration, Public Administration
San Mateo, San Mateo: Sosefo Tukua Avana'a Ahoia, Master of Science, Sport Administration
Sonoma, Bodega Bay: Jared Randolph Ames, Master of Science, Sport Administration
Ventura, Ventura: Mariel Carman, Bachelor of Arts, Psychology
Colorado
Arapahoe, Aurora: Jessica Youtman, Master of Science in Education, Reading
Arapahoe, Englewood: Marissa Renee Scott, Master of Science in Education, Education Theory and Practice
El Paso, Colorado Springs: Alayna Cydney Davis-Cowsert, Master of Science, Sport Administration
El Paso, Colorado Springs: Jacob James Riehl, Master of Science, Sport Administration
El Paso, Colorado Springs: Brianna Faye Sanders, Master of Communication Disorders, Communication Disorders
El Paso, Colorado Springs: Cortney Joy Daniels, Bachelor of Science, Strategic Communications
El Paso, Peyton: John Kenneth Giacoma Jr., Bachelor of General Studies, General Studies
Jefferson, Westminster: Marc Andrew Verikas, Certificate Program, Building-Level Administration
Larimer, Fort Collins: Sarah M. Bingham, Master of Science, Media Management
Larimer, Windsor: Zachary Bissell, Master of Science, Sport Administration
Connecticut
Litchfield, Torrington: Dustin L. Waldron, Master of Science, Sport Administration
New Haven, Guilford: Marley Kennedy, Master of Arts in Teaching, Teaching
Florida
Alachua, Gainesville: Lyndsey Ann Morgan, Master of Science, College Student Personnel Services
Brevard, West Melbourne: Nordia R. Landen, Specialist in Education, Educational Leadership
Clay, Fleming Island: Jasmine L. Grant, Master of Science, Sport Administration
Desoto, Arcadia: Roy D. Dodd, Master of Science, Sport Administration
Escambia, Pensacola: Samuel Christian Davis, Master of Science, Sport Administration
Escambia, Pensacola: Vidal Sassoon Scott Jr., Bachelor of Science, Health Studies
Hillsborough, Brandon: George Trey Taylor, Master of Science, Sport Administration
Lake, Leesburg: Kassye Marie Black, Bachelor of Arts, Psychology
Manatee, Bradenton: Steven Brown Jr., Master of Science in Education, Educational Leadership
Miami Dade, Cutler Bay: Ryan Alonzo Thompson, Master of Science, Sport Administration
Miami Dade, Miami: Carlos Eduardo Cristobal, Master of Science, Media Management
Okaloosa, Crestview: Emily Sewell, Bachelor of Science, Business Administration
Okeechobee, Okeechobee: Tami L. Causier, Master of Science in Education, Educational Leadership
Osceola, Saint Cloud: Kelcie J. McCray, Bachelor of General Studies, General Studies
Polk, Lake Hamilton: Natalie A. Fildes, Master of Science in Education, Educational Leadership
Saint Lucie, Port St. Lucie: Sarah Jane Gillooly, Specialist in Education, Educational Leadership
Santa Rosa, Milton: Latricia Aundrea Laurant, Specialist in Education, Educational Leadership
Seminole, Apopka: Holly Ann Mora, Specialist in Education, Reading
Volusia, Daytona Beach: Steffan Andre' Mallory II, Associate of Science, A.S. En Route
Georgia
Bartow, Euharlee: Caitlin Nicole Edwards, Master of Science in Education, Special Ed GTC
Cherokee, Canton: Stephanie Elizabeth Weiss, Master of Science, Sport Administration
Cobb, Acworth: Ronald Williams, Master of Science, Media Management
Fayette, Fayetteville: Javan M. Hawes, Master of Science, Sport Administration
Gwinnett, Lawrenceville: Rodney Stephen Theodore, Master of Science, Sport Administration
Gwinnett, Lawrenceville: Stephanie Wolfsohn, Specialist in Education, Reading
Gwinnett, Sugar Hill: Christopher Dominic Hawkins, Master of Arts in Teaching, Teaching
Hall, Braselton: Ashley S. Caputo, Specialist in Education, Reading
Union, Blairsville: Karen Etheridge Beaty, Master of Public Administration, Public Administration
Upson, Thomaston: Rivka Danielle Guzman, Master of Science in Education, Special Ed GTC
Walker, La Fayette: Madeline Godfrey Ensley, Master of Science in Education, Special Ed GTC
Walker, La Fayette: Jessica Ingram, Master of Science in Education, Special Ed GTC
Hawaii
Honolulu, Wahiawa: Emily Anne Fleischer, Bachelor of Arts, Psychology, Cum Laude
Kauai, Lihue: Alysha Leigh Bramblett, Bachelor of General Studies, General Studies
Idaho
Ada, Boise: Lauren Patricia Clifford, Master of Science in Education, Special Education K-12
Bonneville, Idaho Falls: Camilla Anne Nelson, Master of Communication Disorders, Communication Disorders
Twin Falls, Twin Falls: Tana Marie Schroeder, Specialist in Education, Educational Leadership
Illinois
Bond, Greenville: Ian William Keillor, Master of Science, Sport Administration
Cook, Chicago: Shaquita Sharone Windom, Specialist in Education, Educational Leadership
Cook, Chicago Ridge: Kyra Clemons, Master of Science, Early Childhood Services
Cook, Evanston: Tyler Charles Stokesbary, Master of Public Administration, Public Administration
Cook, Park Forest: Sade Sigmoyne Gant, Master of Science, Sport Administration
Dupage, Naperville: Sheila Marie Sutfin, Associate of Science, A.S. En Route
Madison, Maryville: Brandon Michael Cox, Specialist in Education, Educational Leadership
Marion, Salem: Sarah Beth Ferrell, Specialist in Education, Educational Leadership
Monroe, Waterloo: Tracy Allen Coughlin, Master of Engineering Management, Engineering Management
Saint Clair, Centreville: DeMarco Cortez Jackson, Master of Public Administration, Public Administration
Tazewell, Morton: Robert E. Hornsby, Master of Science in Education, Education Theory and Practice
Indiana
Floyd, Greenville: Madison Reese Allgeier, Bachelor of Science in Electrical Engineering, Electrical Engineering, Cum Laude
Hamilton, Noblesville: Riley Elizabeth Dreyer, Master of Science, Media Management
Monroe, Bloomington: Cole Edward Paarfusser, Master of Engineering Management, Engineering Management
Iowa
Iowa, Marengo: Paige Marie O'Brien, Master of Science, Sport Administration
Polk, Des Moines: Travis Alex Graven, Master of Science, Strategic Communications
Story, Ames: Afton Ann Clemens, Master of Science, Sport Administration
Kansas
Allen, Iola: Julie Maria Mileham, Master of Science in Education, School Counseling
Johnson, Olathe: Justine Danielle Strickland, Bachelor of Science in Radiologic Science, Radiologic Sciences
Johnson, Overland Park: Riley Marie Minard, Bachelor of Science, Marketing, Magna Cum Laude
Saline, Salina: Aaron William Farmer, Master of Science, Sport Administration
Kentucky
Daviess, Owensboro: Heather Ann Henderson, Master of Public Administration, Public Administration
Hardin, Elizabethtown: Katelyn C. Rathbun, Specialist in Education, Reading
Jefferson, Louisville: Brianna Elizabeth Wolken, Master of Public Administration, Public Administration
Warren, Bowling Green: Rose Marie Coates, Master of Science in Education, Special Education K-12
Louisiana
Bossier, Bossier City: TeYonda Marsha' Manning, Master of Science, Early Childhood Services
Bossier, Haughton: Melinda Brewster, Master of Science in Education, Educational Leadership
Caddo, Shreveport: Janet Arlene Ammons-Cook, Bachelor of Arts, Sociology
Calcasieu, Vinton: Susan Doucet Burch, Specialist in Education, Educational Leadership
Iberia, New Iberia: Morgan Claire Bulliard, Master of Science, Sport Administration
Lafayette, Carencro: Kate Francisca Garza, Master of Science in Education, Curriculum and Instruction
Lafayette, Lafayette: Nicholas Paul Cortese, Master of Science in Education, Educational Leadership
Lafayette, Lafayette: Michele Hulin Domingue, Master of Science in Education, Special Ed GTC
Orleans, New Orleans: Matthew Eric Austin, Master of Science in Education, Educational Leadership
Ouachita, Monroe: Cassandra Lynette Berry, Master of Science in Education, Special Education K-12
Union, Farmerville: Lucie Marie Hunt, Master of Science in Education, Educational Leadership
West Feliciana, Saint Francisville: Ashley Pirie Singleton, Master of Science in Education, Reading
Winn, Winnfield: Jennifer Irene Page, Master of Arts in Teaching, Teaching
Maryland
Baltimore, Pikesville: Orlando Allen Wilson, Master of Public Administration, Public Administration
Montgomery, North Bethesda: Check Rivara Seidnaly, Bachelor of Science, Management
Prince Georges, Bowie: Matthew Ryan Parker, Master of Science, Sport Administration
Prince Georges, District Heights: Funsho Stephen Oparinde, Master of Science, Strategic Communications
Prince Georges, Hyattsville: Bruce Morayo Oshokoya, Master of Engineering Management, Engineering Management
Wicomico, Salisbury: Alec Charles Meintzer, Master of Science, Sport Administration
Worcester, Newark: Casey Anne Bradford, Master of Science in Education, Special Education K-12
Montgomery, Germantown: Juan Ignacio Eraso, Master of Science, Media Management
Massachusetts
Essex, Andover: Talcott George Hubbard Jr., Master of Business Administration, Business Administration
Hampden, Hampden: Amy Louise Webster, Master of Science in Education, Reading
Michigan
Bay, Auburn: Chenwei Chan Scherzer, Master of Arts in Teaching, Teaching
Chippewa, Sault Ste. Marie: Ramona Roxann Melendez, Specialist in Education, Educational Leadership
Iosco, Hale: Lindsey M. Scott, Specialist in Education, Educational Leadership
Kalamazoo, Kalamazoo: Joshua Kruger, Master of Science in Education, School Counseling
Lenawee, Hudson: Tea L. Romanowski, Master of Science in Education, Early Childhood Education
Macomb, Warren: Paige Evelyn Lesher, Master of Science in Education, Educational Leadership
Oakland, Troy: Gagan Gupta, Master of Business Administration, Business Administration
Oakland, White Lake: Timothy Crane Dalton, Master of Science, Sport Administration
Ottawa, Jenison: April C. Daniels, Master of Public Administration, Public Administration
Ottawa, Spring Lake: Thomas Roche Hamilton, Specialist in Education, Educational Leadership
Ottawa, Zeeland: Cynthia Ann Scholten, Master of Public Administration, Public Administration
Washtenaw, Ypsilanti: Rosa-Sara Maria Rodriguez, Master of Science in Education, Reading
Wayne, Livonia: David Kocina, Master of Science, Sport Administration
Mississippi
Alcorn, Corinth: John Daniel Derrick, Master of Science in Education, Educational Leadership
Alcorn, Corinth: Valerie MaeRuth McDonald, Master of Science in Education, Special Ed GTC
Alcorn, Corinth: Ariel Kaylee Jones, Bachelor of Science in Radiologic Science, Radiologic Sciences, Magna Cum Laude, Honors Program
Alcorn, Corinth: Ariel Kaylee Jones, Certificate of Proficiency, Radiologic Sciences Administration
Bolivar, Cleveland: Herbert James Lewis Jr., Specialist in Education, Educational Leadership
Calhoun, Calhoun City: Brandon Chase Lovorn, Master of Science, Sport Administration
Calhoun, Pittsboro: Marcus Dwayne Gladney, Specialist in Education, Educational Leadership
Chickasaw, Houston: Stacey Curry Chapman, Master of Science in Education, Educational Leadership
Clay, West Point: Abigail Marie Rippy, Master of Science in Education, Educational Leadership
Copiah, Crystal Springs: FranTreasea S. Evans, Master of Science, Disaster Preparedness and Emergency Management
DeSoto, Hernando: Christian Samples Joyner, Master of Science in Education, Educational Leadership
DeSoto, Hernando: Mark Allen Lowther, Jr., Master of Business Administration, Business Administration
DeSoto, Hernando: Amber Hine Pipkins, Master of Science in Education, Educational Leadership
DeSoto, Hernando: Madison Taylor Hodge, Associate of Science, A.S. En Route
DeSoto, Hernando: Anna Marie Reasons, Associate of Applied Science in Nursing, Nursing
DeSoto, Horn Lake: Keir LaRae Brown, Master of Science in Education, Educational Leadership
DeSoto, Horn Lake: Ashley Marie Camp, Master of Communication Disorders, Communication Disorders
DeSoto, Horn Lake: Marketa Lasha Chamberlain, Associate of Applied Science in Nursing, Nursing
DeSoto, Horn Lake: Sharell Denise Hill, Associate of Applied Science in Nursing, Nursing
DeSoto, Horn Lake: Deborah Ann Tutt, Associate of Applied Science in Nursing, Nursing
DeSoto, Nesbit: William Yount, Bachelor of Applied Science, Organizational Supervision
DeSoto, Olive Branch: Latisha Marie McGee, Master of Science in Education, Reading
DeSoto, Olive Branch: Marianne S. Nichols, Specialist in Education, Educational Leadership
DeSoto, Olive Branch: Heather Scanlon, Master of Science in Education, Educational Leadership
DeSoto, Olive Branch: Katrina R. Vanburen, Specialist in Education, Educational Leadership
DeSoto, Olive Branch: Stephanie Davis, Associate of Applied Science in Nursing, Nursing
DeSoto, Olive Branch: Latoya M. Stephen, Bachelor of General Studies, General Studies
DeSoto, Olive Branch: Sarah Lynn Whorton, Associate of Applied Science in Nursing, Nursing
DeSoto, Southaven: Kaleigh Caroline Davis, Master of Science in Education, Educational Leadership
DeSoto, Southaven: Monique Victorian Eckles, Specialist in Education, Educational Leadership
DeSoto, Southaven: Jeffrey Edge, Master of Science in Education, Educational Leadership
DeSoto, Southaven: Angela Marie Edwards, Specialist in Education, Educational Leadership
DeSoto, Southaven: Edriana L. Ketchmark, Bachelor of Science in Nursing, Nursing
DeSoto, Southaven: Alexis M. Mitchell, Associate of Science, A.S. En Route
DeSoto, Southaven: Taneshia Williams, Associate of Applied Science in Nursing, Nursing
DeSoto, Walls: Latarshar Wells, Master of Science in Education, Educational Leadership
DeSoto, Walls: Phylecia Gail Mason, Bachelor of Science, Interdisciplinary Studies
George, Lucedale: Allyson Paige Howard, Master of Science in Education, School Counseling
Harrison, Gulfport: Julie M. Dauer, Master of Science in Education, Special Education K-12
Hinds, Byram: Kristopher Lee Thigpen, Specialist in Education, Educational Leadership
Hinds, Jackson: Deajanae E. Knight, Specialist in Education, Educational Leadership
Hinds, Jackson: Tosha Moore McCarty, Specialist in Education, Educational Leadership
Humphreys, Belzoni: Rodney Adams, Specialist in Education, Educational Leadership
Lafayette, Oxford: Hannah C. Asmus, Associate of Science, A.S. En Route
Lafayette, Oxford: Avery Harwell Atkinson, Bachelor of Science in Agriculture, Agricultural Business
Lamar, Purvis: Kayla Anne Walters, Master of Science in Education, Educational Leadership
Lauderdale, Collinsville: Brandi Nicole Smith, Specialist in Education, Educational Leadership
Lauderdale, Meridian: Steven DeAndre Shadwick, Specialist in Education, Educational Leadership
Lauderdale, Meridian: Erica Jenine Thompson, Master of Science in Education, Reading
Lee, Tupelo: Harris Pace Faucette, Master of Science in Education, Educational Leadership
Leflore, Itta Bena: Latonya Quarnette Sanders, Specialist in Education, Educational Leadership
Lowndes, Columbus: Tiffany Glenae Jefferson, Master of Science in Education, Educational Leadership
Lowndes, Columbus: Jennifer Lynn Whitworth, Master of Science in Education, Educational Leadership
Lowndes, Steens: Kimberly Crocker Vaughn, Master of Science in Education, Educational Leadership
Madison, Madison: Bobby Joe Robinson Jr., Master of Science in Education, Educational Leadership
Monroe, Nettleton: Dalton Dowe Sullivan, Master of Science in Education, Educational Leadership
Neshoba, Philadelphia: Michelle Jenkins, Specialist in Education, Reading
Newton, Newton: Katie Elizabeth Bounds, Specialist in Education, Educational Leadership
Oktibbeha, Starkville: Lea Merkl, Specialist in Education, Reading
Oktibbeha, Starkville: Londie L. Smith, Master of Science in Education, Reading
Oktibbeha, Sturgis: William Patrick Snyder, Master of Science in Education, Educational Leadership
Panola, Batesville: Thomas Joshua Pipkin, Specialist in Education, Educational Leadership
Pontotoc, Thaxton: Tonya Wilbanks, Master of Science in Education, Educational Leadership
Prentiss, Booneville: James David Mason, Specialist in Education, Educational Leadership
Rankin, Brandon: Erica Johns, Master of Science in Education, Educational Leadership
Rankin, Brandon: Benjamin R. Johnson, Master of Science in Education, Educational Leadership
Rankin, Brandon: Melody Hansen Martin, Master of Science in Education, Education Theory and Practice
Rankin, Brandon: Dylan Clark Parker, Master of Science in Education, Educational Leadership
Rankin, Brandon: Madalyn Poole Robinson, Specialist in Education, Educational Leadership
Rankin, Brandon: Reed B. Tyler, Bachelor of Science, Finance
Rankin, Florence: Daniel Kenneth Nelson, Specialist in Education, Educational Leadership
Rankin, Florence: Dominique Angelica Smalley, Specialist in Education, Reading
Rankin, Flowood: Sarah Elizabeth Beard, Master of Science in Education, Educational Leadership
Rankin, Pearl: Jamie Blair Page, Master of Science in Education, Educational Leadership
Simpson, Mendenhall: Jami Foster, Master of Science in Education, Educational Leadership
Smith, Taylorsville: Jennifer Terrell Nichols, Master of Science in Education, Educational Leadership
Sunflower, Doddsville: Shanika L. Brown-Ware, Bachelor of Science in Nursing, Nursing
Sunflower, Moorhead: Shavonda Johnson-Fields, Specialist in Education, Educational Leadership
Tallahatchie, Tutwiler: Johnny Lee Maddox Jr., Specialist in Education, Educational Leadership
Tate, Coldwater: Kimberly L. Brassfield, Master of Science in Education, School Counseling
Tate, Coldwater: Kimberley Rose Sandlin, Specialist in Education, Educational Leadership
Tate, Senatobia: Denise Lynn Anglin, Master of Science in Education, Curriculum and Instruction
Tate, Senatobia: Shunnon Richardson, Master of Science in Education, Educational Leadership
Tunica, Tunica: Dawn Latrice Sutton, Specialist in Education, Educational Leadership
Union, New Albany: Jessica Garrett, Specialist in Education, Educational Leadership
Union, New Albany: Kyler A. Mahar, Master of Science, Strategic Communications
Union, New Albany: Macy Kirk Mahar, Master of Science in Education, Early Childhood Education
Washington, Leland: Pamela Denise Lawson, Specialist in Education, Educational Leadership
Yazoo, Yazoo City: Pamela Denise Pickens, Specialist in Education, Educational Leadership
Missouri
Atchison, Rock Port: Nicholas Kemerling, Specialist in Education, Educational Leadership
Boone, Columbia: Jae-Kur LaJohn Wade Lockhart, Master of Science, College Student Personnel Services
Boone, Columbia: Ron'Tayza Shavon Hill, Bachelor of Arts, Political Science
Boone, Hallsville: Ty Samuel Sides, Specialist in Education, Educational Leadership
Buchanan, Saint Joseph: Katherine Jo Bishop, Master of Science in Education, Special Education K-12
Buchanan, Saint Joseph: Darcy Louise Gilpin, Specialist in Education, Educational Leadership
Butler, Fisk: Ashton Taylor Howell, Associate of Arts, A.A. En Route
Butler, Poplar Bluff: Stephen Frederick Patty, Master of Science in Education, Education Theory and Practice
Butler, Poplar Bluff: Jenifer Dale Ragins, Master of Science in Education, School Counseling
Butler, Poplar Bluff: Victoria M. Blackman, Associate of Arts, A.A. En Route
Butler, Poplar Bluff: Mackenzie R. Dowd, Associate of Science, A.S. En Route
Cape Girardeau, Cape Girardeau: Amy Jennings Mayes, Certificate Program, Dyslexia
Cape Girardeau, Cape Girardeau: Dylan Tate Kyle, Bachelor of Music Education, Instrumental Music
Cape Girardeau, Cape Girardeau: Lynsey Mae Powers, Associate of Science, A.S. En Route
Cape Girardeau, Cape Girardeau: Jayna Claire Timpe, Bachelor of Science, Marketing
Cape Girardeau, Jackson: Colin D. Schlitt, Bachelor of Science, Business Administration
Cape Girardeau, Jackson: Colin D. Schlitt, Bachelor of Science, Finance
Carter, Van Buren: Amy Jo Jackson, Specialist in Education, Educational Leadership
Christian, Ozark: Kent Alan Doyle, Specialist in Education, Educational Leadership
Christian, Ozark: Tammy G McCormack, Master of Science in Education, Reading
Christian, Ozark: Macey F. Putt, Bachelor of Science, Sport Management
Christian, Sparta: Kaycey LeMae Jones, Specialist in Education, Educational Leadership
Clay, Kansas City: Rene Cooper, Specialist in Education, Educational Leadership
Clay, Kansas City: Tracy M. Nikolaenko, Specialist in Education, Educational Leadership
Clay, Kansas City: Leandra Marie Putman, Specialist in Education, Reading
Cole, Jefferson City: Alexandra Wilkshire-Bobbitt, Master of Science, Media Management
Dunklin, Arbyrd: Merina Del Ray Rivero, Associate of Applied Science in Nursing, Nursing
Dunklin, Campbell: Haley Briann Brimingham, Certificate of Proficiency, Limited X-Ray Machine Operator
Dunklin, Campbell: Lauren D. Everett, Associate of Science, A.S. En Route
Dunklin, Campbell: Dalton Wayne Lewis, Associate of Science, A.S. En Route
Dunklin, Cardwell: Victoria Lauren Cupp, Associate of General Studies, General Studies
Dunklin, Holcomb: B.J. Stone, Specialist in Education, Educational Leadership
Dunklin, Kennett: Andrew James Hindmon, Certificate of Proficiency, Digital Humanities
Dunklin, Kennett: Hunter G. Mcneely, Associate of Science, A.S. En Route
Dunklin, Kennett: Misty D. Wilder, Certificate of Proficiency, Limited X-Ray Machine Operator
Dunklin, Kennett: Christopher B. Wrather, Bachelor of Science, Computer Science
Greene, Battlefield: Karli Paige Haynes, Associate of Science, A.S. En Route
Greene, Springfield: Mary Katherine Appelbaum, Specialist in Education, Educational Leadership
Greene, Springfield: Kimberly Nichols, Master of Science in Education, Curriculum and Instruction
Howell, Pomona: Autumn Jean Freeman, Bachelor of Science, Business Administration
Howell, West Plains: Tiffany M. Driver, Bachelor of Science in Nursing, Nursing
Jackson, Buckner: Tara Danielle Phillips, Specialist in Education, Educational Leadership
Jackson, Independence: Amy Camille Asmussen, Specialist in Education, Educational Leadership
Jackson, Independence: Kaitlin Collins, Master of Science in Education, Special Ed GTC
Jackson, Independence: Jessica Lewis, Specialist in Education, Educational Leadership
Jasper, Carthage: Tricia Mary Brust, Master of Science in Education, Early Childhood Education
Jasper, Joplin: Amanda Lee Eggleston, Specialist in Education, Educational Leadership
Jasper, Joplin: Michelle L. Joyce, Specialist in Education, Educational Leadership
Jefferson, High Ridge: Olivia Katherine Smith, Bachelor of Science, Psychology
Jefferson, House Springs: Terisa L. Koehler, Master of Science in Education, Educational Leadership
Madison, Fredericktown: Vivian Louise Hamilton, Master of Science, Strategic Communications
Maries, Saint James: Jeremy Allen Copeland, Specialist in Education, Educational Leadership
Mississippi, Charleston: Tiffany L. Caldwell, Associate of Applied Science in Nursing, Nursing
Mississippi, East Prairie: Mary Elizabeth Summerlott, Associate of Science, A.S. En Route
Moniteau, California: Jessica R. Rudder, Master of Science in Education, Special Education K-12
New Madrid, New Madrid: Elizabeth N. Hodges, Master of Science in Education, Special Education K-12
New Madrid, New Madrid: Tenisha D. Nelson, Specialist in Education, Educational Leadership
New Madrid, Portageville: Jonna Kaye Hoggard, Master of Arts in Teaching, Teaching
Newton, Neosho: Vanessa Lyn Moreland, Specialist in Education, Educational Leadership
Nodaway, Maryville: Amanda Rose Campbell, Master of Science, College Student Personnel Services
Ozark, Bakersfield: Shannon L. Hadrys, Associate of Applied Science in Nursing, Nursing
Ozark, Gainesville: Brittany Lea Haas, Associate of Applied Science in Nursing, Nursing
Pettis, Sedalia: Blake Robert Grupe, Master of Business Administration, Business Administration
Platte, Kansas City: Moriah May Johnston, Specialist in Education, Reading
Platte, Kansas City: Lindsay Martin McKay, Specialist in Education, Educational Leadership
Ripley, Doniphan: Chailland B. Aaron, Certificate of Proficiency, Limited X-Ray Machine Operator
Saint Charles, Defiance: Scott T. Nichols, Master of Business Administration, Business Administration
Saint Charles, O'Fallon: Miranda Lee Besselman, Specialist in Education, Reading
Saint Charles, O'Fallon: Amy Elizabeth Cassin, Specialist in Education, Educational Leadership
Saint Charles, Saint Charles: Casey Elizabeth Turner, Master of Science in Education, Special Education K-12
Saint Louis, Chesterfield: Kathleen Frances Chapman, Master of Arts, Criminal Justice
Saint Louis, Kirkwood: Michele Lee Martise, Master of Public Administration, Public Administration
Saint Louis, Saint Louis: Julia Elise Barbieri, Specialist in Education, Educational Leadership
Saint Louis, Saint Louis: Sarah A. Howell, Specialist in Education, Educational Leadership
Saint Louis, Saint Louis: Jessica Lynn Schulze, Master of Engineering Management, Engineering Management
Saint Louis, Webster Groves: Megan Lee McClure, Bachelor of Science, Interdisciplinary Studies, Cum Laude
Saint Louis City, Saint Louis: Shamone S. Green, Specialist in Education, Reading
Saint Louis City, Saint Louis: Derrick D. Phillips, Master of Public Administration, Public Administration
Saint Louis City, Saint Louis: Montana Geraldine Meyer, Bachelor of Science, Computer and Information Technology
Scott, Sikeston: Danielle Brooke Newman, Bachelor of Science, Marketing
Scott, Sikeston: Allison Annette Wood, Associate of Science, A.S. En Route
Stoddard, Bernie: Katelyn L. Pulliam, Certificate of Proficiency, Limited X-Ray Machine Operator
Stoddard, Dexter: Kaitlynne Ester Hann, Certificate of Proficiency, Limited X-Ray Machine Operator
Stoddard, Dexter: Olivia Danielle Sitzes, Bachelor of Science, Wildlife, Fisheries and Conservation
Taney, Branson: Christina Mae Hallski, Bachelor of Science in Nursing, Nursing
Vernon, Nevada: Ginger D. Nowak, Specialist in Education, Reading
Webster, Marshfield: Jessica McCord Grace, Specialist in Education, Educational Leadership
Montana
Powell, Deer Lodge: Henry T. Huber, Master of Science in Education, Educational Leadership
Silver Bow, Butte: Sean Michael Ryan, Master of Science, Sport Administration
Nebraska
Douglas, Omaha: Jessica Elizabeth Tonkovich, Master of Science, Strategic Communications
Lincoln, North Platte: Daniel James McMurtry, Specialist in Education, Educational Leadership
Nevada
Clark, Henderson: Kenneth Alan Belknap, Master of Public Administration, Public Administration
Clark, Henderson: Christopher Robin Hood, Master of Science, Strategic Communications
Clark, Las Vegas: Skyler Devan Killian, Master of Science, Sport Administration
New Jersey
Bergen, Dumont: Kristine Hurley, Master of Science in Education, Reading
Bergen, Westwood: Jaquelyn M. Santiago, Master of Science in Education, Educational Leadership
Middlesex, Old Bridge: Michelle Marie Senese, Master of Science in Education, Reading
Monmouth, Neptune: Christie A. Manzella, Master of Science in Education, School Counseling
Monmouth, North Middletown: Samantha Brook DePalma, Master of Science in Education, School Counseling
Ocean, Manahawkin: Lisa Marie Daly, Master of Science, Strategic Communications
Ocean, Toms River: Ann Catherine Burgaleta-Gural, Master of Science in Education, Educational Leadership
Somerset, Belle Mead: Michal Robert Clarke, Master of Science, Sport Administration
Union, Union: Caroline Forde, Master of Science in Education, Special Ed GTC
New York
Kings, Brooklyn: Nicole Naomi Chaplik, Master of Science, Sport Administration
New York, New York: Erin Denise Lynn, Doctor of Education, Educational Leadership
Queens, Maspeth: Summer Jamal Qamoum, Master of Business Administration, Business Administration
Richmond, Staten Island: John Gioeli, Master of Engineering Management, Engineering Management
Suffolk, Bay Shore: Bruce John Keenan Jr., Master of Business Administration, Business Administration
Suffolk, Deer Park: Michael Sohanlall, Master of Engineering Management, Engineering Management
Tompkins, Ithaca: Rayan Hage, Master of Science, College Student Personnel Services
North Carolina
Alamance, Graham: Joshua Michael Cutlip, Master of Science, Sport Administration
Cabarrus, Concord: LeDell Prince Maynor, Specialist in Education, Educational Leadership
Guilford, Greensboro: Reginald Calvin Mitchem, Master of Science, Sport Administration
Mecklenburg, Charlotte: Kamara Nicole Sitton, Master of Science, Sport Administration
Mecklenburg, Charlotte: William Keavin Thomas, Master of Engineering Management, Engineering Management
Mecklenburg, Charlotte: Jana Elizabeth Walker, Master of Science, Sport Administration
Onslow, Jacksonville: Camryn Elenna O'Conner, Bachelor of Science, Psychology, Cum Laude
Pitt, Greenville: Benjamin John Veshi, Master of Science, Sport Administration
Ohio
Clermont, Batavia: Jennifer Sheree Fritz, Certificate Program, Building-Level Administration
Fairfield, Pickerington: Luke Starkey, Master of Science, Sport Administration
Franklin, Grove City: Nicholas Allen Gussler, Master of Science, Sport Administration
Lucas, Toledo: Courtney Lynn Moeller, Master of Science, Sport Administration
Perry, Somerset: Haley Catherine Sherman, Master of Science in Education, Special Ed GTC
Portage, Kent: Lukas Benjamin Darling, Master of Public Administration, Public Administration
Summit, Stow: Ryan Joseph Sullivan, Bachelor of Science, Disaster Preparedness and Emergency Management, Cum Laude
Summit, Uniontown: Jacqueline N. Mohseninia, Master of Science in Education, Educational Leadership
Wayne, Wooster: Brittany Eileen Palmer, Master of Science in Education, Special Ed GTC
Oklahoma
Creek, Sapulpa: Steven Ray Irvine Jr., Master of Science, Sport Administration
Garfield, Enid: Samantha Ray Angus, Master of Science, Early Childhood Services
Le Flore, Spiro: Jayla Jane Goff, Bachelor of Arts, Psychology
Mayes, Pryor: Jill Stanley, Specialist in Education, Reading
Muskogee, Fort Gibson: Allyson Mazilly Carlson, Master of Science in Education, Special Ed GTC
Oklahoma, Edmond: Katrina Dana Loos, Bachelor of Science, Strategic Communications
Oklahoma, Edmond: Katrina Dana Loos, Certificate of Proficiency, Social Media Management
Ottawa, Miami: Jillian Erin Lyne Masterson Douthit, Specialist in Education, Educational Leadership
Pawnee, Cleveland: Brian K. Young, Master of Science, Strategic Communications
Tulsa, Broken Arrow: Olivia Ehle, Specialist in Education, Educational Leadership
Tulsa, Broken Arrow: Julianna Carolyn Coates, Bachelor of General Studies, General Studies
Tulsa, Owasso: Stephen P. Hogan, Master of Science in Education, Educational Leadership
Oregon
Clackamas, Estacada: Rebecca Jean Barton, Master of Science in Education, School Counseling
Linn, Sweet Home: Cy Maughmer, Specialist in Education, Educational Leadership
Marion, Stayton: Timothy Victor Godfrey, Master of Science, Disaster Preparedness and Emergency Management
Pennsylvania
Allegheny, Pittsburgh: David Tyler Rau, Master of Science, Sport Administration
Dauphin, Hummelstown: Xiaoming Luo, Master of Business Administration, Business Administration
Delaware, Upper Chichester: William Thomas Hart, Master of Science in Education, Education Theory and Practice
Delaware, Upper Darby: Qristoffer JMar Young, Bachelor of Arts, Communication Studies
Lancaster, Pequea: Samantha Louise Heffner, Master of Science in Education, Special Education K-12
Lehigh, Bethlehem: Rachel Marie Connolly, Master of Engineering Management, Engineering Management
Montgomery, Abington: Seth Lawrence Richardson, Master of Science in Education, School Counseling
Puerto Rico
Yauco, Yauco: Jose Joel Albarran Rivera, Master of Engineering Management, Engineering Management
South Carolina
Anderson, Iva: Brandon Reece Watt, Specialist in Education, Educational Leadership
Charleston, Charleston: Justin Montez Fields, Specialist in Education, Educational Leadership
Chesterfield, Chesterfield: Glenda Sikes Freeman, Specialist in Education, Educational Leadership
Darlington, Lamar: Chad Ryan Wilkes, Master of Science in Education, Educational Leadership
Dillon, Latta: Sara Beth Dew, Specialist in Education, Educational Leadership
Edgefield, North Augusta: Brett Andrew Johnson, Master of Science, Sport Administration
Georgetown, Murrells Inlet: Ryan Freddie Young, Specialist in Education, Educational Leadership
Greenville, Fountain Inn: Sara Vaughn Long, Specialist in Education, Educational Leadership
Greenville, Greenville: Parker Boen Chapman, Master of Public Administration, Public Administration
Greenville, Greenville: Rosemary Elizabeth Hughes, Specialist in Education, Reading
Greenville, Greenville: Rebecca Jayne Stone, Master of Science in Education, School Counseling
Horry, Myrtle Beach: Brennan Noah Allen, Master of Science in Education, Educational Leadership
Marion, Gresham: Erica LaShana Williams, Specialist in Education, Educational Leadership
Richland, Blythewood: Kristina Marie Turner Ard, Specialist in Education, Educational Leadership
Richland, Blythewood: Yolanda Zaneta Fields, Specialist in Education, Educational Leadership
Richland, Columbia: Lisa Michelle Smathers, Specialist in Education, Educational Leadership
Spartanburg, Spartanburg: Byron W. Greer, Master of Science, Sport Administration
Spartanburg, Spartanburg: Enoch Ofori, Master of Engineering Management, Engineering Management
Spartanburg, Woodruff: Jeffrey Whitener, Specialist in Education, Educational Leadership
Sumter, Mayesville: Matthew Joseph Howlett, Master of Science in Education, Educational Leadership
Sumter, Sumter: Marcia Denise Ragin, Specialist in Education, Educational Leadership
Sumter, Sumter: Sheila Yvonne Ragin, Specialist in Education, Educational Leadership
South Dakota
Lincoln, Harrisburg: Latrina Simon, Bachelor of Science in Nursing, Nursing
Tennessee
Benton, Big Sandy: Dawn Marie Peach, Master of Science in Education, Education Theory and Practice
Cheatham, Pleasant View: Erica Wood Delavergne, Master of Science in Education, School Counseling
Chester, Henderson: Matthew Adam Miller, Master of Science in Education, Reading
Cocke, Bybee: Robin Lynn Smith, Master of Science in Education, Early Childhood Education
Coffee, Manchester: Magen Poche' Mathias, Specialist in Education, Educational Leadership
Coffee, Tullahoma: Eric L. Hunt, Master of Science in Education, Educational Leadership
Cumberland, Crossville: Camille Conner, Master of Science in Education, Reading
Davidson, Antioch: Seth Andrew White, Master of Science, Sport Administration
Davidson, Goodlettsvlle: Saturah Grace Gleaves, Specialist in Education, Educational Leadership
Davidson, Hermitage: Sean Michael Adams, Master of Science, Sport Administration
Dyer, Dyersburg: Allyson Elaine Diaz, Bachelor of General Studies, General Studies
Dyer, Dyersburg: Ashley Marie Piskorski, Bachelor of Science in Agriculture, Animal Science
Dyer, Dyersburg: Ashley Elizabeth Pugh, Bachelor of Science, Psychology, Cum Laude
Fayette, Oakland: Hannah Victoria Turner, Master of Engineering Management, Engineering Management
Fayette, Oakland: Jamie E. Martin, Bachelor of Science in Nursing, Nursing, Cum Laude
Fayette, Piperton: Michelle Antionette Sales, Associate of Applied Science in Nursing, Nursing
Fayette, Somerville: Lena N. Herron, Master of Science in Education, Curriculum and Instruction
Franklin, Decherd: Heather Nichole Harris, Specialist in Education, Educational Leadership
Franklin, Winchester: Naleon Antonio Holman, Bachelor of General Studies, General Studies
Gibson, Medina: James A. Goode, Associate of Science, A.S. En Route
Hardeman, Middleton: Cassie Lynell Elliott, Specialist in Education, Educational Leadership
Hardeman, Middleton: Craig Harris, Specialist in Education, Educational Leadership
Knox, Knoxville: Eric Gene Evans, Master of Science, Sport Administration
Knox, Knoxville: Rachael Margaret Parsons, Specialist in Education, Educational Leadership
Knox, Knoxville: Alice Clark Williams, Specialist in Education, Educational Leadership
Loudon, Loudon: Tracy L. Trout, Specialist in Education, Educational Leadership
Madison, Jackson: Bethany Ann Enochs, Specialist in Education, Educational Leadership
Madison, Jackson: Marko D. Jones, Master of Science in Education, Educational Leadership
Madison, Jackson: Danielle Octavia Shaw-Jones, Specialist in Education, Educational Leadership
Madison, Jackson: Ashlyn Elizabeth Yarbrough, Bachelor of Science, Psychology
Marion, Whitwell: Rebecca Nicole Castle, Master of Science in Education, Curriculum and Instruction
Marshall, Lewisburg: Katherine Elaine Vernon, Master of Science in Education, Educational Leadership
Maury, Columbia: Samantha Nadine Young, Master of Science, Early Childhood Services
Maury, Spring Hill: Hannah Alysse Pesta, Master of Science in Education, School Counseling
McMinn, Athens: Joshua Brandon Goodman, Master of Science in Education, Educational Leadership
McMinn, Athens: Brookelyn Martin Haugen, Specialist in Education, Educational Leadership
McNairy, Adamsville: Lesa R Plunk, Master of Science in Education, Reading
McNairy, Guys: Kelly C. Wilder, Specialist in Education, Educational Leadership
Montgomery, Clarksville: Karen Michelle Langhout, Master of Science in Education, Early Childhood Education
Montgomery, Clarksville: Abbey Lynn Myers, Master of Science in Education, Educational Leadership
Montgomery, Clarksville: Riann M. Offutt-Price, Specialist in Education, Educational Leadership
Montgomery, Clarksville: Michelle Lee Shipman, Specialist in Education, Educational Leadership
Montgomery, Palmyra: Lori Elizabeth Moore, Specialist in Education, Reading
Moore, Tullahoma: Jason Casey Walters, Specialist in Education, Educational Leadership
Obion, Troy: Sydney Robbins Maloney, Master of Science in Education, Educational Leadership
Roane, Harriman: Jessica Jo-jaren Jones, Master of Science in Education, Early Childhood Education
Robertson, White House: Steven Picklesimon, Master of Engineering Management, Engineering Management
Rutherford, Murfreesboro: Andrea W. Brown, Master of Science in Education, Educational Leadership
Rutherford, Murfreesboro: Jameon Djuan Hatcher, Specialist in Education, Educational Leadership
Rutherford, Murfreesboro: Kayleigh C. Hennemann, Master of Communication Disorders, Communication Disorders
Rutherford, Murfreesboro: Chad Daniel Pritchett, Master of Science in Education, Educational Leadership
Rutherford, Smyrna: Allison Ryan Ashley, Master of Science in Education, Educational Leadership
Rutherford, Smyrna: Jennifer Lynn Head, Master of Science in Education, Educational Leadership
Shelby, Arlington: Courtney Chandler Glenn, Master of Science in Education, Education Theory and Practice
Shelby, Bartlett: NaShea' Goetzendanner Cobb, Specialist in Education, Educational Leadership
Shelby, Bartlett: Christine Marie Hingle, Certificate Program, Special Education Director
Shelby, Bartlett: David Edward Mitchell, Bachelor of Science in Nursing, Nursing
Shelby, Collierville: Courtney G. Cline, Specialist in Education, Educational Leadership
Shelby, Collierville: Martin R. Edwards Jr., Master of Business Administration, Business Administration
Shelby, Collierville: Sara N. Strickland, Specialist in Education, Educational Leadership
Shelby, Collierville: Nathan Michael Brandenburg, Bachelor of Science in Agriculture, Agricultural Business
Shelby, Collierville: Hannah Conyers Cox, Bachelor of Science, Psychology
Shelby, Cordova: Tanisha S. Brown, Master of Science, Sport Administration
Shelby, Cordova: Janette Kirksey Armour, Specialist in Education, Educational Leadership
Shelby, Cordova: Aislyn Nicole Lipford, Specialist in Education, Educational Leadership
Shelby, Cordova: Tibyea D. Angelo, Associate of Applied Science in Nursing, Nursing
Shelby, Cordova: Jasmine Baker, Bachelor of Science in Nursing, Nursing
Shelby, Cordova: Sequetta Teneshia Weaver-Braxton, Associate of Applied Science in Nursing, Nursing
Shelby, Cordova: Kimberly S. Williams, Associate of Applied Science in Nursing, Nursing
Shelby, Cordova: Christian M. Wilson, Bachelor of Arts, Music
Shelby, Germantown: Leigh Smith Ellis, Certificate Program, Special Education Director
Shelby, Germantown: Jennifer Marie Myers, Bachelor of Science, Disaster Preparedness and Emergency Management
Shelby, Memphis: Dominique John Akpotanor, Master of Science in Education, Educational Leadership
Shelby, Memphis: Cydni Patrice Alexander, Master of Science in Education, Curriculum and Instruction
Shelby, Memphis: Jeremiah Chibuzo Bland, Master of Science in Education, Educational Leadership
Shelby, Memphis: McQuitta Annette Bostick, Specialist in Education, Educational Leadership
Shelby, Memphis: Arletta R. Burse, Specialist in Education, Educational Leadership
Shelby, Memphis: Regina Evans, Master of Science in Education, Educational Leadership
Shelby, Memphis: Maria Vasser Keathley, Specialist in Education, Educational Leadership
Shelby, Memphis: Audrey D. McCollum, Specialist in Education, Educational Leadership
Shelby, Memphis: Lewis Eugene Myers, Specialist in Education, Educational Leadership
Shelby, Memphis: Devon Ashley Dorothy Pohlman, Master of Science in Education, Educational Leadership
Shelby, Memphis: Kakisha Rushing Redick, Master of Science in Education, School Counseling
Shelby, Memphis: Andrea L. Starks, Master of Science in Education, Educational Leadership
Shelby, Memphis: Alexandria Bolton, Associate of Applied Science in Nursing, Nursing
Shelby, Memphis: Lakeysha Kenyetta Brown, Bachelor of Arts, Psychology
Shelby, Memphis: Anna K. Cremerius, Associate of Science, A.S. En Route
Shelby, Memphis: LaKeshia Edwards, Associate of Applied Science in Nursing, Nursing
Shelby, Memphis: Mary Katherine Garmon-Morrison, Bachelor of Science in Nursing, Nursing
Shelby, Memphis: Savana G. Garrett, Associate of Science, A.S. En Route
Shelby, Memphis: Sarah Meador Hill, Bachelor of Science in Nursing, Nursing
Shelby, Memphis: Lauryn Simone Hughes, Bachelor of Science, Finance
Shelby, Memphis: KenTrell D'Shun Miller, Bachelor of Science, Exercise Science
Shelby, Memphis: Tiara Nicole Nelson, Associate of Applied Science in Nursing, Nursing
Shelby, Memphis: Erica Newsome, Associate of Applied Science in Nursing, Nursing
Shelby, Memphis: Jamieka V. Redden, Associate of Applied Science in Nursing, Nursing
Shelby, Memphis: Courtney M. Stevens, Associate of Applied Science in Nursing, Nursing
Shelby, Memphis: Lizzie Sykes, Associate of Applied Science in Nursing, Nursing
Shelby, Memphis: Alexis White, Associate of Applied Science in Nursing, Nursing
Smith, Riddleton: Joshua Matthew Hackett, Master of Science in Education, Educational Leadership
Sumner, Gallatin: Jeffrey Sean Link, Specialist in Education, Educational Leadership
Sumner, Hendersonville: Cassie Marie Venable, Specialist in Education, Educational Leadership
Sumner, Hendersonville: Katie Michelle Venable, Specialist in Education, Educational Leadership
Tipton, Atoka: Michelle Leigh Ruse, Specialist in Education, Educational Leadership
Tipton, Brighton: Hayden W. Scott, Master of Science in Education, Special Education K-12
Tipton, Covington: Hannah Marie Rice, Master of Science in Education, Education Theory and Practice
Tipton, Covington: Carrie Elizabeth Sage, Specialist in Education, Educational Leadership
Tipton, Covington: Samantha Katherine Roach, Bachelor of General Studies, General Studies
Tipton, Covington: Mary Grace Simonton, Certificate of Proficiency, Limited X-Ray Machine Operator
Tipton, Drummonds: Johnna Lee Jones, Bachelor of General Studies, General Studies
Warren, McMinnville: Lauren Alexis Hennessee Sweeton, Master of Public Administration, Public Administration
Warren, Rock Island: Angelique Yvonne Kirk, Master of Science in Education, Special Education K-12
Williamson, Franklin: Chase Michael Fisher, Master of Science in Education, Educational Leadership
Williamson, Franklin: Christi Ann Johnson, Bachelor of Arts, Psychology, Cum Laude
Wilson, Lebanon: Charles Johnathon Forrest, Specialist in Education, Educational Leadership
Wilson, Lebanon: Joseph Shaun Frey, Master of Science in Education, Educational Leadership
Wilson, Old Hickory: Tori A. Schow, Master of Science, Early Childhood Services
Texas
Bee, Beeville: Joe Richard Hernandez, Master of Public Administration, Public Administration
Bell, Killeen: Michelle I. Kratzenberg, Specialist in Education, Educational Leadership
Bexar, San Antonio: Moriah Elizabeth-Ellen Mack, Master of Science, Sport Administration
Bowie, New Boston: Marissa Jeanette Jones, Bachelor of Science, Digital Innovations
Bowie, Texarkana: Eric Jamal Sutton, Master of Science, Sport Administration
Cameron, Rancho Viejo: Edgar Chrnko, Master of Science, Media Management
Collin, Allen: Briana Amari Heath, Master of Science, Sport Administration
Collin, Allen: Garrett Evans Stotts, Master of Science, Sport Administration
Collin, Frisco: Cristine Marie Espinosa, Master of Science, Media Management
Collin, Plano: Terrell Pinson, Bachelor of General Studies, General Studies
Coryell, Fort Hood: Jonathan David Halcomb, Associate of General Studies, General Studies
Dallas, Cedar Hill: Kirby E. Williams, Master of Science, Early Childhood Services
Dallas, Coppell: Steven Derrick Stanford, Master of Public Administration, Public Administration
Dallas, Garland: Christopher Edward Hill, Master of Science, Sport Administration
Dallas, Garland: Megan Rose Duncan, Bachelor of Arts, Political Science
Dallas, Grand Prairie: Malik Tipler, Master of Science, Sport Administration
Dallas, Rowlett: Savannah Marie Godwin, Bachelor of Arts, Environmental Studies
Denton, Aubrey: Latonda Hunley Shearrill, Bachelor of Arts, Political Science
Denton, Frisco: Cameron Scot Crane, Bachelor of Science, Strategic Communications
El Paso, El Paso: Faith Kristin Farris, Master of Science, Media Management
Harris, Houston: Kevin C. Abanobi, Master of Science, Sport Administration
Harris, Houston: Rob Lihalakha, Master of Science, Sport Administration
Harris, Katy: Babatunde Ismail Olanrewaju Gbolahan Leshi, Master of Engineering Management, Engineering Management
Johnson, Cleburne: Stephen Lewis Gartrell Jr., Master of Science in Education, Special Education K-12
Karnes, Karnes City: Stephenie Yeater Johnson, Master of Science, Sport Administration
Lubbock, Lubbock: Nikolas Fort, Master of Science, Disaster Preparedness and Emergency Management
Nueces, Corpus Christi: Angelica Arratia Delgadillo, Master of Business Administration, Business Administration
Tarrant, Arlington: Dominica Viana'e Carter, Master of Science, Early Childhood Services
Tarrant, Arlington: Kailee Kristine Garrett, Master of Science in Education, Reading
Tarrant, Arlington: Tabitha Ann Taylor, Bachelor of Arts, Criminology, Sociology
Tarrant, Euless: Sophie Claire Leathers, Bachelor of Science, Sport Management
Tarrant, Fort Worth: Saroj Sapkota, Master of Engineering Management, Engineering Management
Tarrant, Grapevine: Tatum Michelle Ticknor, Master of Business Administration, Business Administration
Tarrant, Mansfield: Stephanie R. Pittman, Master of Science in Education, Special Education K-12
Tarrant, White Settlement: Aaron N. McDonald, Master of Engineering Management, Engineering Management
Travis, Austin: Cassandra Ariel Falasco, Master of Public Administration, Public Administration
Travis, Austin: Shelby Ann Gordon, Master of Science, Early Childhood Services
Travis, Austin: Michele Poenisch, Specialist in Education, Educational Leadership
Williamson, Elgin: Ryan Dale Hanson, Bachelor of General Studies, General Studies
Utah
Davis, Layton: Eric Niel Holt, Master of Science, Sport Administration
Salt Lake, Midvale: Maxim Molokov, Master of Science, Sport Administration
Weber, Roy: Krista Burnett, Master of Science in Education, Education Theory and Practice
Vermont
Orleans, Morgan: Joselyn Josephine Barry, Master of Arts in Teaching, Teaching
Virginia
Henry, Bassett: Ruthanne Hoover Duffy, Master of Science, Sport Administration
Prince William, Haymarket: Ludmila Trujillo, Master of Science, Media Management
Prince William, Woodbridge: Brian Wirth, Master of Science, Sport Administration
Richmond City, Richmond: Andrew Dillon Givens, Master of Science in Education, Educational Leadership
Spotsylvania, Fredericksburg: Terra Lea Pierce, Bachelor of General Studies, General Studies
Wise, Pound: Anthony Michael Wertz, Master of Science, Sport Administration
Washington
Franklin, Pasco: Ruben David Alvarado, Master of Public Administration, Public Administration
Jefferson, Brinnon: Katherine O'Leary-Cole, Master of Business Administration, Business Administration
Lewis, Centralia: Justin T. Kostick, Master of Science, College Student Personnel Services
Wisconsin
Milwaukee, Milwaukee: Amanda Olivia Schenk, Master of Science, Sport Administration
International
Saudi Arabia, Ash Sharqiyah: Zahraa Abdulaziz Al Abdulhai, Bachelor of Science, Finance, Magna Cum Laude
Canada, Calgary, AB: Mauro Andres Godoy, Bachelor of Science, Environmental Science
China, Dezhou: Shihan Wang, Master of Music, Music Performance
Japan, Fujisawa: Kouki Nagata, Bachelor of Science, Business Administration
India, Guntur: Manideep Gali, Master of Science, Computer Science
South Korea (Rep. of Korea), Gwangjin-gu, Seoul: Seokhyun Hong, Bachelor of Science in Agriculture, Animal Science
Vietnam, Hanoi: Bang Thanh Dang, Associate of Science, A.S. En Route
Vietnam, Hanoi: Nam Quy Thanh Tran, Bachelor of Science, Finance
Vietnam, Ho Chi Minh City: Duy Duc Nguyen, Bachelor of Science, Global Supply Chain Management
Vietnam, Ho Chi Minh City: Le Hai An Nguyen, Associate of Arts, A.A. En Route
Vietnam, Ho Chi Minh City: Thuong Hoai Ngoc Tran, Bachelor of Science, Global Supply Chain Management
Vietnam, Hue: An Canh Phan, Bachelor of Science in Civil Engineering, Civil Engineering
South Korea (Rep. of Korea), Incheon: Hee Jang, Bachelor of Science in Nursing, Nursing, Cum Laude
Saudi Arabia, Jeddah: Talal Abdullah A Alzahrani, Master of Engineering Management, Engineering Management
Nepal, Kathmandu: Shyaron Poudel, Master of Science, Molecular Biosciences
Nepal, Kathmandu: Amit Singh Kathayat, Associate of Science, A.S. En Route
Russia, Krasnodar: Inna Takhmasibovna Gulieva, Master of Arts, English
Bangladesh, Manikganj: Raiyan Chowdhury, Master of Science in Engineering, Engineering
Mexico, Merida: Maria Jose Atristain Vega, Bachelor of Science, Exercise Science, Magna Cum Laude
Mexico, Metepec: Laura Carolina Cerquera Hernández, Bachelor of Science, Biotechnology, Cum Laude
India, Nanded: Frankisa Surani, Bachelor of Science, Computer and Information Technology, Magna Cum Laude
India, Nandyal, Kurnool Dis: Sai Raghavendra Reddy Paluru, Master of Science, Computer Science
Bangladesh, Narail: Sumon Roy, Certificate Program, General Engineering Management
Bangladesh, Narail: Sumon Roy, Doctor of Philosophy, Environmental Sciences
Japan, Niigata-shi, Niigata: Toshiki Iizuka, Bachelor of Science, Psychology, Cum Laude
South Korea (Rep. of Korea), Pyeongtaek: Yubin Lim, Bachelor of Fine Arts, Graphic Design, Cum Laude
China, Qingdao: Xiaohan Li, Master of Science in Agriculture, General Agriculture
Japan, Saijyo: Kagari Ito, Bachelor of Science, Creative Media Production
South Korea (Rep. of Korea), seoul: Sun Young Cho, Bachelor of Science in Nursing, Nursing
South Korea (Rep. of Korea), Seoul: Hyesun Choi, Associate of Arts, A.A. En Route
Japan, Shimotsuke, Tochigi: Akira Nakagawa, Bachelor of Arts, Communication Studies, Cum Laude
Japan, Shinjukuku,Tokyo: Tatsu Nakamura, Bachelor of Science, Management
Bangladesh, Sylhet: Md Rokib Hasan, Doctor of Philosophy, Molecular Biosciences
Japan, Yokohama: Erina Miyajima, Bachelor of Science, Biological Sciences, Magna Cum Laude
South Korea (Rep. of Korea), Yongin-si, Gyeonggi-: Ilkyun Kim, Bachelor of Science in Nursing, Nursing
India, YSR District: Kiran Kumar Reddy Lomada, Master of Science, Computer Science
China, Zhongshan: Jiaxi Tan, Bachelor of Science, Business Administration
Campus Querétaro
Mexico, Aguascalientes: Diego Guerra Muñoz, Bachelor of Science, Strategic Communications
Mexico, Atizapan de Zaragoza: Samantha Morales García, Bachelor of Science, International Business
Mexico, Chiapas: Yanim Yanfiat Naemi Casab, Bachelor of Science, International Business
Mexico, Ciudad de México: Natali Fernanda Estrada Sánchez, Bachelor of Science, International Business
Mexico, Ciudad de México: Monserrat López Cárdenas, Bachelor of Science, Strategic Communications
Mexico, Ciudad de México: Edgar Rivera Agaronian, Bachelor of Science, International Business, Magna Cum Laude
Mexico, Corregidora: Emilio Salvador Boyzo Salinas, Bachelor of Science, International Business
Mexico, Estado de México: Jennifer Jo Tebbs Corona, Bachelor of Science, Strategic Communications
Mexico, Guanajuato: Emiliano Bernal Fuentes, Bachelor of Science, International Business
Mexico, Metepec: Andrés Gustavo Ambriz Gudiel, Bachelor of Science in Mechanical Engineering, Mechanical Engineering
Mexico, Juriquilla: Montserrat Yuricci Paredes Munguía, Bachelor of Science, International Business
Mexico, Leon: Manuel Issac Almanza Herrera, Bachelor of Science in Mechanical Engineering, Mechanical Engineering
Mexico, Morelos: Claudia Angélica Bazán Vázquez, Bachelor of Science, International Business
Mexico, Obregon: Sergio Arturo Moreno Almirudis, Bachelor of Science, Biotechnology
Mexico, Querétaro: Marco Antonio Dionicio Mata, Bachelor of Science, Biological Sciences
Mexico, Querétaro: Erick Pantoja García, Bachelor of Science, International Business
Mexico, Querétaro: Ximena Fernández del Castillo Cu, Bachelor of Science in Mechanical Engineering, Mechanical Engineering
Mexico, Querétaro: Jenny Vianney López Escobar, Bachelor of Science, International Business
Mexico, Querétaro: José Fabián Torres Rivera, Bachelor of Science in Mechanical Engineering, Mechanical Engineering, Cum Laude
Mexico, San Juan del Rio: Alondra Arias Villaseñor, Bachelor of Science, International Business
Mexico, San Juan del Rio: Zara Muñoz Rodriguez, Bachelor of Science, Business Administration, Cum Laude
Mexico, Santa Rosa Jauregui: Frida Paola Yáñez Medina, Bachelor of Science, International Business
Mexico, Santiago de Queretar: Jimena Pesquera Vieregge, Bachelor of Science, Biotechnology
Mexico, Tamaulipas: Julio Cesar Madera Núñez, Bachelor of Science, International Business
Mexico, Tequisquiapan: Fernando Esquivel Ibarra, Bachelor of Science, International Business
Mexico, Tlalpan: Jacqueline Lucero Pérez Rodríguez, Bachelor of Science, Strategic Communications
Mexico, Veracruz: Sergio David Tornero, Bachelor of Science, Business Administration
Mexico, Villa Corregidora: Mauricio Alexander Franco Hernández, Bachelor of Science in Mechanical Engineering, Mechanical Engineering, Cum Laude
Mexico, Estado de Mexico: Sharif Rod Pacheco, Bachelor of Science, International Business
Mexico, Huixquilucan: Moises Mishan Barbosa, Bachelor of Science in Mechanical Engineering, Mechanical Engineering
United States
United States, CA, San Diego, Chula Vista: Renata Fransheska Acevedo Burgos, Bachelor of Science, Strategic Communications
United States, TX, Travis, Austin: Camila Alejandra Romero Morales, Bachelor of Science, International Business
United States, WI, Iron, Hurley: Courtney Ann Miller, Bachelor of Science, Marketing
# # #
Original article source: http://www.astate.edu/news/a-state-announces-list-of-fall-2021-graduating-students | Article may or may not reflect the views of KLEK 102.5 FM or The Voice of Arkansas Minority Advocacy Council