11/18/2019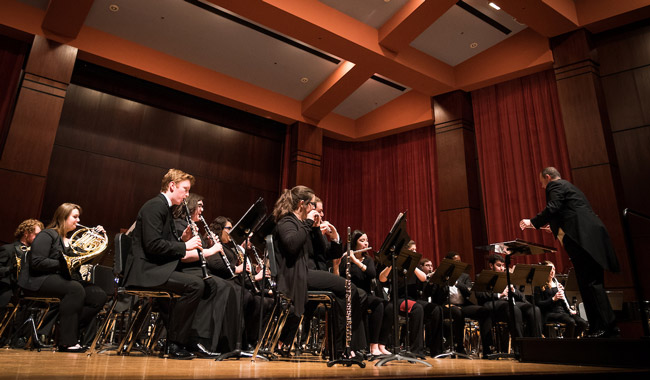 JONESBORO – The Arkansas State University Wind Ensemble and Symphonic Winds will continue their 2019-20 concert season on Thursday, Nov. 21, at 7:30 p.m. in Fowler Center's Riceland Hall.
This concert also marks the next event during the 90th anniversary celebration of the A-State bands program, which began in 1929.
Dr. Sarah Labovitz, associate director of bands and coordinator of music education in the Department of Music, is conductor of the Symphonic Winds.
The Symphonic Winds will begin with "Rise of the Silver City," by Rossano Galante, and continue with the familiar piece "A Childhood Hymn," by David Holsinger.
Graduate conductor Shawn Crawford will lead the ensemble in a performance of a contemporary work with an electronic soundtrack called "Tight Squeeze" by Alex Shapiro. The Symphonic Winds will close with the wind band classic "Satiric Dances" by Norman Dello Joio.
The Wind Ensemble is led by Dr. Timothy Oliver, director of bands and coordinator of wind and percussion studies in the Department of Music.
The Wind Ensemble will begin with a new work by Pulitzer Prize-winning composer Joseph Schwantner called "The Awakening Hour." Labovitz will guest conduct a very emotional work called "Soulström" by Australian composer Jodie Blackshaw.
Andrea Reinkemeyer composed the next work, cast in two movements, called "Dos Danzas." Graduate conductor Pershauna Johnson will lead the group in a performance of "October" by Eric Whitacre.
Composer Ron Nelson is also celebrating his 90th birthday this year. His powerful work "Epiphanies (Fanfares and Chorales)" will close the concert.
Admission is $5 per person, but A-State students are admitted free with their ID. For more details about this concert or any other A-State music event, one may contact the Music Department at (870) 972-2094.
# # #
Original article source: http://www.astate.edu/news/wind-ensemble-and-symphonic-winds-concert-is-thursday | Article may or may not reflect the views of KLEK 102.5 FM or The Voice of Arkansas Minority Advocacy Council