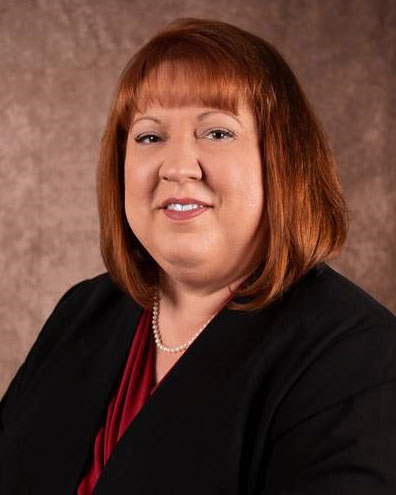 11/30/2021
JONESBORO — Melanie Wicinski joins Arkansas State University as A-State's assistant vice chancellor for accreditation and assessment, Provost Alan Utter announced this week.
The former director of the office of university assessment the past three years at Florida A&M University, Wicinski begins at A-State on Jan. 11, 2022, with the start of the spring semester.
"Dr. Wicinski's years of experience in university assessment and accreditation will be instrumental as we prepare for our next reaccreditation from the Higher Learning Commission," Utter said. "Her ability to work with stakeholders from all levels of the institution, innovative and strategic thinking, communication skills and collaborative spirit were identified strengths from the selection committee. We are looking forward to having Dr. Wicinski as part of our leadership group here in the Office of Academic Affairs."
Since 2018, she has worked with both the campus programs as well as the FAMU Board of Trustees on a wide range of quality enhancement and assessment projects. She piloted and deployed course-level assessments for select colleges and schools at FAMU.
Among her numerous committee assignments at Florida A&M, Wicinski served on the campus' diversity and inclusion committee, the provost's licensure pass rate task force, and FAMU's COVID-19 return-to-work subcommittee. During her tenure the Office of University Assessment completed the Excellence in Assessment Designation self-study and received the EIA designation in 2020, one of 12 U.S. universities that year, and one of only 42 since 2016.
A graduate of Florida State University, Wicinski received her master's at the University of Florida, then completed her Ph.D. in instruction and curriculum design at the University of South Florida.
Prior to Florida A&M, she spent almost seven years in several roles at USF, including assistant director of accreditation and assessment, adjunct professor, and assistant director of institutional effectiveness and assessment.
Wicinski has developed and taught as an adjunct for several public and private universities on subjects related to education theory and practice. She also has extensive experience working in the classroom for children's education before starting her career in higher education.
Among her peer-reviewed publications is the recent 2020 article in Assessment Update: Progress, Trends, and Practices in Higher Education she co-authored, titled "Assessing Assessment: Evaluation plans and reports with a quality enhancement rubric to improve communication." She is an assistant editor and content areas specialist for the Journal of Global Education and Research.
Original article source: http://www.astate.edu/news/wicinski-to-oversee-accreditation-and-assessment-initiatives | Article may or may not reflect the views of KLEK 102.5 FM or The Voice of Arkansas Minority Advocacy Council