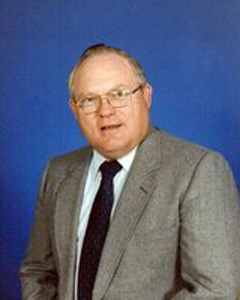 11/27/2021
JONESBORO — The Arkansas State University community extends sympathy to the family, friends and former colleagues of Dr. Coy London of Jonesboro, who died Thursday, Nov. 25.
London earned a bachelor's degree at A-State, a master's at the University of Memphis, and his Ph.D. in accounting from the University of Missouri. An Army veteran, he was an accountant for the Walter Reed Medical Center.
He joined the accounting faculty in the Neil Griffin College of Business at A-State in 1970, and retired from teaching in 1996. At that time he was named emeritus associate professor of accounting.
Survivors include his wife of 65 years, Virginia, and their children and grandchildren.
The funeral service will be at 2 p.m. Monday, Nov. 29, at Dillinger Funeral Home in Newport. The tower of the Dean B. Ellis Library will be lighted scarlet that evening as a memorial tribute to Dr. London and his contributions to higher education and A-State. The complete obituary is online.
# # #
Original article source: http://www.astate.edu/news/university-community-extends-sympathy-to-family-of-dr-coy-london | Article may or may not reflect the views of KLEK 102.5 FM or The Voice of Arkansas Minority Advocacy Council