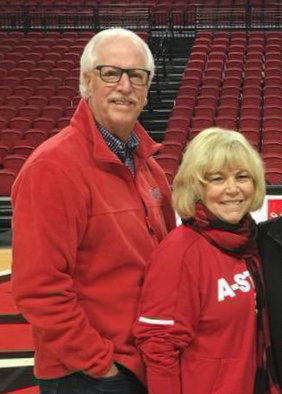 04/18/2019
JONESBORO — The head baseball coach's office at Arkansas State University will get a familiar name, thanks to a $50,000 donation from family members of A-State's first baseball coach and athletics legend, J.A. "Ike" Tomlinson.
Joe (Joe T) Tomlinson and wife Donna of Champaign, Ill., have made a gift to the university in honor of his uncle, "Coach Ike." The Board of Trustees recently approved a resolution for Arkansas State to name Room 102 in the baseball complex at Tomlinson Stadium/Kell Field the Ike Tomlinson Head Coach's Office.
"Coach Ike and Lois (Coach Ike's wife) were big influences in my life and I'm sure many other players and students as well," said Joe T. "There was never an occasion he didn't have time for his players, and he was respected by all. We hope the baseball offices represent a great example of who he was."
Joe T, a 1966 graduate of Arkansas State, played baseball for Coach Ike and basketball. He went on to a career in education, including high school English teacher, coach, athletic director, school administrator, and assistant superintendent of human resources, and then became the owner of HRC Consulting where he has worked for the last 19 years in the Urbana-Champaign, Ill., area.
Coach Ike came to Arkansas State in 1943 as a physical training instructor for the Army Air Corps pilot training program on campus. Following World War II, he resurrected the athletics program as returning veterans arrived at A-State to pursue a college education on the GI Bill. He coached five sports — football, basketball, wrestling, track and field, and baseball (for 33 years). He served as the director of athletics for several years and was the dean of men.
He preferred baseball and, under his leadership, his 1968 team competed in the College World Series and finished in the top three with a record of 26-8-1. In 1967, Coach Ike was named the Associated Press National Coach of the Year. In 1970, he was elected to the College Baseball Coaches Hall of Fame, and was inducted into the Arkansas Sports Hall of Fame in 1979. He was also welcomed into the Arkansas State University Hall of Honor in 1996.
In 1993, A-State's new baseball complex, Tomlinson Stadium, was named in his honor.
Original article source: http://www.astate.edu/news/tomlinson-gift-to-help-name-baseball-coach-s-office | Article may or may not reflect the views of KLEK 102.5 FM or The Voice of Arkansas Minority Advocacy Council