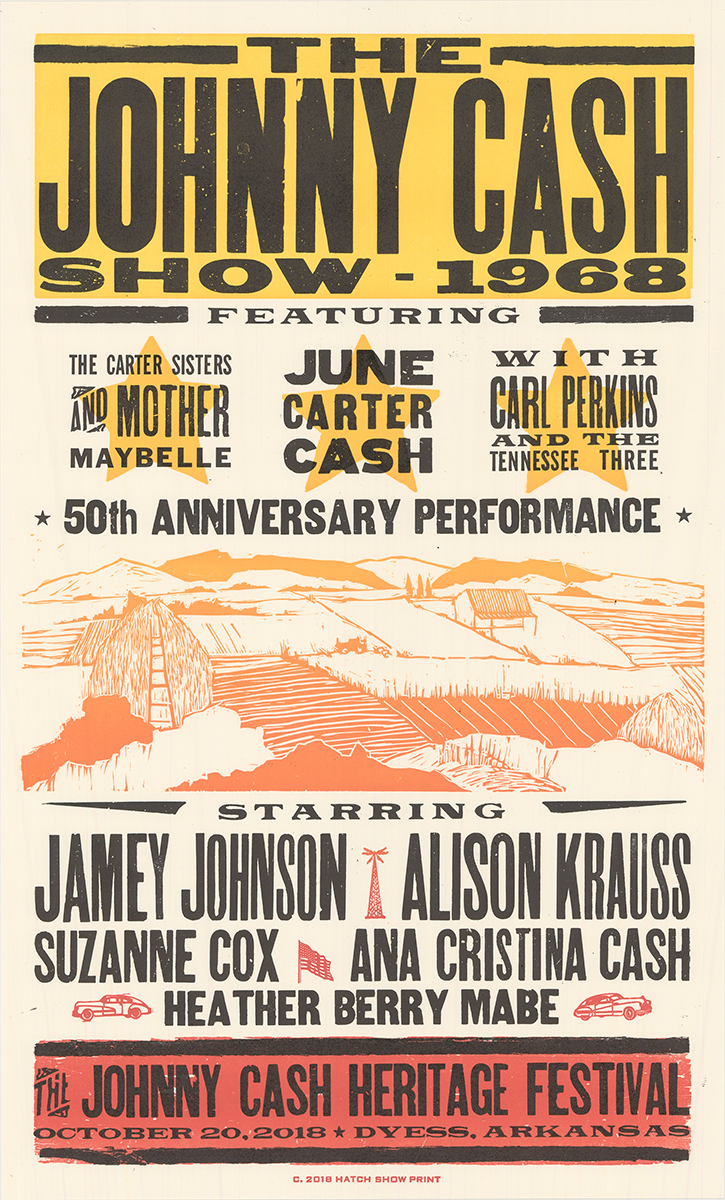 09/18/2018
JONESBORO – With the Johnny Cash Heritage Festival just a month away, tickets are still available, along with a limited number of parking passes, for fans who wish to view a once-in-a-lifetime experience.
John Carter Cash, the Grammy-winning son of Johnny and June Carter Cash and concert emcee, recently announced that the event with Jamey Johnson, Alison Krauss and other special guests will feature a "50th Anniversary Performance," to pay tribute to The Johnny Cash Show tours that began in 1968 and led the following year to a television show that brought Cash into millions of households.
Available reserved seating tickets for the Saturday, Oct. 20, concert in the field adjacent to the Johnny Cash Boyhood Home in Dyess sell for $100 each, plus applicable fees, along with VIP parking passes at the field for $50. Parking passes must be purchased by calling or visiting the box office directly and cannot be purchased online.
General admission tickets are $35 each with applicable fees. General admission ticket holders should bring lawn chairs. With the exception of the field concert, admission to other festival events is free.
"This is an unprecedented opportunity for any lover of great music to first experience a unique creation, performed by leading artists in a way that has never been done before," stated Cash.
Tickets may still be purchased at the Arkansas State University Box Office, First National Bank Arena (lower red entrance), 217 Olympic Drive. To purchase online, visit the festival website, JohnnyCashHeritageFestival.com, and click on "Buy Tickets," or contact the box office at (870) 972-2781 or (800) 745-3000.
The concert is the finale of the three-day festival, Oct. 18-20, that will feature educational and public presentations, arts and crafts, food, movies and regional music concerts Thursday and Friday in the Dyess Colony Circle. The academic theme for the festival is "The Ties That Bind."
The festival is coordinated through Arkansas State University Heritage Sites and licensed through the John R. Cash Revocable Trust.
Original article source: http://www.astate.edu/news/tickets-parking-still-available-for-johnny-cash-heritage-festival | Article may or may not reflect the views of KLEK 102.5 FM or The Voice of Arkansas Minority Advocacy Council