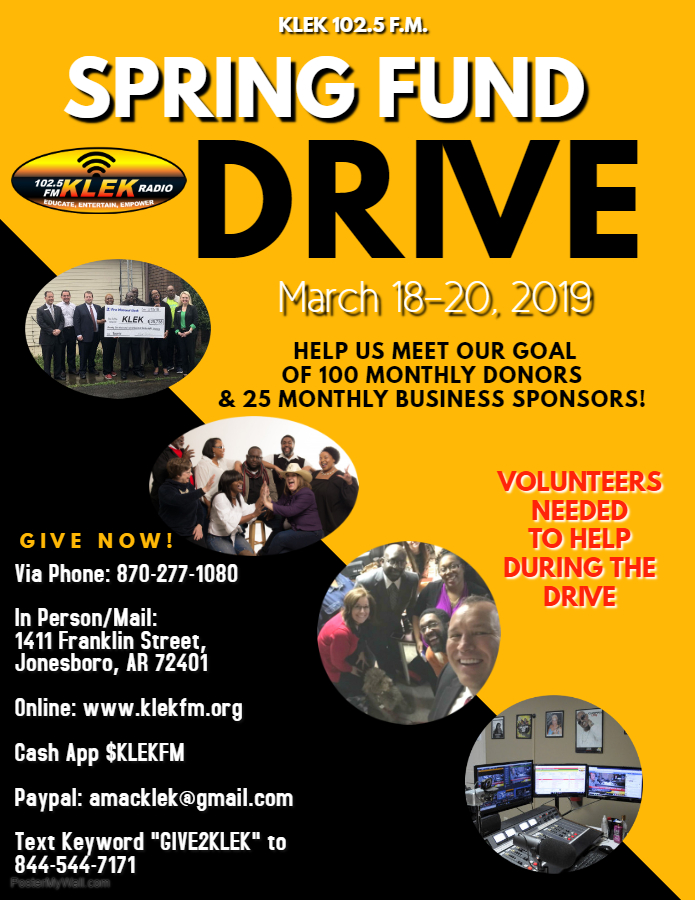 KLEK's Spring Pledge Drive is coming up March 18th-20th. We ask that you please take a moment during the drive to call in and pledge your support to KLEK. Every donation will help us continue this radio station, giving local people a voice on the airwaves. We're asking you to help us reach our goal of 100 new supporters donating at least $20.00 a month and 25 new business sponsors underwriting at least $100 a month.
The hours of the Pledge Drive will be from 9:00 a.m. – 6:00 p.m. on March 18-19, and 9:00 a.m. to 3:00 p.m. March 20th. There will be guests from the community that will appear throughout the day to talk about the impact KLEK has on their lives and the community.
You can also help by donating a thank-you gift. We will pass your gift on to listeners who donate during the pledge drive. No donation is too small, or too weird. If you have a unique gift or service you'd like to donate we would love to have it.,
You may ask why are we doing a pledge drive or why are we doing another pledge drive after our Fall Pledge Drive in October. The reason is KLEK is a nonprofit community radio station and has to rely on the support of listeners like you to continue to give a voice to the community. KLEK is run by a staff of volunteers with a passion for serving your community.
You may ask "surely the money the station takes in goes somewhere and to someone". As with any other nonprofit organization, the funding that KLEK gets goes towards bills, expenses, and fees required to keep operating. It is our hope and prayer that as time goes by and with your generosity, KLEK will one day have enough funds to pay the loyal volunteers that have given of their time to provide this station to you.
You may be asking "I love KLEK but how can I help?"
For the cost of a meal for two just $20 a month would go a long way to ensure you get the music and information you need. You don't even have to wait until the pledge drive begins, you can click here to show your support now!
Even if you cannot afford to donate, please spread the word. Or, you can become a volunteer. Go here to learn more.
As always, we are thankful for your support. We cannot do it without you!