Hello,
LaGanzie Kale, KLEK 102.5 F.M. General Manager here. This is my new blog here on klekfm.org titled "Kato Wonders…" As some of you may know, Kato Wonder is my on-air name. So in this blog, I will from time to time talk about things I "wonder" about. The views expressed here are my own and they do not necessarily reflect the views of KLEK 102.5 F.M., The Voice of Arkansas Minority Advocacy Council, or any of our underwriters, sponsors, or donors.
So the subject of this blog will be about my recent trip to New Orleans, Louisiana. During my time there, I connected with Mr. Bob Dunn, Instructor of Mass Communications at Dillard University, a Historically Black College/University (HBCU). Mr. Dunn is also the General Manager of WXDR-LP, a low power FM station (like KLEK) licensed to Delgado Community College in New Orleans. According to their website "Dolphin Radio remains a student activity, sanctioned by the Student Government Association and Student Life, and a learning tool for students interested in radio, journalism, and public relations.  The station acts as the radio voice of Delgado Community College, serving the New Orleans area with interesting and entertaining programs, as well as information about the college.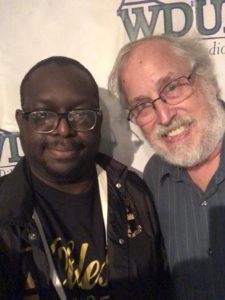 (Me and Bob Dunn of WXDR-LP New Orleans)
Bob agreed to show me some of the community radio stations in New Orleans so that I could meet the people involved and network as well as experience the rich diversity that community stations offer in their programming. The first station we visited was Bob's very own WXDR-LP 98.9 F.M. on the Delgado Community College Campus.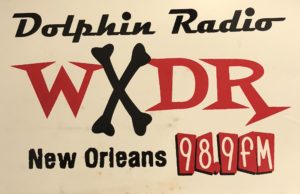 (Bob gave me this, one of the last remaining original bumper stickers of WXDR-LP)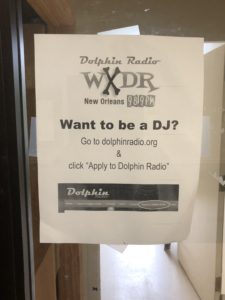 (WXDR is looking for DJ's. It is a challenge for any community radio station to find dedicated volunteers.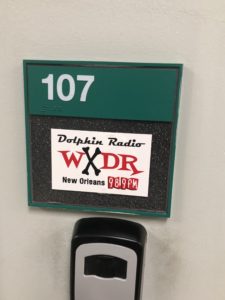 (Entrance to the WXDR Studio)
Once we entered the studio, we met a lady who was on the air who also is a Professor at the college. Any student or faculty member is allowed to host a show on WXDR as long as the show fits within their guidelines. Programs on WXDR, like many community stations, can run a variety of formats.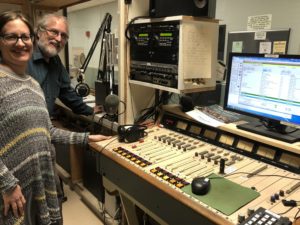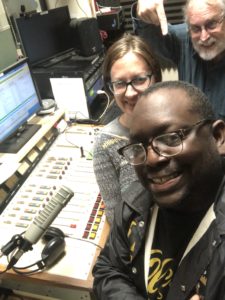 (Like KLEK, WXDR's board was donated by another station but needed some TLC to get it operational. WXDR also uses the same radio automation software KLEK does which is Station Playlist)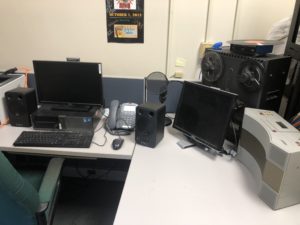 (WXDR's production room. Who remembers reel machines? The Bose Wave Radio is a nice touch as well)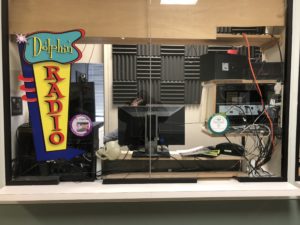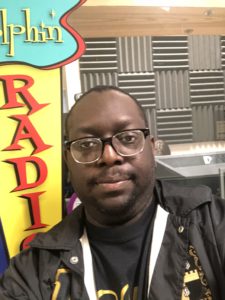 (A peek into the WXDR Studio).
Next on our journey was a visit to possibly one of the most uniquely named radio stations ever.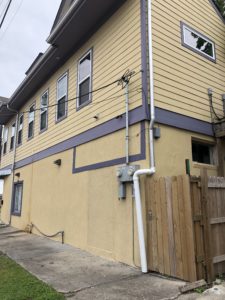 (There's a radio station inside of this unique building adorned in the famous purple and gold in which New Orleans is known for)
When I saw the sign on the building saying "WHIV" I asked Bob, "Is this a station about AIDS?". Bob replied, "Yes WHIV-LP 102.3 F.M. was formed for the purpose of spreading awareness about HIV". According to their website
"While the station is not a station about HIV all of the time, by naming the station WHIV, Dr Dery said "Having our DJ's and show hosts repeat the word 'WHIV' minute after minute, hour after hour, day after day, week after week, month after month, and year after year, well, how do you de-stigmatize a stigma? Take the power out of the word by owning it and repeating it regularly." Dr. MarkAlain Dery, WHIV Founder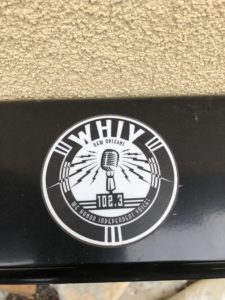 (Although founded to spread HIV/AIDS awareness, WHIV-LP's call letters stand for "We Honor Independent Voices". The station also has a strong focus on social justice. The website states that they are "New Orleans' Voice of Dissent").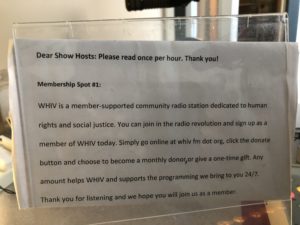 (DJ's at WHIV are required to read this script once per hour)
WHIV's offices and studio are very modern and up to date. Bob informed me that they are one of the most supported community stations in New Orleans when it comes to donors.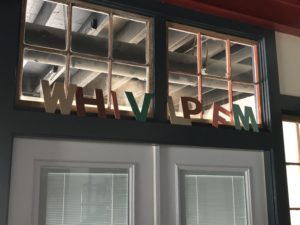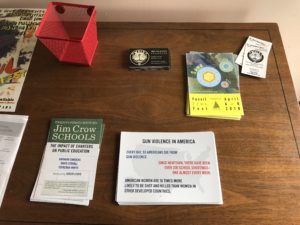 (Information about HIV/AIDS awareness, gun violence, and the effect of charter schools on pubic education, issues that WHIV advocates for).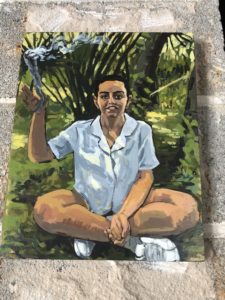 (A beautiful painting inside of WHIV)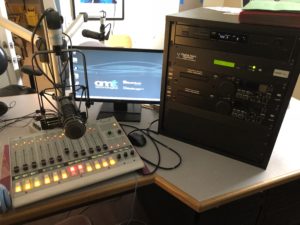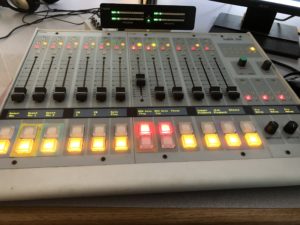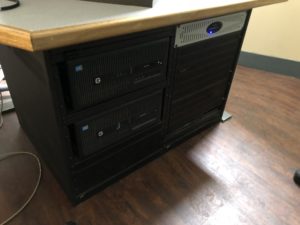 (WHIV has modern up to date equipment in a professionaly designed studio)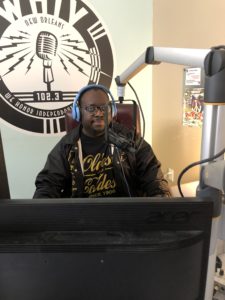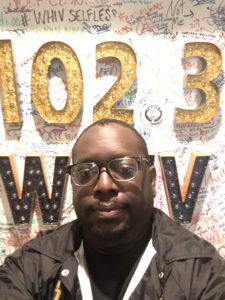 (Had to get a couple pics in)
In another unassuming building (we actually had to climb close to the rooftop to access it) was the next station we visited.WAMF-LP 90.3 F.M. WAMF "The Voice of the People" is also focused on social justice.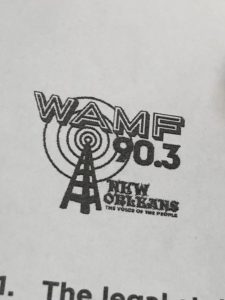 (WAMF 90.3 F.M. Logo)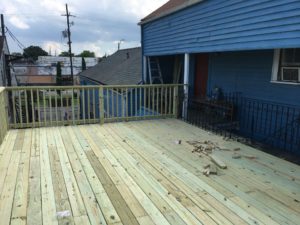 (We climbed up to this rooftop deck to access the WAMF studio)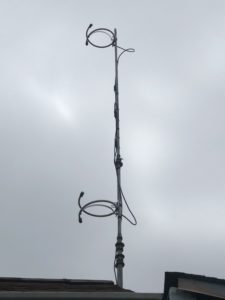 (Like KLEK, WAMF is looking to raise their antenna on a taller tower. This tower, like KLEK's, is around 50 feet)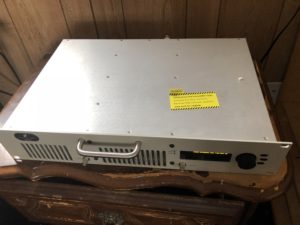 (WAMF transmitter. This is a BW Broadcast TX-300 V2 model transmitter. This is the same model KLEK and several other LPFM stations use)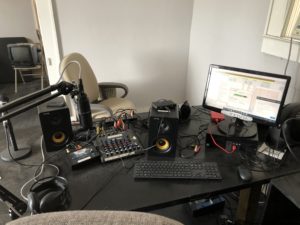 (WAMF Studio. Bob set their studio up for them. Bob set up Station Playlist radio automation software for them along with other stations. KLEK uses Station Playlist as well)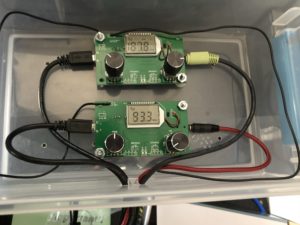 (Bob set up these radios for WAMF's EAS System)
Our final visit was to Dillard University. Upon arrival on campus, we went to Bob's classroom. Bob introduced me and I began speaking to students in his Public Relations class. I talked about how KLEK started and how it operates as well as take questions from students.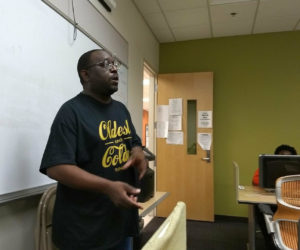 (Me speaking to Bob Dunn's students at Dillard University (Video of my talk can be seen here) . After speaking to his class (there were a couple students who stayed after class and asked more questions, Bob gave me a tour of Dillard's radio station WDUB and the Dillard Unversity TV studio.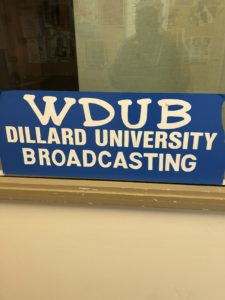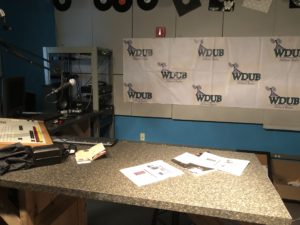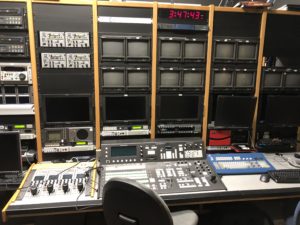 The final stop on our tour landed us at VAYLA New Orleans. According to their website VAYLA is a progressive multi-racial community-based organization in New Orleans that empowers youth and families through supportive services and organizing for cultural enrichment and positive social change. VAYLA is the owner of WVDL-LP 95.1 F.M. VAYLA's primary focus is on the Vietnamese American and African American communities in New Orleans.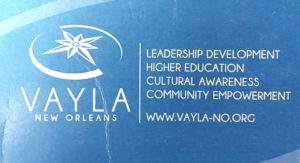 (Business Card for VAYLA)
(Current WVDL studio. They are currently renovating an adjacent room in their community center to serve as their new studio. As with most of the other stations I mentioned, Bob played a large role with his technical expertise).
Visiting these stations each with their own unique flavor was definitely a great experience. No matter what kind of music these stations play, all are committed to serving the community (just as KLEK strives to do the same). The uniqueness each station brings is a testament to the true spirit of what community radio is truly all about.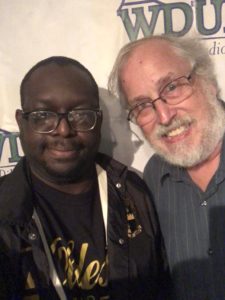 Once again a special thank you to Mr. Bob Dunn for the tour of New Orleans and of the unique community stations that serve the city!
"And that's what I'm wondering about!" – Kato Wonder