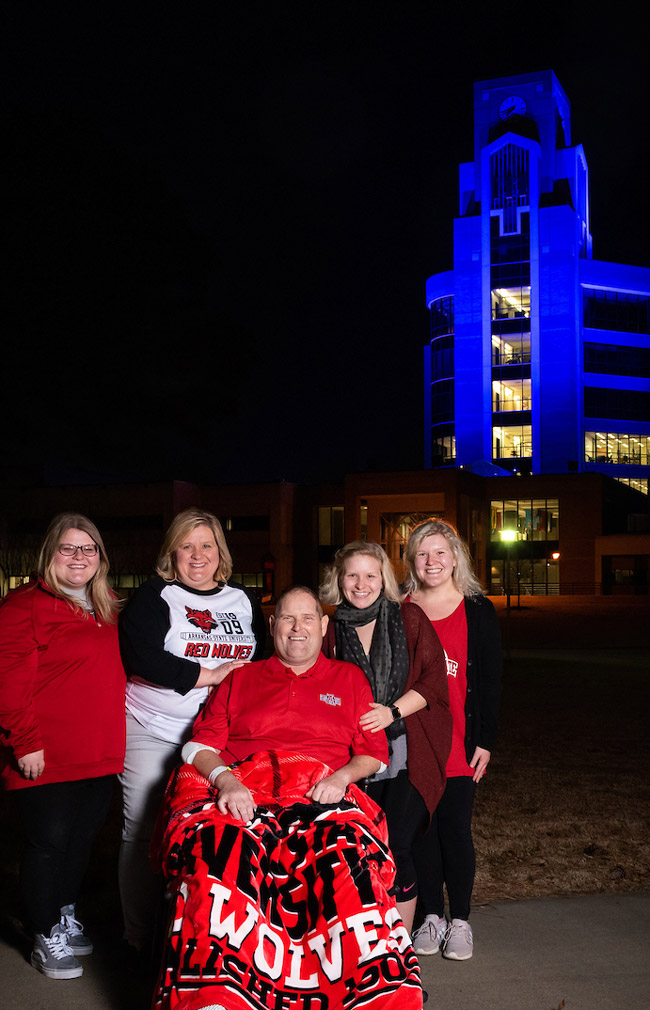 03/15/2019
JONESBORO – Faculty, students and staff at Arkansas State University today are mourning the passing of their colleague and friend, Dr. Roy Lee Aldridge Jr., professor of physical therapy, who died Thursday.
Aldridge, who joined the A-State faculty in 2000, was known for his dedication to the physical therapy program in the College of Nursing and Health Professions. Colleagues and friends were inspired by his unrelenting positive outlook, even in the face of the difficult odds he faced in his battle with cancer.
The Historical Committee and the Executive Committee of the Faculty Association have designated him a Distinguished Faculty member, and will add his name to the Faculty Wall of Honor in the Reng Student Union.
Aldridge was highly instrumental in starting and leading the College of Nursing and Health Professions hippotherapy program. As a tribute to him, a fund to support ongoing research in this area was recently named in his honor.
The Roy Aldridge Hippotherapy Research Fund will permanently recognize his work, which he shared with students in physical therapy and other programs in Nursing and Health Professions. Physical therapy students, with other students and faculty, have opportunities to interact in sessions with patients who are participants in the research initiatives.
On Wednesday evening, Dr. Tim Burcham, dean, College of Agriculture, and Dr. Susan Hanrahan, dean, College of Nursing and Health Professions, visited Aldridge to present him with a replica of the plaque that will permanently designate the "Aldridge Hippotherapy Riding Center" at the Equine Center.
Earlier in the week, Aldridge visited campus Monday to witness the lighting of the Dean B. Ellis Library in his honor. He had requested a blue tower, the color for colorectal cancer awareness. Family and friends joined him for the special occasion.
Aldridge completed his bachelor and master degrees at the University of Tennessee-Memphis, and his doctoral degree at Arkansas State.
The family is planning a public celebration of life on Saturday, March 23, at 3 p.m. at Centennial Hall in the Reng Student Union.
# # #
Original article source: http://www.astate.edu/news/sympathy-to-the-family-and-friends-of-dr-roy-lee-aldridge | Article may or may not reflect the views of KLEK 102.5 FM or The Voice of Arkansas Minority Advocacy Council