03/06/2020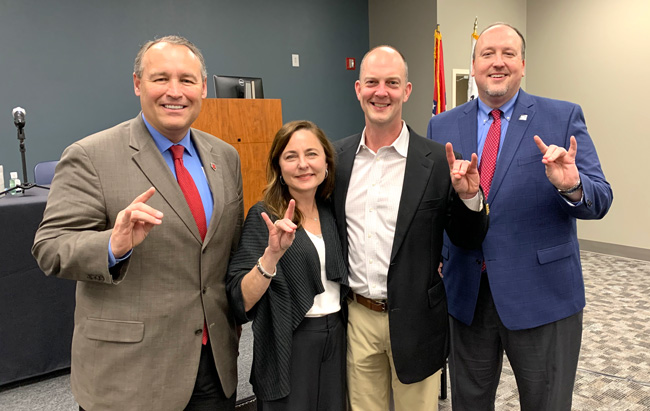 William and Christy Clark are joined with Wolves Up by Chancellor Kelly Damphousse (left) and System President Chuck Welch (right).
JONESBORO – In honor of his wife Christy, William Clark of Little Rock today revealed he is making a $100,000 endowment gift to Arkansas State University.
The endowment will support a student scholarship in an academic program to be decided by Mrs. Clark.
A member of the Arkansas State University Board of Trustees, Mrs. Clark learned about her husband's surprise tribute during a meeting of the Board today at ASU Three Rivers in Malvern.
"We are honored that William Clark is making this substantial investment in Arkansas State," Chancellor Kelly Damphousse said. "I am thrilled that he is honoring not only an alumna, but a member of our Board of Trustees."
At the donor's request, the gift will be named the Christy Swanson Clark Endowment Scholarship Fund, in honor of the 1992 A-State alumna who was appointed to the Board by Gov. Asa Hutchinson in January 2018.
The scholarship will be awarded to students from high schools in Woodruff County, where Mrs. Clark was born and raised.
"Christy exemplifies commitment to Arkansas State and student success, and she loves her Woodruff County community," added ASU System President Chuck Welch. "William's gift is an appropriate tribute to her and her service on our board, and we appreciate them both."
A native of McCrory, Mrs. Clark has extensive experience in business and community service leadership.
Controller of Clark Contractors LLC of Little Rock, she earned a bachelor's degree in accounting at Arkansas State and is an inactive Certified Public Accountant. Professional memberships include the Arkansas Society of Certified Public Accountants and the American Institute of Certified Public Accountants.
She is a Founder's Circle member of the A-State Women's Business Leadership Center, a 1924 Sustaining Life Member of the A-State Alumni Association and a member of Chi Omega. In addition, she is a life member of the Arkansas Children's Hospital Auxiliary, a life member of the CHI St. Vincent Auxiliary and a member of the Winthrop P. Rockefeller Cancer Institute Auxiliary. She volunteers for the Lessons for Life Mentoring Program, Bible Study Fellowship, and served as treasurer of the Little Rock Christian Academy Warrior Club board of directors.
Clark and her husband received the 2018 Arkansas JDRF Imagine Gala Living & Giving Award on behalf of Clark Contractors. The couple has three children, Will, Ben and Alex.
# # #
Original article source: http://www.astate.edu/news/surprise-endowment-gift-honors-trustee-christy-clark | Article may or may not reflect the views of KLEK 102.5 FM or The Voice of Arkansas Minority Advocacy Council