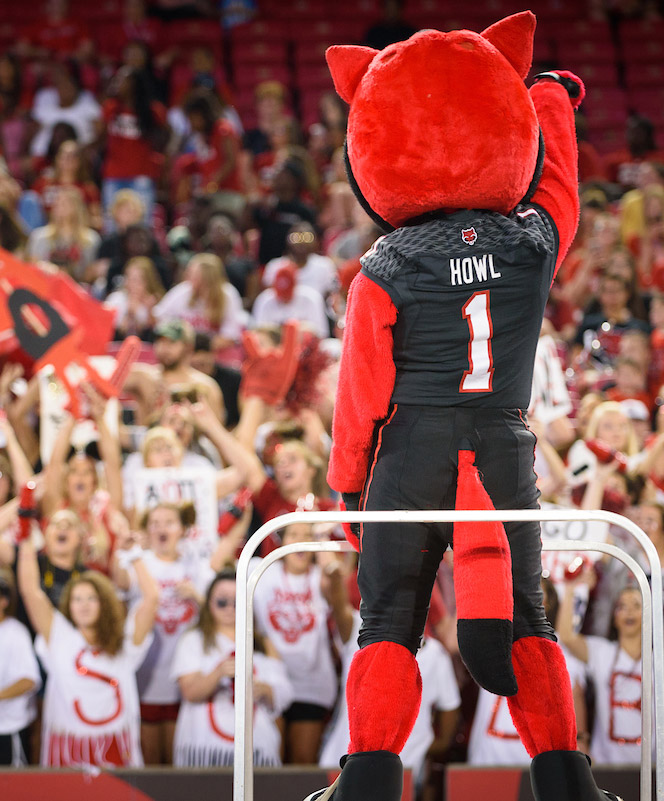 08/29/2018
JONESBORO – The 22nd annual Order of the Pack pep rally will be held Thursday, Aug. 30, at Centennial Bank Stadium, leading up to the Red Wolves first home football game of the 2018 season.
Food from local food trucks will be available in The Pines for A-State students with a valid ID beginning at 6:30 p.m., along with live music from A-State student Eli Adams.  Gates to the stadium will open at 7:30 p.m. with the program beginning at 8 p.m.
Order of the Pack, a campus tradition, is conducted annually to welcome a new class into the Red Wolves family.  Alumni and friends are welcome to join A-State students on the east side of the stadium to re-live their own Order of the Pack experience.
Order of the Pack sponsors, the Student Activities Board and the Student Government Association work together to emphasize the traditions of Red Wolf athletics and Pack Pride.
During the evening, students and campus leaders will speak, the Spirit Squads will perform, the Homecoming theme will be revealed, and student athletes will be recognized.  Music during the program will be courtesy of student DJ Trey Cooper, DJ Entree.
At the end of the evening, awards will be presented for the organization with the most A-State school spirit, the organization with the best signs, and the organization that is the loudest.  The overall most spirited organization will receive the Golden Wolf award, with this being the third year for this award at Order of the Pack.
Kickoff for the game with Southeast Missouri State will be at 6 p.m. Saturday, Sept. 1.
Follow the Student Activities Board and the Student Government Association on social media for updates, @astatesab and @astatesga.
                                                      # # #
Original article source: http://www.astate.edu/news/students-to-gather-for-22nd-order-of-the-pack- | Article may or may not reflect the views of KLEK 102.5 FM or The Voice of Arkansas Minority Advocacy Council