01/10/2019
(courtesy Tracy Courage, UALR Communications and Marketing)
LITTLE ROCK – Leaders from Arkansas's colleges and universities gathered at the University of Arkansas at Little Rock on Wednesday, Jan. 9, for the first Arkansas Statewide Greek Life Symposium to discuss ways to minimize risks and increase safety within sororities and fraternities at their respective campuses.
The event was organized jointly by the University of Arkansas and Arkansas State University as a way to share information about best practices for improving safety. Eighty-eight people, including students and employees who work with Greek Life, attended. Representatives from Arkansas State University, University of Arkansas, UA Little Rock, University of Arkansas at Pine Bluff, University of Arkansas at Fort Smith, Arkansas Tech University, and University of Arkansas at Monticello attended.
"Campus CEOs have many concerns, but chief among them is the safety of our students.  It's a commitment that we make to them and their parents when they come to our campus," A-State Chancellor Kelly Damphousse said.  "Starting frank and honest discussions in a statewide forum like this benefits every campus, especially when we continue those discussions back home. My fellow presidents and chancellors start with the premise that there is much to be valued about Greek Life. Joint discussions like this provide important context about the current state of Greek Life nationally and the opportunity to consider ways to improve what we are doing locally."
The attendees worked in small groups to talk candidly about risks and ways to mitigate risks.
"I hope this will be a model for future discussions," U of A Chancellor Joseph Steinmetz told the crowd. "We are each other's best resources. It behooves us to communicate, share, and work together to identify issues, ideally before they happen on our campus."
Two national experts spoke at the symposium. Dave Westol is a former trial lawyer and now a national consultant to sororities and fraternities. Walter Kimbrough, the former Philander Smith College president, chaired a commission on hazing awareness and prevention for the North American Interfraternity Conference. Kimbrough is also the author of Black Greek 101: The Culture, Customs and Challenges of Black Fraternities and Sororities and is frequently called on as an expert in legal cases involving fraternities.
Kimbrough pointed to several high-profile student deaths as proof that more awareness and prevention efforts are needed. The culture of hazing often starts in middle school and high school, he said, citing a report that found that half of college students had experienced some form of hazing before they got to college. Of those, 95 percent did not report the event.
In Louisiana, where Kimbrough serves as president of Dillard University, lawmakers passed anti-hazing legislation that affects public and private universities.
Kimbrough said organizational change must start with students but that universities must ensure their policies create an environment that encourages students to speak up about problems.
Westol said he sees several trends with sororities and fraternities nationwide, including mostly flat recruitment, higher attrition rate among students who join, and the formation of more multicultural groups, especially among the Asian, Latina/Latino, and Native American populations.
He also said some chapters have replaced the practice of pledging with immediate initiation, and other Greek organizations have moved to substance-free housing.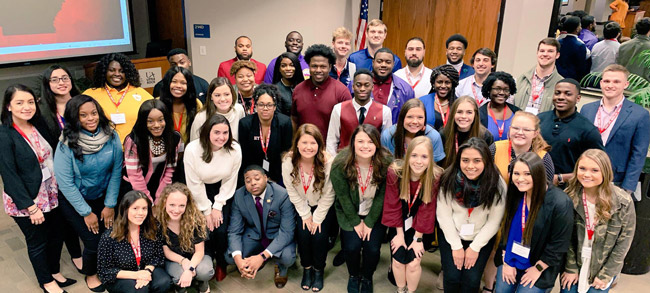 Original article source: http://www.astate.edu/news/state-s-greek-life-leaders-gather-to-discuss-setting-standards | Article may or may not reflect the views of KLEK 102.5 FM or The Voice of Arkansas Minority Advocacy Council