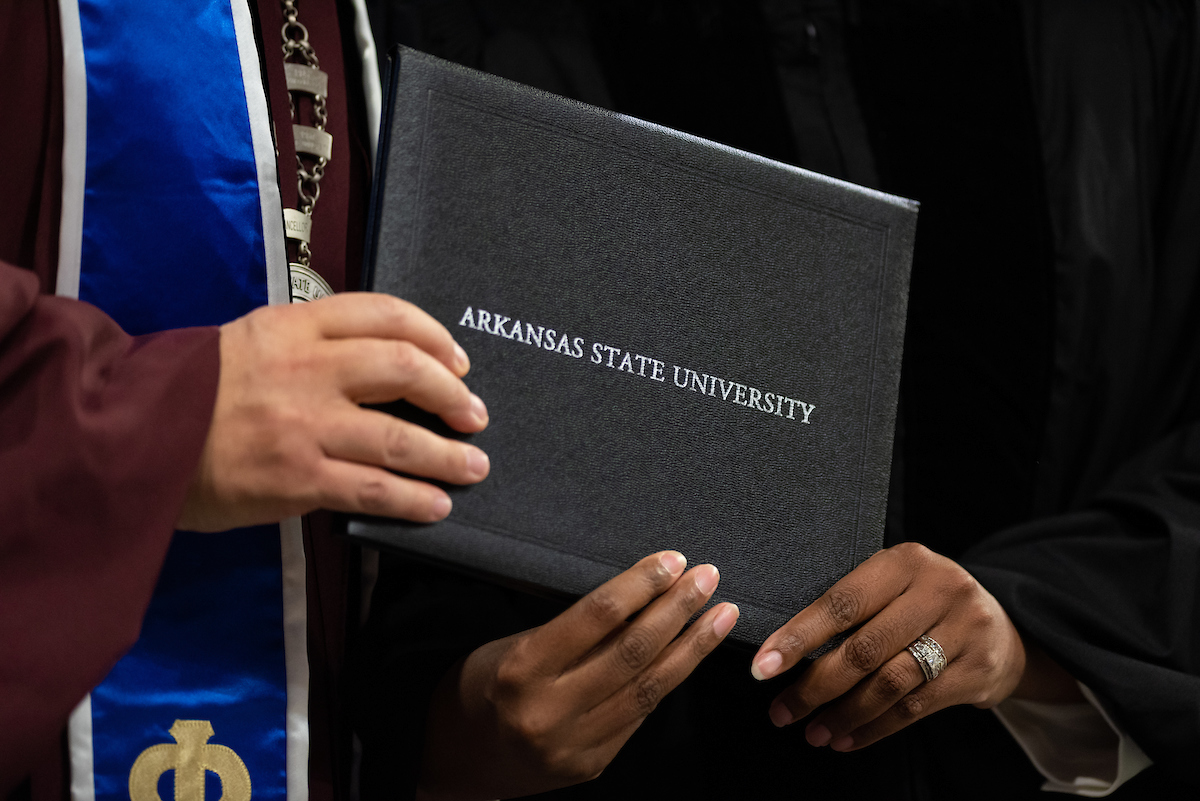 05/03/2019
JONESBORO – Arkansas State University will hold its 2019 Spring Commencement ceremonies, Saturday, May 11, at First National Bank Arena, 217 Olympic Drive. Chancellor Kelly Damphousse will confer over 2,200 diplomas during the 10 a.m. and 2:30 p.m. services.
Students representing seven colleges and Undergraduate Studies will receive degrees. The morning ceremony includes the College of Education and Behavioral Science, and College of Nursing and Health Professions, while the afternoon event includes the College of Agriculture; the Neil Griffin College of Business; the College of Engineering and Computer Science; the College of Liberal Arts and Communication; the College of Sciences and Mathematics; and Undergraduate Studies.
There are 16 students who have achieved a 4.00 GPA graduating summa cum laude, 96 with a GPA of 3.80-3.99 graduating magna cum laude, and 173 cum laude with a GPA of 3.60-3.79. A-State also recognizes academic achievement with the Honors Program (56 graduates) and 34 with University Honors.
Jon Mark Horton of Jonesboro will address the audience on behalf of the graduating students at the morning ceremony. Horton, an exercise science major, is the recipient of a Distinguished Service Award in 2019. He served as the Student Government Association president during the 2018-19 academic year, after serving as the vice president a year before. President of the Chancellor's Ambassadors, he is on the Shared Governance Oversight Committee.
Representing the faculty in the morning event is Marc Williams, assistant professor and Theatre Department co-chair in the College of Liberal Arts and Communication. Williams was named recipient of the Faculty Achievement Award for Teaching in April.
For the afternoon ceremony, Thomas Hamaker of Hampton is the student speaker. Hamaker, a double major in finance and marketing, was named the 2019 Wilson Award winner April 25. This is the highest achievement a student may earn at Arkansas State. He is one of the six Distinguished Service Award winners this year. He is also a Neil Griffin College of Business Dean's Excellence scholar and a Risk Management Association Foundation scholar.
Dr. Zahid Hossain, associate professor of civil engineering in the College of Engineering and Computer Science, is the faculty speaker at the 2:30 p.m. service. Hossain was recognized in April as the recipient of the Faculty Achievement Award for Advising for 2018-19.
Following the commencement ceremony, there is a reception for all graduates and their families at the north mezzanine with punch and cookies.
Arkansas State's commencement ceremony will be streamed live at AState.edu/livestream.
Original article source: http://www.astate.edu/news/spring-commencement-scheduled-for-may-11 | Article may or may not reflect the views of KLEK 102.5 FM or The Voice of Arkansas Minority Advocacy Council