01/31/2020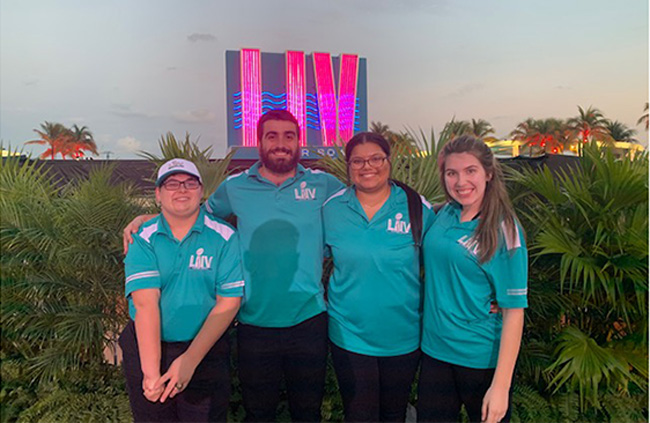 Sport management students Michael Russell, Sean Adams, Summer Ford and Kristen Mangrum are getting professional experience at Super Bowl LIV.
JONESBORO – Arkansas State University has a hand in Super Bowl LIV this week, with four sports management majors on the ground in Miami.
According to Mitch Mathis, instructor in health, physical education and sport sciences, the students are working with the National Football League to help get all of the paid and volunteer workers credentialed and in uniform. The workers and volunteers are the ones running the NFL Experience as well as NFL Live on ESPN.
"This is a great experience for the students. The lessons they learn during the week about how a large event like the Super Bowl is run will be valuable to them," Mathis said, "as they continue forward in the sports market and they are making contacts that hopefully could help them gain employment by being around some of the top people in the sports industry. Most important, they are making memories that they will have for a lifetime."
Kristen Mangrum of Paragould is a graduate student who was really the driving force behind the group going. She was able to attend the Super Bowl last year as well as working the Independence Bowl in Shreveport in December. She currently is a graduate assistant in the HPESS department, doing an internship in the Athletic Compliance Office, and working when she can to help pay bills.
"We have been working 10-hour days in the NFL headquarters hotel. We have met staff from media all the way up to Roger Goodell," said Mangrum, who also is president of A-State's Sport Management Club. "We have had a great time working for the NFL and networking. On Super Bowl Sunday we will be working inside the stadium with a group called Populous. We are very excited to see the game and work America's biggest event."
Sean Adams of Maumelle is a senior track athlete. He also helped at the Independence Bowl.
Although she is helping with the biggest game in football, Summer Ford of Jonesboro, a junior sports management major, is a wealth of National Basketball Association knowledge. With the American Airlines Arena, home of the Miami Heat, only two blocks from their hotel, she's been spending some spare time studying the team and their next two opponents, the Orlando Magic and Boston Celtics.
Michael Russell of Armorel is a graduate student in his first year. He is working in Miami despite his physical limitations due to cerebral palsy. Russell is known among the group for his inquisitive nature, a helpful characteristic when working around the big game.
Mangrum and Russell are in the Master of Science in Sport Administration program, while Adams and Ford are in the Bachelor of Science in Sport Management program.
# # #
Original article source: http://www.astate.edu/news/sports-students-working-for-super-bowl-liv-this-week | Article may or may not reflect the views of KLEK 102.5 FM or The Voice of Arkansas Minority Advocacy Council