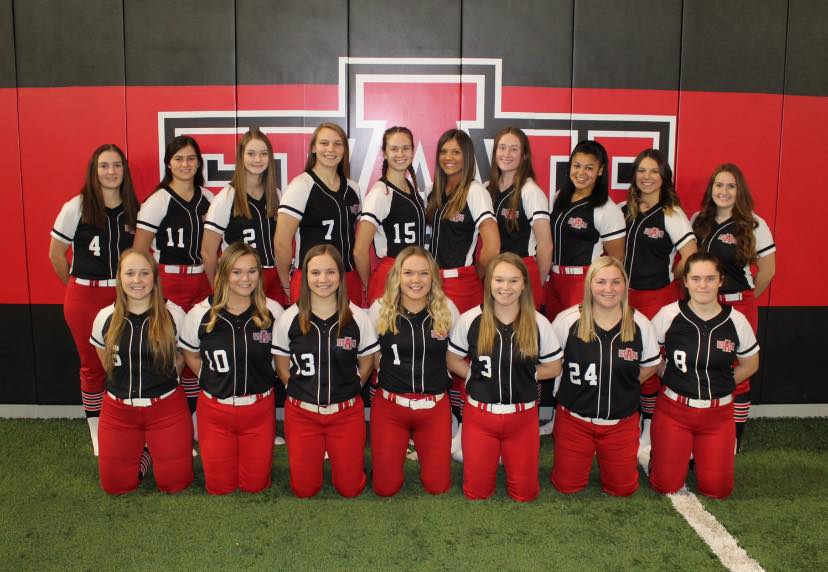 04/16/2021
JONESBORO — Softball Senior Day, originally scheduled this weekend, has been postponed until Saturday, April 24. Four players will be honored at that time when Arkansas State University hosts a return doubleheader with Mineral Area Community College at Southside Softball Complex.
The seniors are Keeley Curtis of Harrisburg, Elizabeth Flaming of Miami, Okla., Emily Wilson of Oak Grove, Mo., and Courtney Foreman of Crossett. During their time as part of the softball club, Arkansas State's program won the National Club Softball (NCSA) World Series (2017), finished as the runner-up of the World Series (2018), a Mid-America Regional Championship (2018) and a Mid-America East Conference title (2018).
Games with Shawnee Community College and Mississippi Delta College scheduled this weekend have been cancelled. A-State will host Williams Baptist, Tuesday, April 20, at 5 p.m. and 7 p.m.
The 2020-21 season has been plagued with the pandemic as well as a month of weather cancellations. A-State finally was able to travel to Farmington, Mo., and split a doubleheader last weekend with Mineral Area College in collegiate softball. After dropping an 11-3 decision to Mineral Area in the first game, A-State came back to clinch a 19-2 victory in the nightcap.
After a month of cancellations due to weather conditions, the Red Wolves traveled to Farmington, Mo., to go head-to-head with the Cardinals. Starting in the circle for A-State was Kendall White, a junior transfer from Hendrix College. Over three-and-a-third innings of work, White allowed eight hits and three earned runs, with sophomore Lexi Betts of Camden coming in to finish the last two innings.
The Red Wolves started strong at the plate in the first inning with freshman Lexy Lockhart, a freshman from Beebe, sending one deep for a homerun that scored three. Junior Ali Law of Poplar Bluff, Mo., kept the momentum up with two hits. Unfortunately, the bats cooled off for Arkansas State with a total of seven hits compared to Mineral Area's 15. Mineral Area ended with the 11-3 win.
The second game was a different story for Arkansas State. The starting pitcher was senior Courtney Foreman of Crossett. During five innings of work, Foreman only allowed one earned run on two hits with one strikeout.
The bats were hot for the Red Wolves with freshman Rebeka House of Jacksonville, going four for five overall. A-State tallied 17 hits with strong efforts from senior Keely Curtis of Harrisburg and Lockhart, both tallying three hits each, with senior Elizabeth Flaming of Miami, Okla., Lizzie White of Concord, and Kendall White of Concord keeping the momentum going. The Lady Red Wolves clinched a 19-2 win over Mineral Area.
Original article source: http://www.astate.edu/news/softball-club-to-celebrate-senior-day-saturday-and-host-weekend-games | Article may or may not reflect the views of KLEK 102.5 FM or The Voice of Arkansas Minority Advocacy Council