KLEK 102.5 FM now as a way for local small businesses to get affordable exposure to our 52,000 listeners*.
KLEK presents "Small Business Shout-Outs." For as low as $25 per month, your business gets one 10-15 second announcement everyday over the air.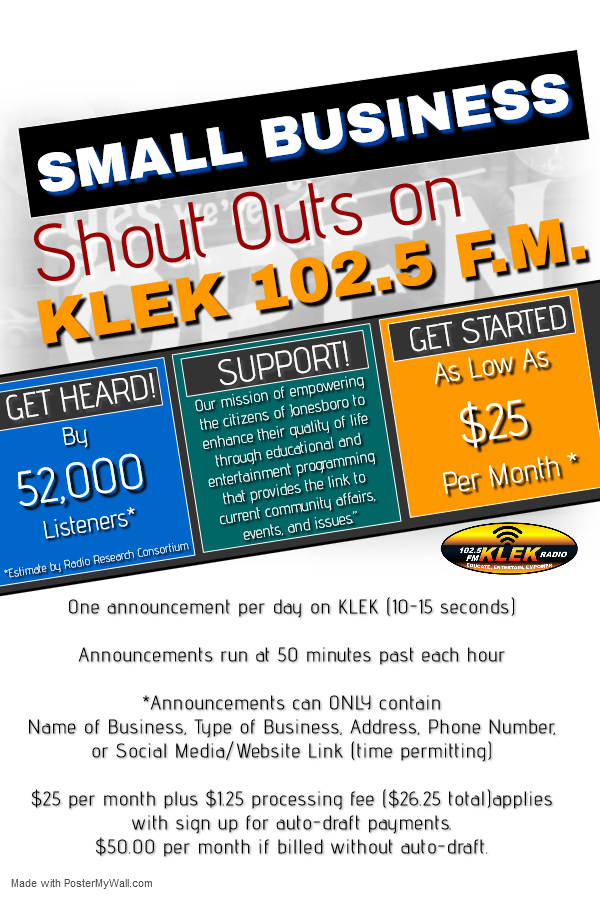 Our mission at KLEK is to empower the citizens of Jonesboro to enhance their quality of life through educational and entertainment programming that provides he link to current community affairs, events, and issues. This new service will allow new and smaller businesses to get affordable exposure while supporting community radio.
Each announcement will contain just the name of your business, the type of your business, your business address, your business phone number, and (if we have time) a link to your business' website or social media profile.
You can choose to have payments auto-draft for $25 per month (includes a $1.25 processing fee). There's also a non-auto-draft option for $50 per month.
If you are interested, contact KLEK for more details on how to get started!
*estimate from the Radio Research Consortium.