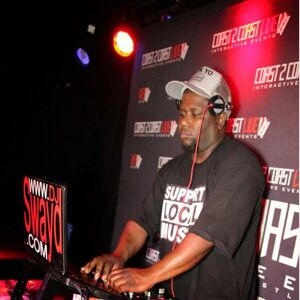 Show Times
Timezone
:
CDT
[UTC-5]
Sun:
Sat:
About the Show
Jump to:
DJ Swayd  has lived in great cities such as Frankfurt,GE;  Staten Island,NY; Wichita,KS; Kansas City,MO;  Atlanta,GA;  Fort Walton Beach,FL;  Las Vegas,NV; Kunsan, S.Korea; & Altus,OK. He's cool, humble and a well traveled DJ. His style has been influenced by living and traveling all over the world.
DJ Swayd has DJ'd on multiple FM, AM & Internet Radio Stations and at Nightclubs, Lounges, Special Events, Charity Events in Atlanta,GA; Las Vegas,NV; Kansas City,MO-KS; Wichita,KS; Lincoln,NE; Omaha,NE; Charleston,SC; Kunsan, South Korea; and Seoul, South Korea as well as many concerts that have featured many mainstream music artists that you listen to frequently.
He has a weekly Radio Mixshow that airs Worldwide Monday through Saturday on FM, AM, Internet, & Smartphone App Platforms.  He also has a Worldwide Heard and Highly Ranked Podcast Series
via PODOMATIC.
Hashtags associated with DJ Swayd
#HeavyWeightSLAPZ
#PlayedBySwayd
#MrLiveInTheMix
#MixMeUpDJSwayd
#DJSwaydAPP
#TheAfterParty
#ThunderSound
#FridayNightFlashback
#TheManWithThePlan
Info from DJSwayd.com website.