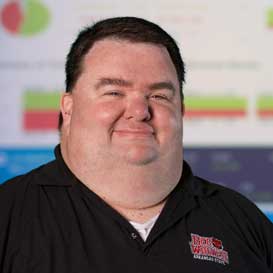 07/12/2019
JONESBORO – Arkansas State University's new SCARLET to Black (S2B) financial literacy program has been ranked 30th in the latest 2019 poll of top colleges and universities across the nation, according to the website LendEDU.com.
A-State's program, initiated in April 2018, focuses on improving the financial literacy and actions of students on campus. The program consists of two related series – "A Howling Start to Your Future," centering entirely on incoming first-year students and their families, and SCARLET (Smart College And Real Life Educational Training) to Black, that hosts events open to any student, faculty or staff member at A-State.
Dr. Philip Tew, associate professor of finance in the Neil Griffin College of Business and director of the A-State Center for Economic Education and Financial Literacy, directs the program.
"The primary reason students drop out of college is related to finances," explained Tew. "The S2B program is designed to help students make the smart financial decisions necessary to succeed in college and in life.
"Our goal with the program is for students to be able to follow their passion when it comes to their majors and careers and not be forced into certain areas just because they can't afford to follow their passion."
The third annual study by LendEDU.com examined numerous educational institutions that have financial literacy programs and based rankings on three specifications: number of workshops and resources available; access to one-on-one financial consultation; and incentivizing available programs, such as scholarships for attending workshops.
Arkansas State is ranked with 50 universities, including Stanford, Duke, UCLA, Harvard, Yale, Georgetown, Indiana, Iowa, New York University and others. These programs help students discover what colleges and universities can offer the best help in learning personal finance.
LendEDU.com notes, "As college costs continually increase well beyond the rates of inflation, financial literacy programs are necessary for students to be able to responsibly handle their student loan debt amongst other things."
A-State's S2B program has student-designed programming by students, for students. Through financial support by the Kay's Foundation, Arkansas State University and A-State Online, the program has been able to hire four students to design and implement programming toward A-State students as well as beginning development of peer-to-peer financial counseling. The students are Rachel Washam of Jonesboro, Melanie Ricker of Corning, Alexus Leonard of Corning and Dustin Ogden of Manila.
The program offers informational sessions that concentrate on the A-State semester billing statement, the financial aid package, clarify the student responsibilities within the federal student loan program, how to find the terms and conditions for scholarships, importance of completing the FAFSA, and an overview of what to expect the first year from the Howling Start Program.
A-State students interested in furthering their financial literacy knowledge and helping other students improve their financial literacy may intern with the A-State Center for Economic Education and Financial Literacy upon successful completion of FIN 2013 – "Personal Asset Management."
For further information regarding the SCARLET to Black Program or internship opportunities, contact Tew ([email protected]) at 870-972-3742.
Original article source: http://www.astate.edu/news/scarlet-to-black-program-earns-prestigious-ranking | Article may or may not reflect the views of KLEK 102.5 FM or The Voice of Arkansas Minority Advocacy Council