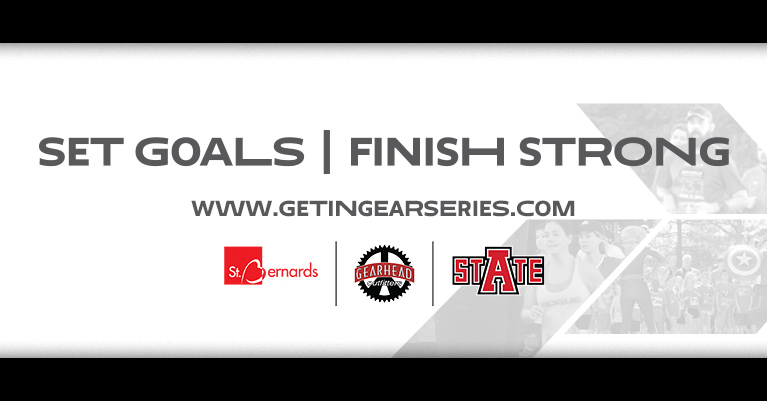 04/05/2019
JONESBORO – Arkansas State University has joined the Get in Gear Fitness Series as a presenting sponsor in support of employee health promotion.
"The Get in Gear Fitness Series aligns well with the Red Wolf Wellness program. These events promote a fun way for individuals to reach their health and fitness goals on and off campus," stated Spencer Bradley, director of Red Wolf Wellness. "By partnering with St. Bernards Healthcare and Gearhead Outfitters, we are participating in a movement to help improve quality of life and reduce preventable health conditions that threaten our region."
In addition to the benefits for individual health, the program provides additional motivation to participate, Bradley continued. This year's program includes competition for the Get in Gear Series Cup.
"The company with the highest participation through the entire 2019 series will be awarded the Get in Gear Cup. The winner will retain the GIG Cup for one year, and must win the series again to retain the Get in Gear Cup," Bradley explained. "This goal is to increase teamwork, enthusiasm and healthy activities for employees."
Red Wolf Runners is a walk/run group for all fitness levels that meets every Tuesday at 4:15 p.m. at the HPESS Complex, room 106, to complete a walk/run session on the campus trails, Bradley added.
"Training programs are developed by the lead runners to help prepare individuals for upcoming Get in Gear series events. A-State faculty and staff receive 10 percent off event fee entries by using the code ASU2019 at checkout. Visit www.getingearseries.com to learn more and see a list of upcoming GIG events," Bradley also said.
# # #
Original article source: http://www.astate.edu/news/red-wolf-wellness-steps-up-with-get-in-gear-fitness-series | Article may or may not reflect the views of KLEK 102.5 FM or The Voice of Arkansas Minority Advocacy Council