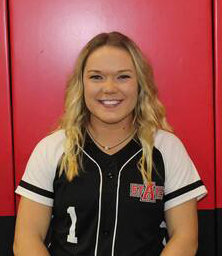 03/09/2021
JONESBORO – After missing the first 13 games of the season due to snow, ice and rain, Arkansas State University's softball team was able to travel and split a doubleheader with Frontier Community College in Fairfield, Ill., over the weekend.
After dropping a close decision, 6-4, in the first game, A-State came roaring back to close out the day with a 7-2 victory.

"I was very proud of our pitchers this weekend," said Head Coach Keith Hinson. "We looked a little rusty on defense, but everything should start to gel as we move forward."

In the opener, Kendall White, a junior transfer from Hendrix College, took the mound and threw all six innings. She struck out four and only allowed three hits throughout the entire game. But Frontier's Bobcats took the lead in the first inning and held onto it until the top of the third.

Another transfer, Brooklyn Loftis from Southeast Missouri State, generated the hit that gave the Red Wolves their first score to tie things up, 1-1. Frontier then pulled ahead with five unearned runs in the bottom of the fourth inning. In the sixth, A-State rallied to get three runs on a home run by freshman Lexy Lockhart of Beebe. However, the rally fell short leaving the Bobcats the winner.

In the second game, freshman Abby Hooper of Jacksonville took the mound and pitched all seven innings. She only gave up two runs on eight hits.

The Red Wolves drew blood when Lockhart scored one run in the opening inning, earning the hit. The Bobcats came back to tie it up, 1-1, in the bottom of the first. Arkansas State took charge of the game in the top of the third, scoring three runs. Senior Keely Curtis hit a critical triple and senior Emily Wilson batted a run in.

A-State continued to frustrate Frontier by adding two runs in the top of the sixth inning and one in the top of the seventh to secure the 7-2 win.

The team heated up its bats, scoring 11 runs on 18 hits throughout the day. Leading the Red Wolves, Curtis of Harrisburg had four hits, with freshman Rebecca House from Jacksonville and sophomore transfer from North Arkansas Community College Elizabeth White with three hits apiece.

Adding to the total were junior Ali Law, sophomore Lexi Betts of Camden, Lockhart and Abby Hooper, as each supplied two hits.

Arkansas State hits the road again Saturday and Sunday, March 13-14, to face Southeastern Illinois (12 and 2 p.m.) on Saturday and Shawnee Community College (12 and 2 p.m.) on Sunday.
# # #
Original article source: http://www.astate.edu/news/red-wolf-softball-splits-doubleheader-in-season-s-first-road-outing | Article may or may not reflect the views of KLEK 102.5 FM or The Voice of Arkansas Minority Advocacy Council