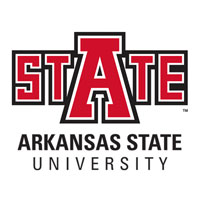 12/06/2018
JONESBORO – The 2018 Fall Commencement for Arkansas State University will begin at noon on Saturday, Dec. 8, at First National Bank Arena.
"In anticipation of potential winter weather this weekend, we are delaying the start of Fall Commencement two hours to allow our on-campus facility management team to prepare the facility," Chancellor Kelly Damphousse said.
Parking lots and doors will open at 10 a.m., and graduates are asked to report by 11 a.m.
For those unable to attend, the ceremony will stream live on the A-State Facebook page, and will be linked from AState.edu.
"We recognize that if there is worst-case scenario winter weather to our north that this may impact the ability to travel; however, we have families that have made travel plans from across the country and around the world that cannot be changed to next weekend," A-State Provost Lynita Cooksey said.
Traffic and Parking
To assist with vehicle flow, additional traffic control officers and assistants will direct patrons to the hard-surface parking lots surrounding First National Bank Arena.  Rains over the past two weeks have made parking on grass lots on the southern end of campus impractical.
Along with hard-surface parking at baseball and football, there is open commuter parking located off University Loop and south of Fowler Center.
Entrance and Security
Standard FNB Arena event security protocol, including checking of bags and passing through metal detectors, will be enforced at all public entrances.  As a reminder, all main entrances are open.
"We often see long lines and delays at the red entrance at Commencement, but often you can get through security and into the facility faster by walking to one of the other entrances," Cooksey added.
With rains and potential winter precipitation in the forecast, the public is reminded you may bring your umbrellas inside, but they also will have to be cleared through security at the door.
Faculty Parking
As a reminder to university faculty participating in commencement, reserved faculty parking is in the G and H lots near the blue entrance of the arena.  Faculty members are asked to use University Loop to enter the FNB Arena parking lot from Alumni Blvd.  Faculty will need to display their blue commencement parking lot hang tag, which can be picked up at the Academic Affairs office in the Administration Building before 5 p.m. on Friday.  Also, faculty will enter through the upper level blue entrance, which is located on the north side of FNB Arena.
Original article source: http://www.astate.edu/news/2018-fall-commencement-delayed-two-hours-for-potential-winter-weather | Article may or may not reflect the views of KLEK 102.5 FM or The Voice of Arkansas Minority Advocacy Council