12/07/2018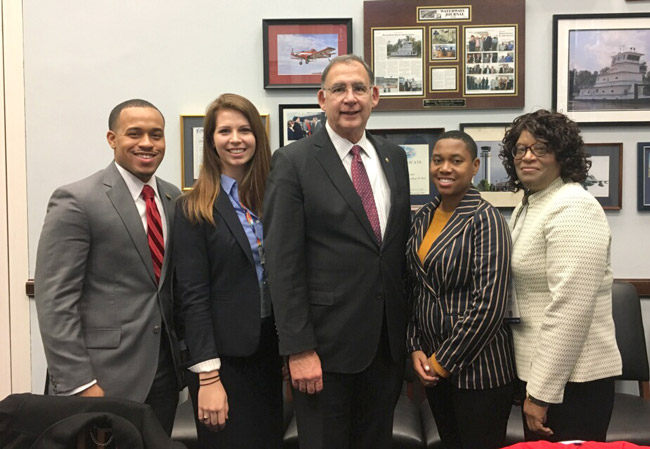 Visiting with U.S. Senator John Boozman (center) in Washington, D.C., this week were (from left)  Ja'Von Long of Hot Springs, HAC research associate Evelyn Immomen, Tarnisha Tilson of Helena-West Helena, and Peggy Wright, instructor at A-State.
JONESBORO – Two graduate assistants in the Department of Political Science at Arkansas State University received stipends to participate this week in a national conference and civic engagement project.
Tarnisha Tilson of Helena-West Helena and Ja'Von Long of Hot Springs received the $1,500 stipends from the Housing Assistance Council (HAC), a national nonprofit housing finance and development corporation in Washington, D.C.
Tilson and Long are participating in phase one of the Civic Engagement Pilot Practicum Project, a nonprofit-university collaborative project under the auspices of HAC and A-State's Department of Political Science-Delta Studies Center and the Division of Diversity & Community Engagement.
Phase one emphasizes the students' direct engagement with HAC's Biennial National Rural Housing Conference, underway this week in Washington.  Guest speakers have included Federal Reserve Chair Jerome Powell and HUD Secretary Ben Carson.
Dr. Will McLean, chair of the Department of Political Science, stated, "During the phase one practicum, HAC is engaging Tarnisha and Ja'Von in activities to fully incorporate them into the experience of networking and direct interaction with conference staff, stakeholders and participants."
McLean added, "I am particularly pleased that Tarnisha and Ja'Von are having one-on-one time with HAC's chief executive officer and other administrators to further enrich their knowledge around nonprofit rural housing and policy efforts at the national level."
Building upon phase one, the second phase of the project will be a spring 2019 semester special topics course, "Rural Housing & Economic Development In The Delta Regional Authority's Service Area," will further prepare the two graduate assistants to be active team members in the planning and convening of the phase three culminating project event — the fifth annual HAC Symposium on Affordable Housing for Veterans, to be hosted on the A-State campus in March.
The annual veterans housing symposium is one component of the HAC Veterans Affordable Housing Initiative currently funded under the auspices of the Home Depot Foundation.
Dr. Maurice Gipson, vice chancellor for diversity and community engagement, pointed out that he, along with others at A-State, are looking forward to the rural veterans housing symposium because military families, veteran and active duty, represent an important community engagement focal point.
Gipson also sated, "The various phases of this project not only directly benefit our students and introduce our university to new organizational and human resources, but clearly enhance our diversity and community engagement mission."
Additional information about the Civic Engagement Pilot Practicum Project can be obtained by contacting Peggy R. Wright, instructor of political science and director, Delta Studies Center, (870) 680‑8214 or [email protected].
                                            # # #
Original article source: http://www.astate.edu/news/political-science-graduate-assistants-earn-national-awards | Article may or may not reflect the views of KLEK 102.5 FM or The Voice of Arkansas Minority Advocacy Council