09/21/2018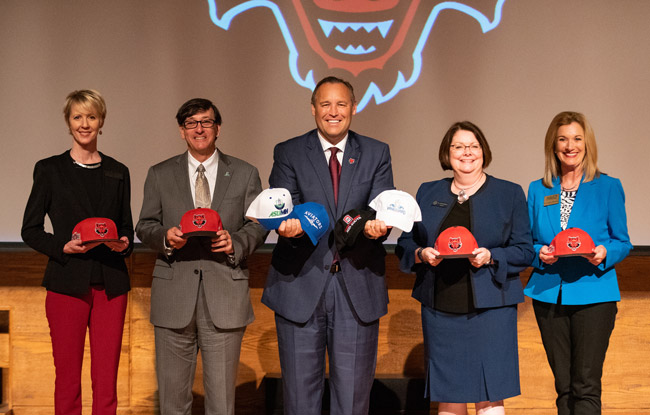 Campus chancellors (from left) Debra West, ASU Mid-South, Robin Myers, ASU-Mountain Home, Kelly Damphousse, A-State, Jennifer Methvin, ASU-Beebe, and Sandra Massey, ASU-Newport.
JONESBORO – Arkansas State University announced 68 new articulation agreements and closer overall ties for transfer students with its four sister institutions in the ASU System.
"Every Red Wolf Counts and we want every system student to become a member of the Pack so that when they complete their two-year degree, they have already been introduced to Arkansas State as the place they can achieve their bachelor's degree," A-State Chancellor Kelly Damphousse said at today's "signing ceremony."
Along with the chancellors of ASU-Beebe, ASU-Newport, ASU Mid-South and ASU-Mountain Home, Damphousse signed proclamations acknowledging new articulation agreements and a renewed commitment to transfers.
"As many of you know, I started my academic journey at the community college near my home town," Damphousse said.  "As a first-generation college student, I know what that process is like, and when I was told that we needed to revamp and renew our transfer agreements, I asked our campus leadership to determine how we could make the process better."
Damphousse gave credit for the changes to a campus transfer task force, headed by Senior Associate Vice Chancellor for Academic Affairs Karen Wheeler.
"I want to let everyone in the state and everyone across the upper Delta region know that Arkansas State is here for you," Damphousse said.  "Today is just the beginning.  We have reached out to every two-year institution in the state of Arkansas to create similar enhanced pathways.  We've also spoken to other institutions in Missouri and Tennessee.  This does not end with just the ASU System, and you will hear more about additional agreements in the coming weeks."
In additional changes to enhance the transfer process, A-State has revamped its transfer website page information and has created a new series of student experience opportunities for system members.  The university is renaming its degree centers as Transfer Hubs at the system schools to help serve as single points of contact for transfer students.
Damphousse also announced ASU System Night for the Red Wolves football game versus Georgia State on Thursday, Oct. 18.
"All students, faculty and staff from our ASU System campuses are invited to the game," he said.
Starting next month, students at the system colleges will be able to attend on-campus cultural events like lectures, student concerts or theatre productions.  System students will be able to attend many athletic events by requesting student tickets through the campus recruiting office.  Later this fall, ASU System students will be able to access materials at the Dean B. Ellis Library.
"This spring, we are looking at a form of pre-admission for all system students who qualify so that when they complete their two-year degrees they will know where they are set to continue toward a bachelor's degree," Damphousse added.  "We are creating transfer student orientation sessions similar to our first-year student orientation, and committing more resources toward scholarships for transfers."
Damphousse concluded the ceremony by reminding the faculty and staff in attendance of the A-State mission statement.
"Transfer students have not let their challenges, their circumstances, and their place-bound or time-shifted lives limit them," he said.  "They are persevering to achieve their academic dream.  They know that a four-year degree will transform their lives. We want to be a place where that transformation happens.  Changing lives is a primary goal of Arkansas State – it is right there in the mission statement – educating leaders, enhancing intellectual growth, and enriching lives."
For more information, go to AState.edu/Transfer.
                                                      # # #
Original article source: http://www.astate.edu/news/new-transfer-pacts-strengthen-ties-with-sister-institutions | Article may or may not reflect the views of KLEK 102.5 FM or The Voice of Arkansas Minority Advocacy Council