10/11/2018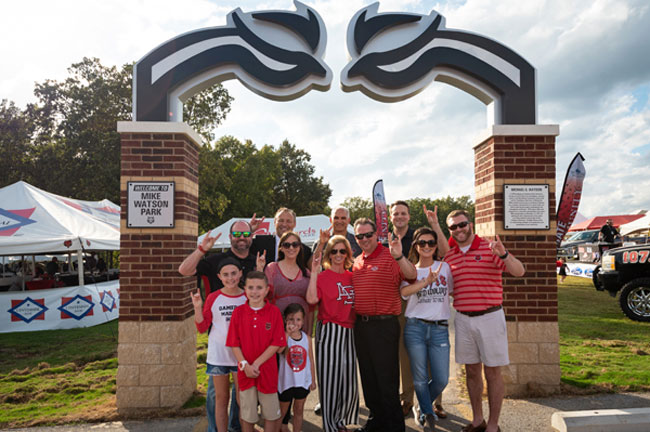 Mike Watson Park Dedication
JONESBORO – The estate gift of longtime Jonesboro resident Mike Watson to Arkansas State University will create the largest lecture series endowment for the university and provide support for a major athletics construction project.
At $1.6 million, the Watson gift is one of the top 20 gifts in university history, with $800,000 to endow the Mike Watson Lecture Series to be housed within the Neil Griffin College of Business and the balance provided to support construction of the north end zone project at Centennial Bank Stadium.
[embedded content]
"On behalf of the university, I want to express my profound thanks to the family of Mike Watson," Chancellor Kelly Damphousse said.  "The key to a successful community is simple.  It begins and ends with individuals who care deeply about their hometown, and care even more about the people in their community.  Mike Watson was Jonesboro.  Mike was Arkansas State through and through."
A longtime Jonesboro business leader, Watson graduated from Arkansas State in 1976.  He supported a wide range of community groups and was an avid member of the Red Wolves Foundation, Assist Club and Touchdown Club.
Watson was a supporter of special events and speakers at the university and the community, notably the public talk given by former Secret Service Agent Clint Hill at Riceland Hall in 2013 during the 50th anniversary remembrances of the Kennedy assassination.
"Mike was a great friend, long-time supporter, and proud graduate of Arkansas State," said Dr. Jason Penry, vice chancellor for university advancement.  "The Mike Watson Lecture Series will help bring significant speakers to campus for the entire community to enjoy. I believe Mike would have been pleased to know that his gift will forever play a profound role to educate, inspire and bring people together. His legacy of generosity will be forever spotlighted with this premier lecture series."
The inaugural Watson Lecture is anticipated in the fall 2019 semester.
In recognition of his gift to support to athletics, the tailgating area west of Centennial Bank Stadium was named Mike Watson Park.
"Mike was a passionate and loyal supporter of Arkansas State Athletics," Terry Mohajir, vice chancellor for intercollegiate athletics, said.  "His generosity helped make the north end zone project possible and was an important factor in reaching our vision of having one of the premier facilities in the nation.  It goes without saying that Mike was a tremendous ambassador for our program, and we are very proud to honor his memory by naming one of the most visible and visited areas on our campus after him."
To commemorate the naming of Mike Watson Park, a special gateway over the Red Wolf Walk pathway through the main tailgating area was dedicated in his honor.  The arch is composed of the eyes of the Red Wolves logo, and is illuminated at night.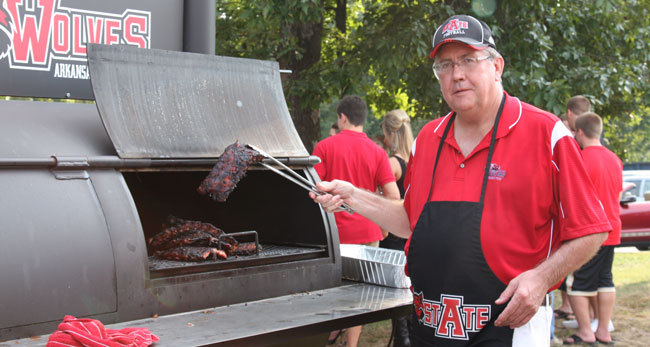 Mike Watson grills food for a tailgate party before a Red Wolves football game.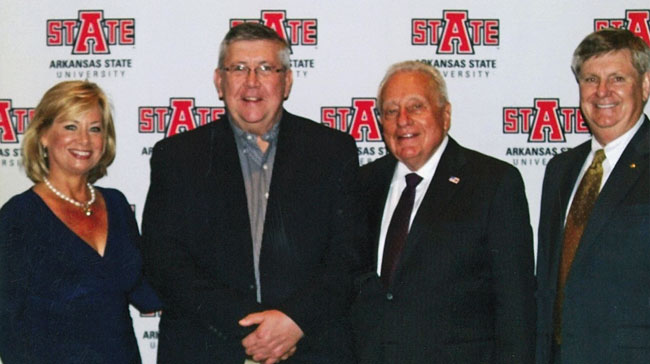 Mike Watson (second from left) is joined by Lisa McCubbin, former Secret Service Agent Clint Hill and Larry Worsham before Hill's 2013 presentation about "Five Days in November," the book he wrote with McCubbin about the 1963 John F. Kennedy assassination.
Original article source: http://www.astate.edu/news/mike-watson-estate-gift-endows-lecture-series-at-a-state | Article may or may not reflect the views of KLEK 102.5 FM or The Voice of Arkansas Minority Advocacy Council