11/21/2018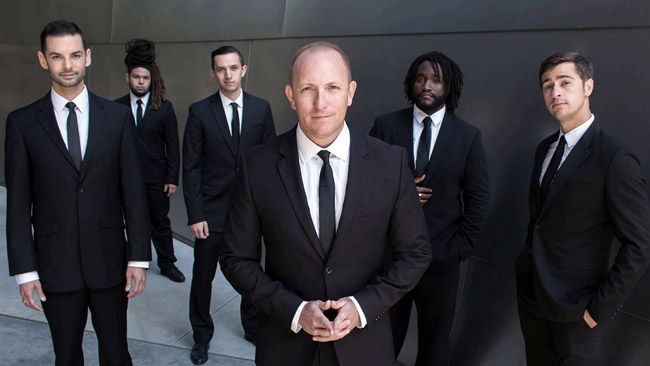 JONESBORO – Arkansas State University's Fowler Center will present the a cappella vocal group M‑Pact in concert Thursday, Dec. 6, at 7:30 p.m.
Hailed as one of the best pop-jazz vocal groups in the world, M-Pact will present its memorable holiday concert, "White Christmas," in Riceland Hall.
One can imagine the smooth soul of Sam Smith, the percussive power of Stomp, the funk and groove of Bruno Mars, the sophisticated harmonies of Take 6, and the brass bite of the Michael Bublé Big Band . . . All created by the human voice alone.  M-Pact's sophisticated sound and accessible appeal have garnered vast accolades, including Vocal Group of the Year, Artist of the Year, and Grand National Champs of the Harmony Sweepstakes competition.
Fowler Center Series is home of the finest artistic performance in the Northeast Arkansas region, and regularly hosts world-class performing arts events to enhance, strengthen and celebrate community.
The 2018-19 Riceland Distinguished Performance Series is themed "Americana & More," and offers a broad variety of outstanding entertainment.
"In experiencing the arts, we experience each other," said Fowler Center Series director Dr. Timothy Crist.  "The Riceland Distinguished Performance Series is committed to creating exciting, memorable events that will resonate throughout our community, to reaching out and engaging all, and to providing an experience that will inspire, enrich, and elevate lives."
All seating is reserved.  Individual tickets are $35 and $25 for adults, and $28 and $20 for senior citizens, students, and A-State faculty and staff, and $15 and $10 for A-State students with a current ID. Group discounts are available for groups of 15 or more.
For more details one may visit Fowler Center, yourfowlercenter.com, 201 Olympic Drive, or call (870) 972-3471. Tickets may be purchased at the Central Box Office in the First National Bank Arena, 217 Olympic Drive, or by calling (870) 972-ASU1 or toll-free (888) ASU-FANS. Tickets are also available online from the Central Box Office, AState.edu/tickets.
                                                        # # #
Original article source: http://www.astate.edu/news/m-pact-vocal-ensemble-to-perform-at-fowler-center | Article may or may not reflect the views of KLEK 102.5 FM or The Voice of Arkansas Minority Advocacy Council