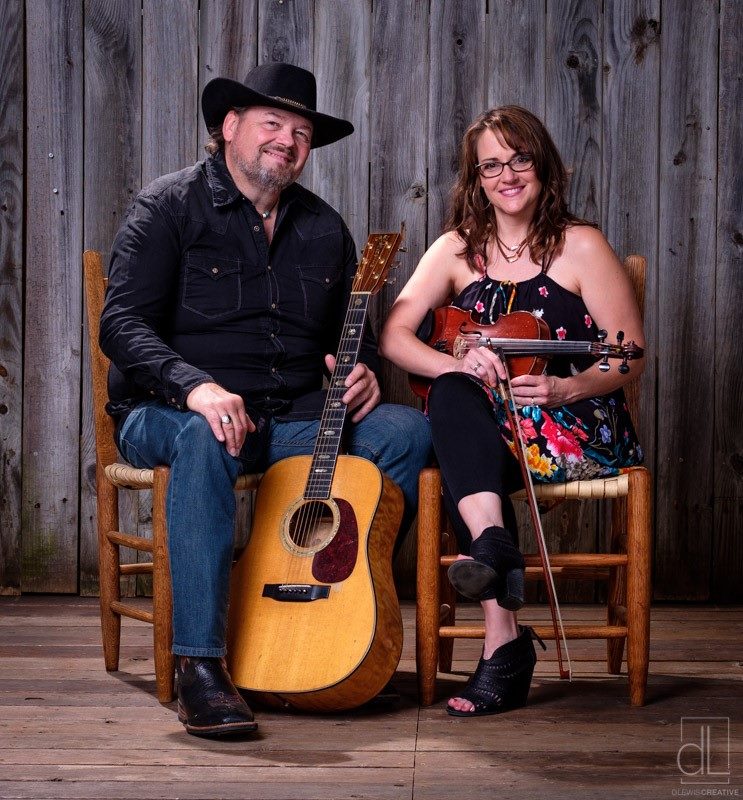 09/17/2018
JONESBORO – Lee Street Lyrical and special guests will perform a concert of bluegrass and acoustic music Monday, Sept. 24, at 7 p.m. at the Collins Theatre, 120 West Emerson Street, in downtown Paragould as part of the Bluegrass Monday concert series presented by KASU 91.9 FM. 
Lee Street Lyrical is the harmony-rich duo Casey Penn and Buddy Case.  Based in Central Arkansas, the group has performed a variety of regional venues including the Ozark Folk Center, Kings Opera House, Mellon's Country Store's Hole-In-the-Wall Theater and the Mountain View Meeting Place.  The group plays not only bluegrass but also classic country music, Americana favorites and their original compositions.
Penn is an award-winning songwriter, fiddler, vocalist and guitarist.  She collaborated with fellow Arkansan Rodger King to record a CD titled "King-Penn" which was funded by winning the grand prize in the 2015 Arkansas Talent Search.  The King-Penn composition "Oceans" received an honorable mention award in the 2016 Hazel Dickens Bluegrass Songwriting Competition.
Like Penn, Case is an award-winning songwriter as well as an acclaimed guitarist and vocalist.  He has previously performed at KASU's Bluegrass Monday as part of the group The Acousticatz.  Case was voted an "audience favorite" at the Merle Travis National Thumbpicking Championship, in which he also placed runner-up.
Case has recorded solo CDs of gospel, inspirational and Christmas music.  Case also collaborated with Texas singer-songwriter W.C. Jameson to produce a CD "Dirt Road Home," which featured original compositions by both Jameson and Case.
For its performance at Bluegrass Monday, Lee Street Lyrical will be joined onstage by frequent collaborator and bassist Will Penn in addition to three more special guests.
Johnny Garrett is a long-time bluegrass musician from Northeast Arkansas.  He began playing guitar at age nine, electric bass at age 12 and banjo at age 15.  For the show with Lee Street Lyrical, Garrett will be featured on banjo.  He performed gospel music with relatives as The Garrett Family band in the 1980s.  Garrett has also played with numerous Arkansas bluegrass ensembles including Delta Grass, Shady Hill, Mossy Bluff and Custer's Last Band.
Tim Burcham is a third-generation bluegrass picker and singer.  Like Garrett, he is a multi-instrumentalist, playing guitar, mandolin and fiddle.  For the show with Lee Street Lyrical, he will be featured on mandolin.  Prior to relocating to Jonesboro, Burcham was a founding member of the Northwest Tennessee band Ryman Shadows. He is also the Dean of Agriculture and acting dean of Engineering and Computer Science at A-State.
Stan Townsend of Little Rock is also a life-long bluegrass music fan and musician.  He is a past member of the band County Fair and he will play rhythm guitar onstage with Lee Street Lyrical.
More information about the duo can be found at www.facebook.com/leestreetlyrical.
Seating at the concert is first-come, first-served.  Doors to the theatre will open at 6 p.m. KASU will literally "pass the hat" during the concert to collect money to pay the group.  The suggested donation is $5 per person.
In addition to the concert, Terry's Café, 201 South Pruett Street in Paragould, opens on Bluegrass Mondays to welcome bluegrass music fans.  The café serves a country-style buffet meal beginning at 4:30 p.m. on the evenings of Bluegrass Monday concerts.  Concessions will also be available at the Collins Theatre.
Bluegrass Monday concerts are held on the fourth Monday night of each month.  These concerts are presented with support from Bibb Chiropractic Center, the Posey Peddler, Holiday Inn Express and Suites of Paragould, the Northeast Arkansas Bluegrass Association and KASU.
KASU, 91.9 FM, is the 100,000-watt public broadcasting service of Arkansas State University in Jonesboro.  For more information, contact KASU Program Director Marty Scarbrough at [email protected] or 870-972-2367.  Bluegrass Monday is also on Facebook (search "Bluegrass Monday").
Original article source: http://www.astate.edu/news/lee-street-lyrical-to-perform-bluegrass-monday-concert | Article may or may not reflect the views of KLEK 102.5 FM or The Voice of Arkansas Minority Advocacy Council