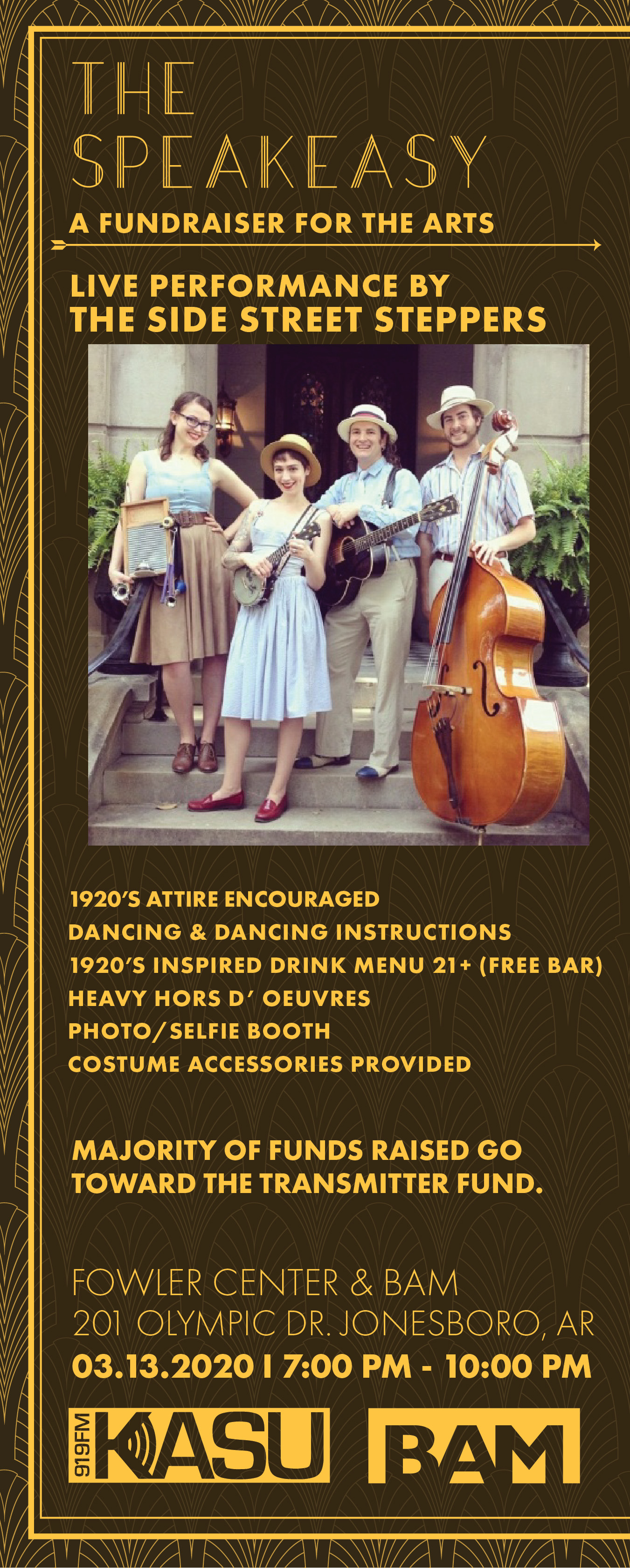 02/21/2020
JONESBORO – Using the 1920s theme, Arkansas State University's on-campus public radio station KASU 91.9 FM is joining forces with the Bradbury Art Museum (BAM) to have a night of music, dancing and a 1920s-inspired drink menu Friday, March 13, at an event called The Speakeasy. This Speakeasy location will be at BAM and Fowler Center, 201 Olympic Dr., from 7 – 10 p.m.
Individual tickets are $125 and can be purchased at kasu.org/tickets. Tables of eight people for businesses, organizations or families can be sponsored for only $500 or two tables can be bundled as a sponsor for 16 people at $900. Contact Doreen Selden at [email protected] or call 870-972-2709 if about sponsoring a table.
Tickets provide a special night of art, music and dance to help advance the arts in the community. Attendees are encouraged to dress in '20s clothing and the Bradbury Gallery staff will provide costume accessories. Heavy hors d'oeuvres will be served and drinks for ages 21-over are provided with the purchase of a ticket. In addition, festive non-alcoholic drinks are available.
Attendees begin by entering BAM to view the exhibit "Nexus." Garry Holstein, director of BAM, said this exhibit celebrates the donors who have contributed amazing collections to the gallery.
Patrons will hear The Side Street Steppers, a band from Memphis playing 1920s tunes. The band will provide the "hip-shaking, foot stompin,' caterwauling" music from the 1920s era in the Grand Hall at Fowler Center. For a preview, see them online at sidestreetsteppers.com.
KASU and BAM will also have dancers under the direction of Brianna Larson, assistant professor of theatre. These dancers will provide swing dance demonstrations on the dance floor surrounded by tables.
The majority of the proceeds will go toward KASU's transmitter fund to help improve transmission of the music, news, arts and views on 91.9 FM.
Original article source: http://www.astate.edu/news/kasu-bam-partner-to-host-speakeasy-donor-celebration | Article may or may not reflect the views of KLEK 102.5 FM or The Voice of Arkansas Minority Advocacy Council