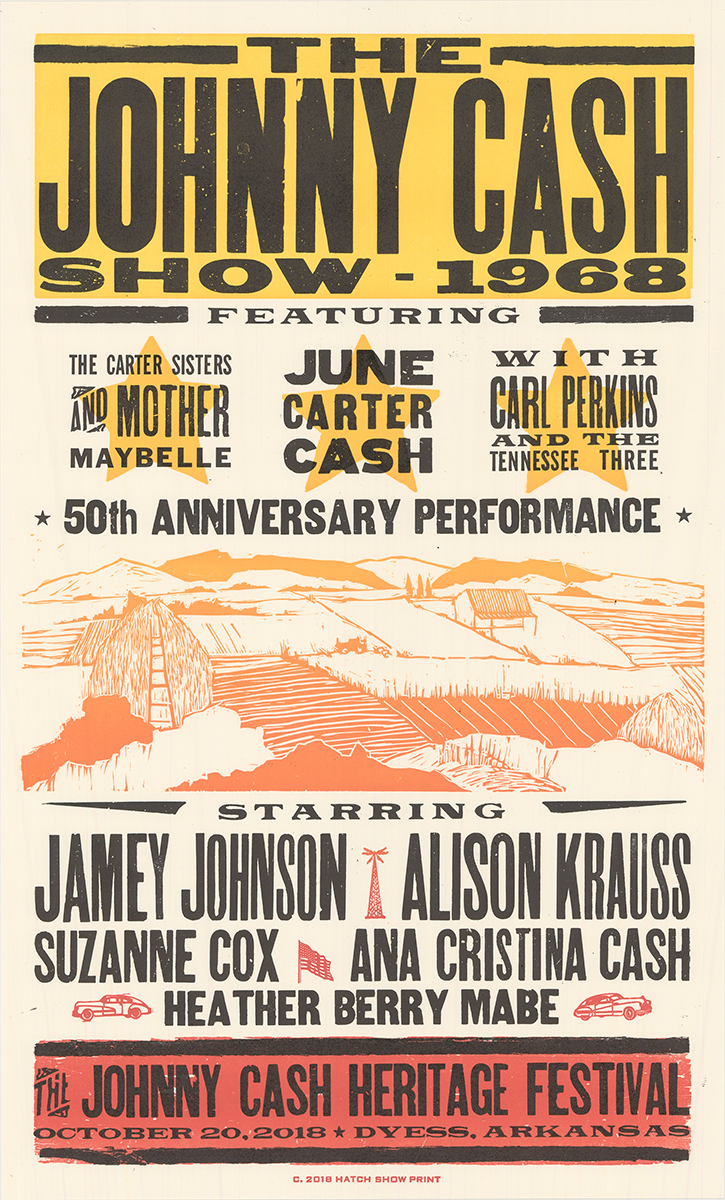 10/16/2018
JONESBORO – With the second annual Johnny Cash Heritage Festival opening in a couple of days, plans are being finalized to accommodate fans and interested parties planning to attend. The event, combining academic activities and entertainment, is Thursday through Saturday, Oct. 18-20, in the Dyess Colony Circle and at the Johnny Cash Boyhood Home.
The festival gets underway Thursday with film screenings and discussions in the Dyess Colony Visitors Center. The iconic Coen Brothers film O Brother, Where Art Thou? starts at noon. Set in Mississippi during the Great Depression, the film is loosely based on Homer's Odyssey, and deals with the adventures of Ulysses Everett McGill (George Clooney) and his companions who escape from a chain gang and attempt to recover buried loot from a bank heist.
The soundtrack includes 2018 Johnny Cash Heritage Festival performer Alison Krauss performing "Down to the River to Pray." Dr. Heath Carpenter, American Studies, Harding University, will serve as the discussion moderator.
Following at 2:30 p.m. is Johnny Cash at Folsom Prison, a 2008 documentary presented in honor of the 50th anniversary of Johnny Cash's Folsom Prison performance. In 1968, Cash's concert at California's Folsom Prison was recorded for a live album. Cash delivered one of the greatest performances of his life that day, full of empathy for the inmates that made up his audience. The resulting album was a surprise hit, reestablishing Cash as one of country music's most powerful and respected artists.
Michael Streissguth, communication and film studies, Le Moyne College in Syracuse, N.Y., and writer and producer of the documentary, is the moderator.
KASU Music Nights opens at 5 p.m. in the Colony Circle with four regional musical acts and concludes Friday from 5-9 p.m. with five additional acts. For details, see news release AState.edu/news/kasu-music-nights-includes-nine-acts-at-johnny-cash-heritage-festival.
Public presentations of "The Ties that Bind" academic theme last throughout Friday, beginning at 9 a.m., with "Ties of Childhood: Johnny Cash's Early Musical Influences," with moderator Dr. Adam Long, Heritage Sites, Arkansas State University; "Reflections of Johnny Cash in Popular Culture," with moderator Dr. Cathy Calloway, English, Arkansas State University; "Ties Beyond Dyess: Little Rock, San Antonio and Beyond," moderated by Dr. Cherisse Jones-Branch, history, Arkansas State University.
Elementary and junior high students from the area, known as the Rivercrest Voices, will perform on the Dyess Colony Circle outdoor stage during the noon lunch break.
An update on the Memories of a Lifetime Project, which invites past residents of Dyess to record their oral histories, will be presented by Dr. Ed Salo, heritage studies, Arkansas State University; Dr. Michael Bowman, media, Arkansas State University; and Ben Manatt, Bentonville High School EAST Initiative, at 1 p.m.
Following is "Shared Voices: Johnny Cash and His Contemporaries," with Dr. Deborah Chappel Daniel, English, Arkansas State University, serving as moderator.
Dr. John Alexander will have the keynote presentation at 3 p.m., titled "The Man in Song: A Discographic Biography of Johnny Cash." Dr. Carl Cates, dean, College of Liberal Arts and Communication, Arkansas State University, will serve as moderator and the presentation is followed by a book signing.
Additional activities for Thursday and Friday include tours of the Johnny Cash Boyhood Home from 9 a.m.-3 p.m. for $10 per person. The home is closed to the public on Saturday. Permanent exhibits in the Dyess Colony Administration Building will be open at no charge between 9 a.m. and 3 p.m. on Thursday and Friday. 
The Gift Shop will be open from 9 a.m. to 9 p.m. on Thursday and Friday. A limited selection of Gift Shop items, along with official festival merchandise, will be available at the field performances on Saturday.
The festival closes Saturday with a 50th anniversary tribute to Johnny Cash's 1968 banner year. Hosted by John Carter Cash, the show features musical artists Alison Krauss, Jamey Johnson, Ana Cristina Cash, Suzanne Cox, Heather Berry Mabe and Ira Dean. Grammy winners Shawn Camp and Bill Miller will open Saturday's show beginning at noon.
Available reserved seating tickets for the Saturday concert sell for $100 each, plus applicable fees, along with a limited number of VIP parking passes for $50. Parking passes must be purchased by calling or visiting the box office directly and cannot be purchased online.
General admission tickets are $35 each with applicable fees. General admission ticket holders should bring lawn chairs. With the exception of the field concert, admission to other festival events is free.
The festival is coordinated through Arkansas State University Heritage Sites and licensed through the John R. Cash Revocable Trust.
Original article source: http://www.astate.edu/news/johnny-cash-heritage-festival-to-begin-thursday | Article may or may not reflect the views of KLEK 102.5 FM or The Voice of Arkansas Minority Advocacy Council