08/17/2018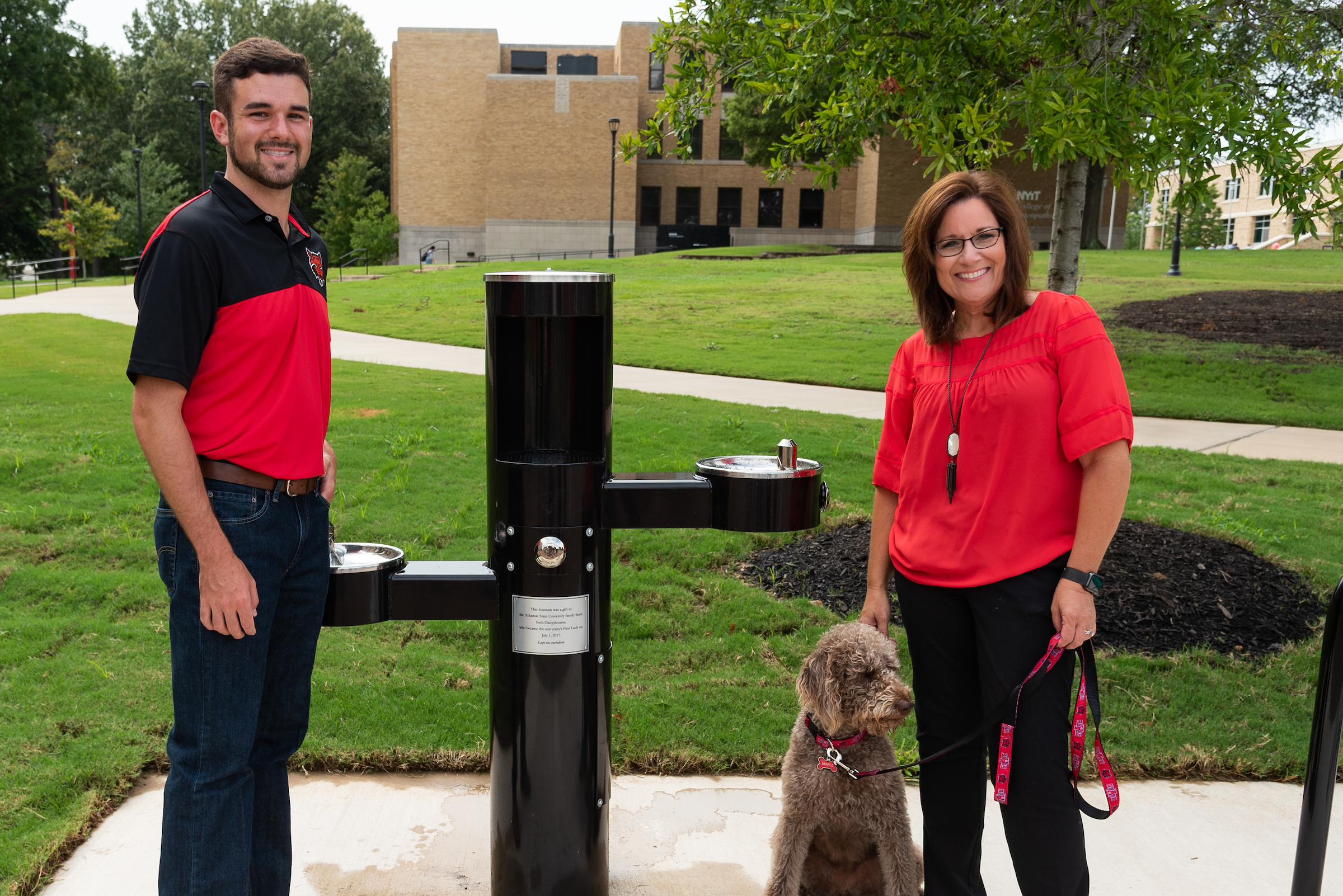 Beth Damphousse (with family dog Maple) and Student Government Association President Jon Mark Horton unveil new hydration station on Arkansas State University campus.
JONESBORO – Beth Damphousse joined her husband, Chancellor Kelly Damphousse, and Student Government Association President Jon Mark Horton today to unveil the first of several projects in a new campus beautification effort.
They unveiled a newly installed hydration station near the north entrance to the Humanities and Social Sciences Building.  It is conveniently located near Aggie Circle and the red wolf statue, which often marks the start and finish of campus-based walking, running, and cycling events.
Mrs. Damphousse announced that she is organizing a committee composed of members of the A-State campus and the Jonesboro community that will raise private funds to continue efforts to beautify campus.  The new station features two water fountains (including one that is wheelchair accessible and kid-friendly), a filtered water fill-station for bottles, and a pet bowl.
Maple, the First Dog of A-State, wasted no time lapping up the initial drink from the new station during moderate but humid weather Friday afternoon as a group of students looked on.
"I know that the community is very interested in Arkansas State, and our group will be committed to raising funds to help add artwork and other amenities outside of our buildings to enhance the natural beauty of our campus," Mrs. Damphousse explained. 
The hydration station was made possible by her personal commitment of $5,000, as an effort to kickstart the campus beautification project.
"On behalf of the students, I want to thank the Damphousses for their leadership of our university, but also for their commitment to projects like this," Horton said.  "As an exercise science major, having a hydration station like this in the middle of campus near the trails where we run is important."
"With so many community members enjoying our beautiful campus in the evenings and on weekends, Beth has seen the need for the hydration station," the chancellor added.  "Maple and I walk on campus every day that I can, and I know how active our students are.  This hydration station is part of our efforts to make it easier for everyone in the community to come out and use our paths and sidewalks for a more active lifestyle, including for our four-legged (and leashed) friends."
Original article source: http://www.astate.edu/news/hydration-station-unveiled-as-part-of-campus-beautification-project | Article may or may not reflect the views of KLEK 102.5 FM or The Voice of Arkansas Minority Advocacy Council