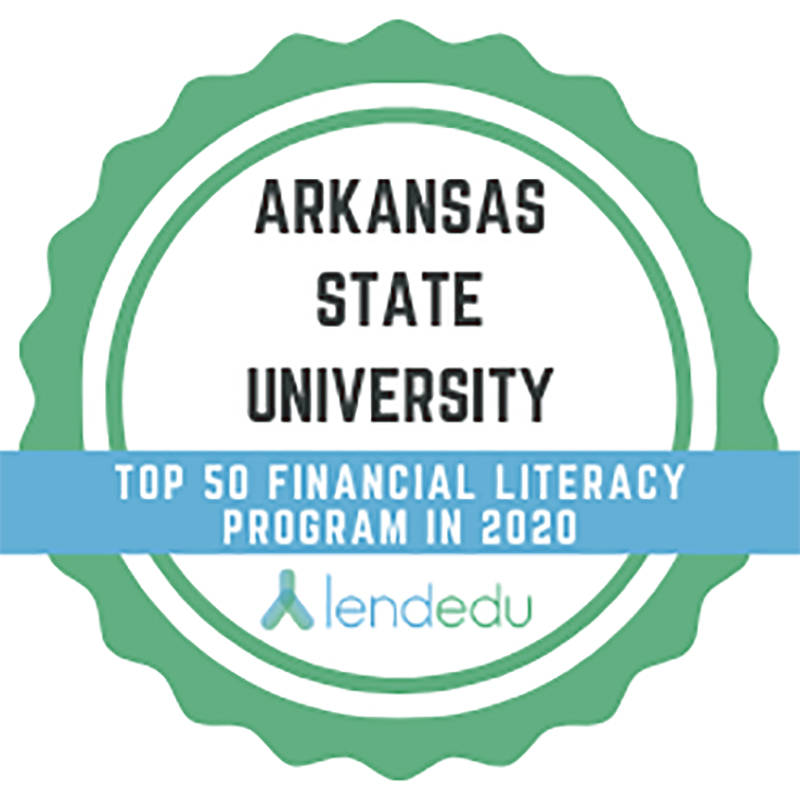 06/29/2020
JONESBORO – For the second consecutive year, Arkansas State University's Scarlet to Black (S2B) Financial Literacy Program has been ranked among the 50 best college programs in the latest 2020 poll of top colleges and universities across the nation, according to the website LendEDU.com.
A-State's program, initiated in April 2018, focuses on improving the financial literacy and actions of students on campus. The program consists of two related series – "A Howling Start to Your Future," centering entirely on incoming first-year students and their families, and SCARLET (Smart College And Real Life Educational Training) to Black, that hosts events open to any student, faculty or staff member at A-State.
"For many students, when they come to college it is really the first time that they are 'on their own' in terms of financial decisions and the consequences of those decisions," said Dr. Philip Tew, director of the Scarlet to Black Financial Literacy Program and associate professor of finance at A-State. "Having a program where students give the workshops and provide peer-to-peer financial mentoring is a huge plus for A-State students.
"It is great to see the work done by the students and the support provided by the university, Arvest Bank, and the Kays Foundation be recognized on the national level for the second year in a row for a program that is only two years old."
Many colleges and universities across the country have invested in financial literacy programs designed to help give students with student loan debt the confidence to make educated financial decisions.
Tew went on to say that during the 2019-20 academic year, the Scarlet to Black Program had the following financial inclusion interns: Alexus Leonard, a junior English major from Corning; Dustin Ogden, a 2020 graduate from Manila who majored in mathematics; Melanie Ricker, a junior finance and accounting double major from Corning; and Rachel Washam, a Master of Business Administration student from Jonesboro.
These interns provided workshops to students, mentored them one-on-one, and conducted research in the area of financial literacy and college students. Leonard, Ricker and Washam will continue as interns during the 2020-21 academic year and be joined by Tyrell Andrews from Marked Tree and Hailey Hawkins of Cabot.
"Financial literacy, especially as it relates to college financing decisions, is more important now than ever before because of the economic impact the coronavirus pandemic is having on so many American households, so you should be proud to see Arkansas State University on such an exclusive, national list," said Michael Brown, director of communications at LendEDU.
Brown went on to explain how the annual rankings, in their fourth year, are compiled. Hundreds of financial literacy programs were rated on three things: (1) the number of workshops and resources available; (2) access to one-on-one financial consultation; (3) incentivizing programs available.
Other universities ranked include Duke University, Ohio State University, Stanford University, UCLA, and Georgia.
Original article source: http://www.astate.edu/news/financial-literacy-program-listed-in-top-50-rankings-again | Article may or may not reflect the views of KLEK 102.5 FM or The Voice of Arkansas Minority Advocacy Council