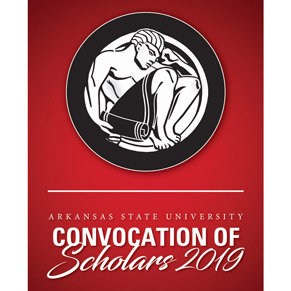 04/17/2019
JONESBORO – Eleven seniors in the College of Engineering and Computer Science programs at Arkansas State University were recognized during the annual Convocation of Scholars honors ceremony as the most outstanding graduating students, according to Dr. Yeonsang Hwang, interim associate dean.
Undergraduate and graduate students in engineering and computer science were recognized for outstanding achievement.
Seth Moody of Jonesboro received the Chancellor's Scholar Award, given to the graduating senior with the highest overall grade point average in the college.
The departmental awards are presented annually to the top graduating senior in each of the academic degree programs with the highest GPA.
The Department Award recipients and their respective degree programs are: Corbin Edwards, Clayton Liddell and Samuel Reagan, computer science; Drew Slaven of Bono, civil engineering; Seth Moody of Jonesboro, electrical engineering; and Nicolas Thomas of Benton, mechanical engineering.
The college also presented the Citizenship Award to five senior students, based on GPA, leadership potential through student chapter activities, projects and student group competitions.
The Citizenship Award recipients and their respective degree programs are: Ariana Garcia Briceno and Hunter Ingle, computer science; Justin Barnes, electrical engineering; Sydney Allgeier, civil engineering; and Collin McCrary, mechanical engineering.
The honor graduate students who attained a 4.0 grade point average received Outstanding Student Award certificates. Those receiving this award were:
Master of Science in Computer Science: Kai Fan of China, Sireesha Jampani of India, Quan Nguyen of Vietnam; and Christopher Saldivar of Jonesboro.
Master in Engineering Management: Stanton Apple of Russellville; Hussein Mohamad El-Joumaa of Muscle Shoals, Ala., Cory Steven Gray of Little Rock, Benjamin Adu-Gyamfi of Socorro, N.M., and Brian Robertson of Greenbrier.
Master of Science in Engineering: Sandeep Aryal of Nepal, Nathaniel Blevins of Jonesboro, and Md Saber Nazim of Bangladesh.
The 41st annual Convocation of Scholars continues through April at A-State.
# # #
Original article source: http://www.astate.edu/news/engineering-and-computer-science-presents-top-awards | Article may or may not reflect the views of KLEK 102.5 FM or The Voice of Arkansas Minority Advocacy Council