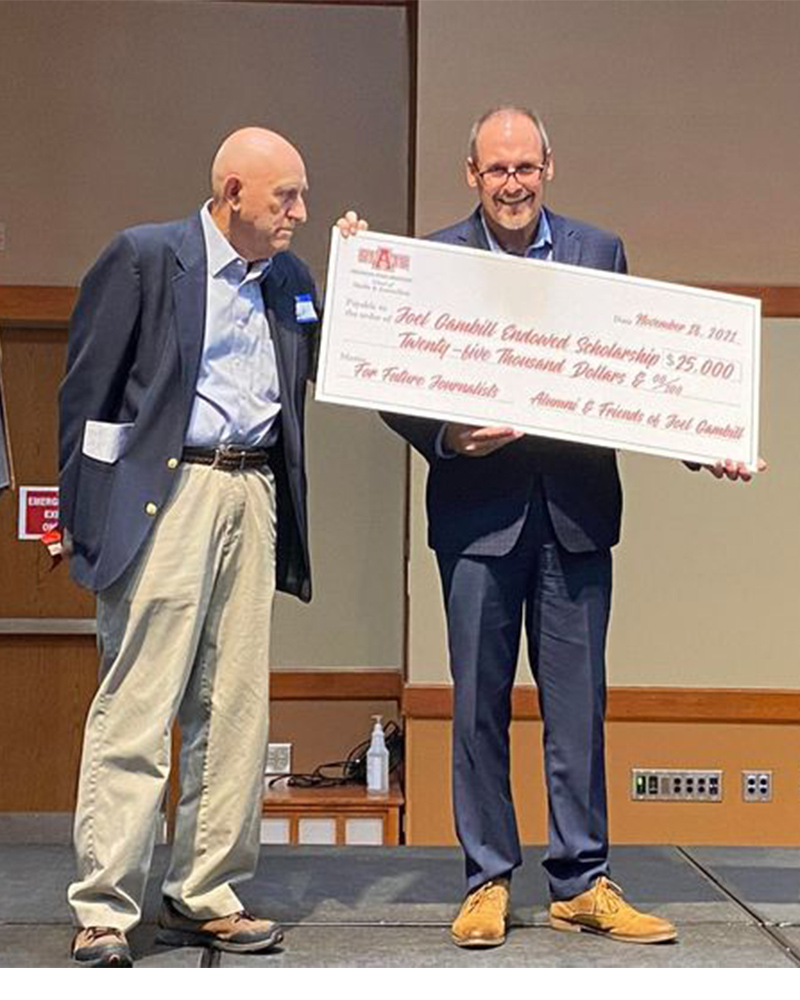 11/23/2021
JONESBORO — Retired faculty member Dr. Joel Gambill received a nice surprise when it was announced that a scholarship has been endowed in his name in the School of Media and Journalism at Arkansas State University. The announcement was made at the 100th anniversary of The Herald, the school newspaper, reception last week in Centennial Hall.
During the ceremony, Dr. Brad Rawlins, director of the School of Media and Journalism, made the statement by calling Gambill to the stage and the pair displayed a large check for $25,000 for the Joel Gambill Endowed Scholarship by alumni and friends of Gambill. On the memo line, it read "for future journalists."
"I would like to thank all those who helped create this scholarship," said Gambill. "It makes me warm all over that someone would create a scholarship that assists journalism students in their A-State careers. I would especially like to thank those who contributed to the scholarship."
In addition to the scholarship announcement, a panel of outstanding journalism alumni contributed to the celebration by offering remarks and stories about their days with the school paper, including former Herald editors Dr. Dorothy Bland, Gretchen Hunt, Chanda Washington, Lance Turner and Roy Ockert. Hunt was also visiting campus that day as part of the Gambill Speaker Series.
"A highlight of the The Herald's centennial celebration was announcing the endowed scholarship in honor of Dr. Joel Gambill," said Rawlins. "He was a reporter, student editor, faculty adviser and eventually the department chair for nearly half of that time and his influence on the journalism program is still felt today.
"Many alumni told me about how Dr. Gambill recruited them, mentored them and continued as a friend and colleague after they graduated. While Dr. Gambill certainly doesn't seek this recognition and attention, I know he is glad that the scholarship will help a future journalism student continue the legacy of the program."
Rawlins said the scholarship fund is fully endowed with donations, corporate matching gifts and other funding sources. Donations from friends and alumni totaled $19,200 and the remainder came in by Nov. 18, the 100th anniversary of The Herald.
He added that Dr. Erika Chudy, vice chancellor for advancement and director of planned giving, noted that this was one of the fastest gifts to reach endowment through the Back The Pack giving initiatives. He also pointed out in addition to the gift contributions, the outpouring of gratitude and positive memories of Gambill were shared by alumni through emails and letters.
The first scholarship will be awarded for fall 2022. The deadline to apply is Feb. 1. Rawlins said that scholarship criteria has not been fully established, but will likely go to someone majoring in multimedia journalism, be in good academic standing and demonstrating financial need.
Gambill began as a reporter at The Herald and later was its student editor before he graduated from Arkansas State in 1965. After earning his graduate degree, he returned to A-State as the faculty adviser of the student newspaper.
He later influenced many more lives as the chair of the Department of Journalism before he retired in 2010. Recognized as a Distinguished Alumnus and Distinguished Faculty by A-State, his contributions to journalism were also recognized by the Arkansas Press Association as Outstanding Educator and the Distinguished Service Award, its highest distinction.
Gambill is the namesake of the endowed Dr. Joel Gambill Distinguished Speaker Series who wanted to bring the media world to A-State students by inviting media graduates to speak with students majoring in journalism, radio-television and media communications and visit with faculty. That program began in 2008.
Gambill was the first full-time instructor in journalism hired and spent four decades building the department into a national powerhouse. He served as department chair for 36 years.
Though he has many interests, he is most well-known, as one newspaper editor said, as Arkansas's foremost journalism educator.
Original article source: http://www.astate.edu/news/endowed-joel-gambill-scholarship-highlighted-100th-herald-celebration | Article may or may not reflect the views of KLEK 102.5 FM or The Voice of Arkansas Minority Advocacy Council