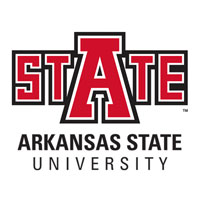 05/04/2020
JONESBORO – The College of Education and Behavioral Science at Arkansas State University recognized 27 outstanding graduating students for the 2019-20 academic year, according to Dr. Mary Jane Bradley, dean of the college.
The Chancellor's Scholar award for highest overall grade point in the college was presented to Leray Kious of Jonesboro.
Sierra Cottrell of Grapevine, Hannah Cunningham of Cave City, Victoria Jackson of Beebe and Robby Lockeby of Mountain Home received the 4.0 Graduate Award for completing their degree programs with a perfect grade point average.
The departmental awards are presented to graduates in each degree program who have most excelled in scholarship, leadership and service to the department.
Those receiving awards and their respective degree programs, by department:
Educational Leadership, Curriculum and Special Education:
Erika Chudy of Jonesboro, Doctor of Education (Ed.D.), educational leadership; Jerry Dickson of Paragould, Specialist in Education (Ed.S.), educational leadership; Carneshia Hood of Jonesboro, Master of Arts in Teaching (MAT), special education; Misty Siadak of Olive Branch, Miss., Master of Science in Education (MSE), special education; Mark Blackwell of Pocahontas, MSE, educational leadership; Lisa Kerns of Springdale, MSE, gifted and talented; Shanita Sanders Hicks of Jonesboro, Master of Science (MS), college student personnel services; Emma Gadbury Stewart of West Memphis, Bachelor of Science in Education (BSE), special education.
Health, Physical Education and Sport Sciences:
Lucianne Burner of Moscow, PA, BSE, physical education; Jamie Cheek of Bryant, Bachelor of Science (BS), exercise science; Sean Adams of Maumelle, BS, sport management; Sarah Renee Jones of Hot Springs, BS, health promotion; Kristen Mangrum of Paragould, MS, sport administration; Anaelle Charles of Marly la ville, France, MS, exercise science.
Psychology and Counseling:
Steven "Stevie" Harmon of Jonesboro, Ed.S., clinical mental health counseling; Ashley Martins of Conway, Ed.S., school psychology; Emily K. Johnson of Searcy, (MS), psychological science; Amy Tipton of Jonesboro, BS, psychology.
Teacher Education:
Taylor Nichols of Clarksville, MSE, early childhood education; Kennedy Capps of Harrisburg, BSE, elementary education; Brenda Reynolds of Hot Springs, MS, early childhood services; Kylie Brickey of Jonesboro, BSE, middle-level education.
# # #
Original article source: http://www.astate.edu/news/education-behavioral-science-names-top-grads-for-2019-20 | Article may or may not reflect the views of KLEK 102.5 FM or The Voice of Arkansas Minority Advocacy Council