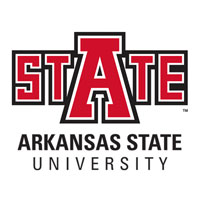 01/16/2019
JONESBORO – The annual Delta National Small Prints Exhibition opens with a 5 to 6:30 p.m. public reception at the Bradbury Art Museum, Thursday, Jan. 24, on the campus of Arkansas State University.  Also opening that evening is "The Business of Dying," an exhibition by photographer Timothy Hursley.
Included in the 2019 DNSPE will be 58 prints by 44 artists from across the country and abroad.  The exhibition provides northeast Arkansas and the region an annual look at the latest trends in contemporary small printmaking, according to Les Christensen, director of the museum.
The 2019 DNSPE juror was José Diaz, chief curator of The Andy Warhol Museum in Pittsburgh.  He reviewed and chose the works for inclusion in the exhibition and also determined which artists would receive purchase prizes, with their work becoming part of A-State's permanent collection.  Others received juror's merit awards.
"José selected an exhibition more focused than we have seen in years past.  Many social and political topics are addressed," Christensen said in her director's statement.  "His keen knowledge of printmaking and expertise in curating are evidenced in this thematically cohesive exhibition.  We thank him for his work and competence with this daunting task."
From the hundreds of entries, Diaz made selections for the purchase awards and sponsorships blindly, seeing only the title, medium and dimensions of each print, but not the artist's name or location.
"I chose prints that addressed the present, such as depictions of hope and empowerment, but also those showing loss, pandemonium and chaos," Diaz wrote in his juror's essay.  "This year many of the submissions brought up social and political issues concerning citizens in the United States.  This is why the arts (in all forms but especially in printed form), are so important."
Diaz, a 2018 fellow at the Center for Curatorial Leadership, previously served as curator of exhibitions at the Bass Museum of Art in Miami Beach.
The exhibition's founder, emeritus professor and master engraver Evan Lindquist, conceived of the show in 1996.  At that time, DNSPE was held in the Fine Arts Center Gallery.  It moved to its new permanent home in 2001 when the Bradbury was opened.
The DNSPE is made possible by many generous individuals and organizations who provide the financial and practical assistance necessary to produce the exhibition and catalog.
A full-color catalog of the entire exhibition will be available at the opening reception. 
Photograph Exhibition by Timothy Hursley
An exhibition of photographs by Timothy Hursley titled "The Business of Dying" will run simultaneously with the 2019 DNSPE and will be held in the Stella Boyle Smith Gallery of Bradbury Art Museum.
Hursley is an internationally recognized architectural photographer known for documenting such structures as Yad Vashem, in Jerusalem; Museum of Modern Art, in New York; the Renaissance Center in Detroit; the Guggenheim Museum in Bilbao, Spain; and the U.S. Holocaust Memorial Museum in Washington, D.C.  He moved to Little Rock in 1980 from his hometown of Detroit, where he apprenticed with acclaimed Hungarian photographer Balthazar Korab.
Along with his architectural work, Hursley has also completed several significant series of fine art photography such as those of Andy Warhol's "Factory" in New York, which he regularly photographed between 1982 and Warhol's death in 1987. Other intriguing series include legal brothels in Nevada and polygamist communities in Utah, which he captures as an observer and without judgment.
The artist's exceptional perspective has also been used to discover and record parts of the rural South. Some of the first photographs in this set of work were of Samuel Mockbee's noble mission at his Rural Studio at Auburn University.
Hursley's work in "The Business of Dying" provides a stark contrast to his acclaimed architectural photographs of sleek, modern structures. Here, as in his other fine art series, his attraction is to life on the fringe. Through the artist's tender lens, we see images that are at once gritty, heartrending and compassionately portrayed. Included are obvious symbols of the loss of life – a casket, tombstone or hearse – but also subtler imagery capturing the passing of a way of life or the death of a town.
The 2019 DNSPE and Hursley exhibitions will continue through Feb. 20.
Hours for BAM, which is at 201 Olympic Dr. in Fowler Center, are noon to 5 p.m. Tuesday and Wednesday, noon to 7 p.m. On Thursday, noon to 5 p.m. Friday and Saturday, 2 to 5 p.m. on Sunday, and by appointment.  The catalog, exhibitions, and reception are admission-free and open to the public.  For additional details, one may contact the museum at (870) 972-2567.
                                                            # # #
Original article source: http://www.astate.edu/news/delta-national-small-prints-hursley-exhibition-open-jan-24 | Article may or may not reflect the views of KLEK 102.5 FM or The Voice of Arkansas Minority Advocacy Council