10/18/2018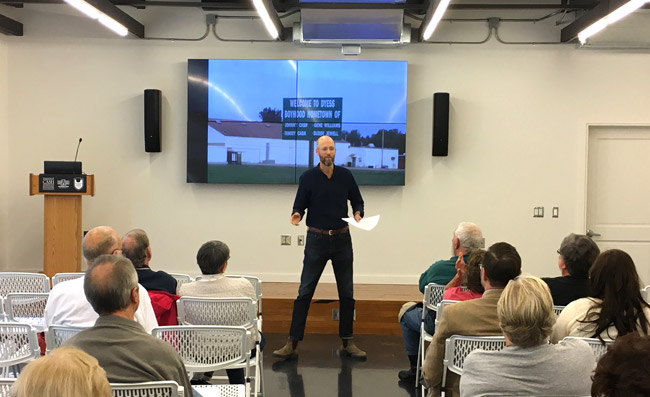 Dr. Heath Carpenter addresses crowd at showing of O Brother, Where Art  Thou?
DYESS, Ark. — Fans of Johnny Cash swarmed the Dyess Colony Visitors Center to watch a pair of films related to the 2018 Johnny Cash Heritage Festival Thursday during the event's opening day.
Dr. Heath Carpenter,  American Studies, Harding University, served as the moderator of discussion following the noon showing of O Brother, Where Art  Thou?, while Michael Streissguth, Communication and Film Studies of Le Moyne College in N.Y., led the discussion after the documentary, Johnny Cash at Folsom Prison.
Viewers from throughout Arkansas as well as Wisconsin, Montana, Iowa and Nevada were on hand for the three-day festival, with other states expected to be represented.
Released in 2000, O Brother, Where Art Thou? is set in 1937 rural Mississippi during the Great Depression and includes music by one of the festival's featured performers, Alison Krauss. The soundtrack from the movie won a Grammy for album of the year in 2001.
The movie was written, produced and directed by Joel and Ethan Coen and was based on Homer's poem "The Odyssey." It stars George Clooney, John Turturro, Holly Hunter and John Goodman.
"Johnny Cash at Folsom Prison" is a video documentary written and produced by Streissguth. Released in 2008, the film provides an in-depth look at Cash's 1968 concert for the inmates at Folsom Prison in California. The documentary includes recordings of the show with rare photos and interviews with those close to Cash.
KASU Music Nights will open in the Colony Circle with four regional musical acts and concludes Friday from 5-9 p.m. with five additional acts.
Public presentations of "The Ties that Bind" academic theme last throughout Friday, beginning at 9 a.m., with "Ties of Childhood: Johnny Cash's Early Musical Influences," with moderator Dr. Adam Long, Heritage Sites, Arkansas State University; "Reflections of Johnny Cash in Popular Culture," with moderator Dr. Cathy Calloway, English, Arkansas State University; "Ties Beyond Dyess: Little Rock, San Antonio and Beyond," moderated by Dr. Cherisse Jones-Branch, history, Arkansas State University.
Elementary and junior high students from the area, known as the Rivercrest Voices, will perform on the Dyess Colony Circle outdoor stage during the noon lunch break.
An update on the Memories of a Lifetime Project, which invites past residents of Dyess to record their oral histories, will be presented by Dr. Ed Salo, heritage studies, Arkansas State University; Dr. Michael Bowman, media, Arkansas State University; and Ben Manatt, Bentonville High School EAST Initiative, at 1 p.m.
Following is "Shared Voices: Johnny Cash and His Contemporaries," with Dr. Deborah Chappel Daniel, English, Arkansas State University, serving as moderator.
Dr. John Alexander will have the keynote presentation at 3 p.m., titled "The Man in Song: A Discographic Biography of Johnny Cash." Dr. Carl Cates, dean, College of Liberal Arts and Communication, Arkansas State University, will serve as moderator and the presentation is followed by a book signing.
Additional activities for Thursday and Friday include tours of the Johnny Cash Boyhood Home from 9 a.m.-3 p.m. for $10 per person. The home is closed to the public on Saturday. Permanent exhibits in the Dyess Colony Administration Building will be open at no charge between 9 a.m. and 3 p.m. on Thursday and Friday. 
The gift shop will open from 9 a.m. to 9 p.m. on Thursday and Friday. A limited selection of gift shop items, along with official festival merchandise, will be available at the field performances on Saturday.
                                                       # # #
Original article source: http://www.astate.edu/news/cash-festival-opens-with-movie-presentation-discussion | Article may or may not reflect the views of KLEK 102.5 FM or The Voice of Arkansas Minority Advocacy Council