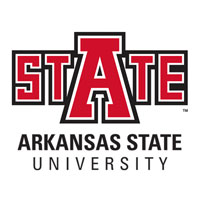 11/25/2020
JONESBORO – Despite unique challenges, Bradbury Art Museum (BAM) and regional high schools worked together to produce the sixth annual "Inspired" exhibition.
Doors will open at 12 p.m. Thursday, Dec. 3, at Bradbury Art Museum, which is in Fowler Center, 201 Olympic Dr., at Arkansas State University.
Admission to the museum is free. The exhibition continues through Dec. 18. There will be no opening reception in accordance with health and safety precautions.
"Inspired" is an annual high school art exhibition held at Bradbury Art Museum. Each fall, local high school students are invited to participate in an interactive tour. Students then create artwork and write artist statements which are influenced by the works on view at that time. A juror then makes selections to be exhibited within "Inspired."
All works within Inspired 2020 were created in response to the previous exhibition, "Radius I." Since many schools were unable to physically visit the museum this year, the program transitioned to a mostly digital process. Schools were offered virtual tours as well as digital access to "Radius I" via BAM's website.
Haley Voges, education coordinator for the museum said, "With so many student events being canceled, it was our priority to ensure the continuance of the Inspired program if at all possible. Schools were happy to hear this opportunity wasn't lost, and we were (as always) impressed with the participation and caliber of the work despite circumstances."
The juror for "Inspired" 2020 is Deidre Argyle. Argyle's installation "Anchored in Turbid Clarity" was shown in "Radius I" and will stay on view in Kays Gallery at BAM through the duration of "Inspired." Her work has been exhibited both nationally and internationally.
In a juror's statement, Argyle said, "It is clear that all the entrants were passionate about their work. As an assistant professor of sculpture at Missouri State University, I was very impressed by the artwork produced by the young artists who submitted to this call for entry."
Scholarships and purchase awards will be noted on the tags of winning artworks. Included in the exhibition are 45 students from seven local schools:
Brookland High School
Bay High School
Rodney Rodgers, 12th grade
Haley Reed, 12th grade
Madison Brand, 11th grade
Cassidy Powers, 11th grade
Nathan Campbell, 12th grade
Abigail Armstrong, 12th grade
Valley View High School
Jegs Antonio, 10th grade
Emily Kaut, 11th grade
Cassidy Burris, 12th grade
Quinn Patterson, 12th grade
Jayme Melescue, 12th grade
Reese Owens, 12th grade
Harrisburg High School
Emily Holland, 11th grade
Jadyn Hesse, 12th grade
Marcy Wallace, 12th grade
Leslie Whitman, 12th grade
Jade Fahr, 12th grade
Carol Coronado, 12th grade
Molly Bates, 11th grade
Layla McClenny, 12th grade
Leslie Ortiz, 12th grade
Eli Williams, 11th grade
Sadie Mooney, 9th grade
Julie Miller, 11th grade
Sadey Bowen, 10th grade
Nala Wallace, 11th grade
Marmaduke High School
Kade Langdon, 9th grade
Laci Sauer, 9th grade
Nettleton High School
Cecilia Freeman, 12th grade
Alexia Krauss, 12th grade
Academies at Jonesboro High School
Graysen Jones, 12th grade
Madison Grubb, 12th grade
Emrie Nelson, 12th grade
Sydney Green, 12th grade
Nate Light, 12th grade
Josh Hyneman, 11th grade
Elizabeth Richardson, 12th grade
Rhegan Vanhoozer, 12th grade
Dawson Wagner, 12th grade
Braden Hafner, 12th grade
Brian Holmes, 11th grade
Kymya Rowe, 11th grade
Serenity Jefferson, 10th grade
Madeline Sumpter, 11th grade
Hours of operation for this exhibition are Tuesday through Saturday, noon to 5 p.m. For additional information about the exhibition, one may visit BradburyArtMuseum.org or contact the museum at (870) 972-3765.
# # #
Original article source: http://www.astate.edu/news/bradbury-art-museum-to-open-inspired-exhibition | Article may or may not reflect the views of KLEK 102.5 FM or The Voice of Arkansas Minority Advocacy Council