03/14/2019
JONESBORO — Williamson Branch will perform a concert of bluegrass music Monday, March 25, at 7 p.m. at the Collins Theatre, 120 West Emerson Street, in downtown Paragould. The show is part of the Bluegrass Monday concert series presented by KASU 91.9 FM.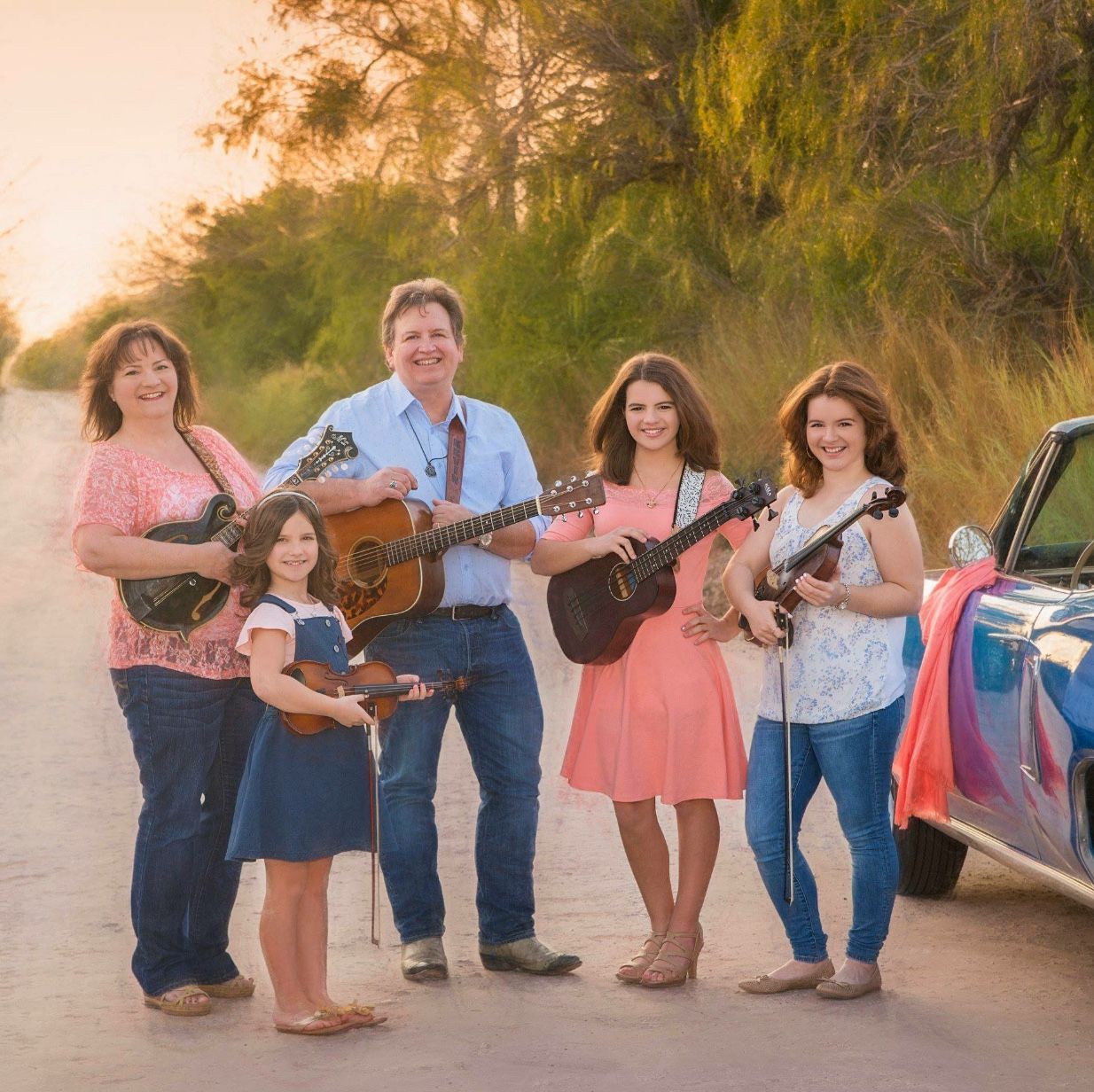 Williamson Branch (from left) Debbie Williamson, Caroline Williamson, Kevin Williamson, Kadence Williamson, Melody Williamson.
Based in Nashville, Tenn., Williamson Branch is a band consisting of a mom and dad along with their three daughters. The group is a recording artist for the Pinecastle record label, and their latest CD titled Free has been featured on radio stations across the country. In concert, the band performs a mixture of bluegrass, gospel and country music. Videos of the band have gone viral on the internet. In particular, a performance of the songs "I'll Fly Away" with "This Little Light of Mine" has been viewed online over 10 million times.
Dad Kevin Williamson was introduced to bluegrass music at a young age. While still a teenager, Kevin played in the bands of acclaimed bluegrass artists Glenn Duncan and Dave Evans, appearing on CDs produced by both. Kevin later formed the band Redwing with his father, and that group recorded and toured across North America for a decade. Kevin is also a past member of the Country Gentlemen and the Farm Hands.
Debbie Williamson comes from a musical family, but was not introduced to bluegrass music until she met Kevin. They were married in 1991, and formed the band Shadow Ridge. Debbie also released a solo CD in 1996 to critical acclaim.
Twenty-year-old Melody Williamson appeared onstage with her parents as a toddler. Her mom recalls holding Melody on her hip with one hand and holding a microphone in the other hand so that the youngster could sing. Melody sings and plays fiddle in Williamson Branch, and she serves as the group's onstage emcee. She is also an alumnus of both Tomorrow's Bluegrass Stars and the International Bluegrass Music Association's (IBMA) Kids in Bluegrass organization.
Kadence Williamson, age 16, plays bass and sings for Williamson Branch. She is a current member of Tomorrow's Bluegrass Stars and the IBMA's Kids in Bluegrass. Along with her sister Melody, she contributes original melodies to the band's repertoire.
Ten-year-old Caroline Williamson is known to "steal the show" at the band's concerts. She sings and plays both fiddle and ukulele for the band. She is also a member of Tomorrow's Bluegrass Stars. With her sisters, she incorporates Appalachian clog dancing into the group's live performances.
Anthony Howell, age 19, accompanies Williamson Branch on their tours, playing banjo, mandolin and guitar, depending on what is needed for specific songs. Howell is a two-time winner of Mississippi's Magnolia Bluegrass Association's Banjo Player of the Year award.
Additional information about the group, including videos of the band in concert, is available at williamsonbranch.com.
Seating at the concert is first-come, first-served. Doors to the theatre will open at 6 p.m. There is no admission fee, but KASU will literally "pass the hat" to collect money to pay the musicians. The suggested donation is $5 per person.
In addition to the concert, Terry's Café, 201 South Pruett Street in Paragould, opens on Bluegrass Monday nights to welcome bluegrass music fans. The café serves a buffet meal beginning at 4:30 p.m. on the evenings of Bluegrass Monday concerts. Concessions will also be available at the Collins Theatre.
Bluegrass Monday concerts happen on the fourth Monday night of each month. These concerts are presented with support from Bibb Chiropractic Center, the Posey Peddler, the Northeast Arkansas Bluegrass Association, Holiday Inn Express and Suites of Paragould and KASU.
KASU, 91.9 FM, is the 100,000-watt public broadcasting service of Arkansas State University in Jonesboro. For more information, contact KASU program director Marty Scarbrough at [email protected] or 870-972-2367. Bluegrass Monday is also on Facebook (search "Bluegrass Monday").
Original article source: http://www.astate.edu/news/bluegrass-monday-concert-to-feature-williamson-branch | Article may or may not reflect the views of KLEK 102.5 FM or The Voice of Arkansas Minority Advocacy Council