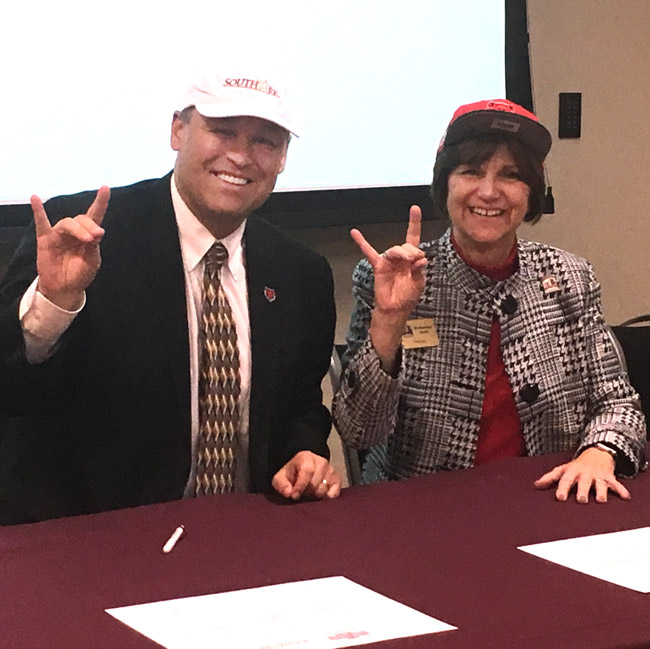 11/19/2018
EL DORADO – Arkansas State University Chancellor Kelly Damphousse joined with South Arkansas Community College President Barbara R. Jones Wednesday to sign official articulation agreements for nine academic programs.
"We're excited about this new partnership between South Arkansas Community College and Arkansas State University," President Jones said. "Ultimately, our students will benefit from the new educational opportunities that this agreement will create."
"By traveling here today, we want students at SouthArk and in this region of Arkansas to know that Arkansas State is here for you," Damphousse responded.  "Being here, I hope, signifies to the graduates of SouthArk they are welcome in Jonesboro."
The ceremony held at the El Dorado Convention Center also marked a historic moment for Arkansas State's campaign to expand opportunity for community college students across the region.
"Today we cross a threshold in our efforts and we are over the 400 mark," Damphousse said.  "We are continuing to have discussions with other institutions.  Our goal is to make progression to a four-year degree from any community college in our state or Upper Delta region clear and simple as possible."
A-State has formal signed agreements with 21 of the 22 community colleges or universities in the state of Arkansas.
"We'd have all 22 if we could, and we keep the door open for when that last one is ready to create these pathways for their graduates," Damphousse said.  "We're also working with institutions in our neighboring counties in Tennessee and Mississippi about the potential for similar agreements.  We don't want the river to be a barrier to anyone's educational future."
The event in El Dorado is the third in a series of signing ceremonies this fall to signify the new relationships between Arkansas State and other institutions of higher learning.
"We want everyone in the state to know that A-State is ready to accept them as transfer students," Damphousse said.  "We have many students that come to A-State from high schools in El Dorado and the southeast Delta counties, but for some, family or other factors are initially in the way.  For others, time after completing an associate's degree to work is necessary before returning to college.  And for some, their work or life experience reveals the need to go on for a four-year degree."
Arkansas State's Transfer Task Force has worked throughout the summer and into the early fall on creation of new articulation agreements with dozens of institutions in the state and region.
The Arkansas State degree programs signing articulation agreements with SouthArk include communication studies, criminology, disaster preparedness and emergency management, economics, English, history, organizational supervision, sociology and strategic communication.
To learn more about transferring to Arkansas State, one may go to AState.edu/Transfer.
                                                     # # #
Original article source: http://www.astate.edu/news/arkansas-state-signs-transfer-pact-with-southark | Article may or may not reflect the views of KLEK 102.5 FM or The Voice of Arkansas Minority Advocacy Council